2020 Dodge Challenger SRT Hellcat Redeye Wins 2020 NEMPA Pure Power Award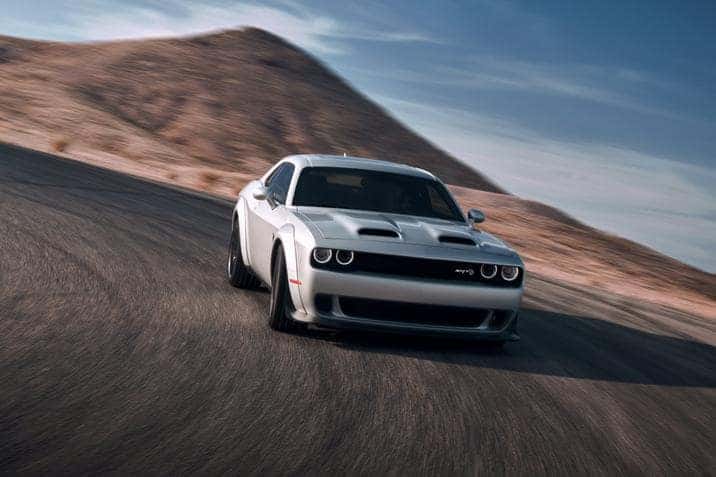 The last we heard about the Redeye, the high-performance trim from Dodge, it was wearing the Dodge Charger moniker. Yes, Dodge has extended the SRT Hellcat Redeye trim to the 2021 Dodge Charger. Before the Dodge Charger SRT Hellcat Redeye makes its debut, let's not forget about the original 2019 Dodge Challenger SRT Hellcat Redeye that made it all possible. The New England Motor Press Association (NEMPA) surely hasn't, having included the SRT Demon-inspired muscle car in their 2020 annual Ragtop Awards.
"The Dodge Challenger SRT Hellcat Redeye easily earned the NEMPA Pure Power Award, with nearly 800 horsepower on tap, quarter-mile times just over 10 seconds and a top speed over 200 miles per hour, this is one unique ride…In a world of powerful four-cylinder engines, there is still no substitute for cubic inches and torque. To steal the title from Ray Bradbury, 'Something Wicked This Way Comes' describes the 6.2 liters of supercharged performance of the Challenger SRT Hellcat Redeye and why it deserved the title of NEMPA Pure Power." – John Paul, NEMPA President
Returning for 2020, the 2020 Dodge Challenger SRT Hellcat Redeye packs a lot of power. The specs, a supercharged 6.2-liter HEMI® high-output V8 engine able to generate 797 horsepower and 707 lb.-ft. of torque is one thing, but just look at the record times of this beauty. The Challenger SRT Hellcat Redeye can accelerate from 0-60 mph in just 3.4 seconds, able to complete a quarter mile run at 10.8 seconds, hitting 131 mph. Its top speed is 203 mph, but good luck finding a track long enough to test this. No wonder it took home the Pure Power Award during the 2020 Ragtop Awards.
For those unaware, NEMPA is an organization with a long history of reviewing automobiles since 1987. As the name suggests, the association mainly covers the auto industry in specific markets, namely Connecticut, Maine, Massachusetts, New Hampshire, Rhode Island, and Vermont. Even so, NEMPA has an outreach of 14.5 million citizens, and NEMPA's media members typically appear on network and cable TV, on the Internet and radio, and in regional and national newspapers and magazines. Word is surely going to get around about the 2020 Dodge Challenger SRT Hellcat Redeye.
For 2020, Dodge isn't just putting a stop at the Dodge Challenger SRT Hellcat Redeye or the 2021 Dodge Charger SRT Hellcat Redeye. In case this is the last year we'll see high-octane-powered engines before Fiat Chrysler Automobiles (FCA) bites into the hybrid-fuel apple, Dodge has also released the new Dodge Challenger SRT Super Stock. This is a true testament to the 2018 Dodge Challenger SRT Demon, with the Super Stock able to generate 808-horsepower. However, Dodge isn't just about horsepower.
Dodge is an auto brand with a strong history, and heritage design goes into many of its vehicles to pay homage to their roots. The Dodge Challenger will always be a true GT car, also known as a grand tourer, or a sports car made for high speed racing as well as long-distance driving. The Dodge Challenger may be fun to run up and down the racetrack, but even just on the highway, sitting behind the wheel of a Dodge Challenger feels better than most. If you're looking for sheer horsepower, all-weather capability, and a roomy interior, then a Dodge Challenger is the way to go. Contact us at Aventura Chrysler Jeep Dodge Ram to find out how you can test drive a Dodge Challenger and find out for yourself.
Photo Source/Copyright: FCA Media