Win a Jeep Grand Cherokee Trackhawk or 50,000 Smackers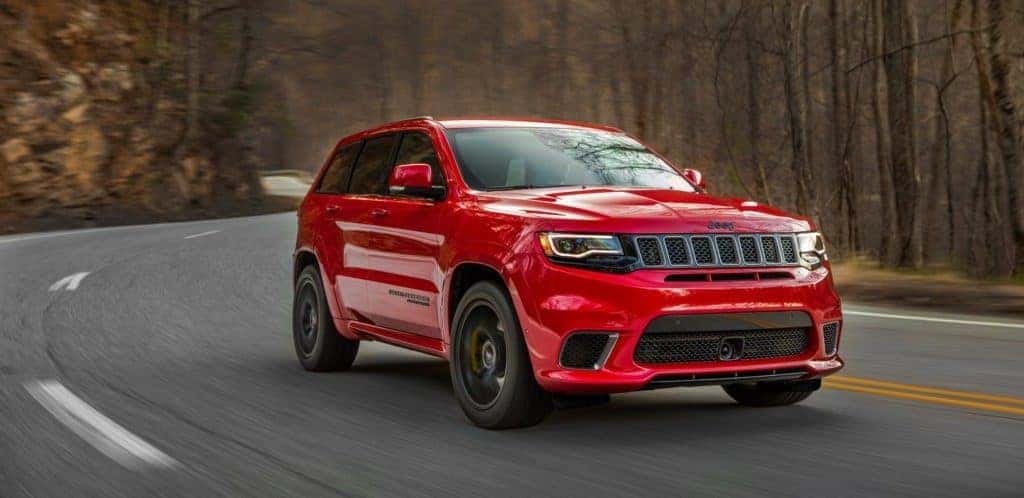 The 2018 Jeep® Grand Cherokee Trackhawk sure is something. When the supercharged SUV was first released, it was clear that Jeep was following Dodge in making supercharged vehicles, like the Dodge Challenger SRT Hellcat, first released in 2015. 2018 was the year for the 2018 Dodge Challenger SRT Demon and the year for Jeep to finally make good on their word to challenge the muscle car automaker with the Grand Cherokee Trackhawk. Although we do wonder who would want an SUV powered by a 707hp supercharged 6.2-liter HEMI SRT V8 engine, unless owning some insane skills on the race track, this SUV would set most consumers back over $86,000. Would sure be great if there was a contest to win one.
With a starting MSRP of $86,200 (plus destination fee), if one had a chance to win a Jeep Grand Cherokee Trackhawk, it would be a pretty amazing gift for the holidays, and TRI Industries, a 501(c)(3) not for profit organization, is trading tickets-to-win for donations. The way they have the raffle for the Grand Cherokee Trackhawk on their website (tri-industries.tapkat.org/wina2018jeeptrackhawk) setup is based on a scale that starts at $30 for 5 tickets plus a bonus ticket, and goes as high as $2500 for 550 tickets and 550 bonus tickets. Anyone smart enough to do their research will also know they can double their tickets with the promo code "AGH".
The best part is this is all done for the betterment of man. 100-percent of the net proceeds collected from the 2018 Jeep Grand Cherokee Trackhawk drawing contest will be used to directly support the operations of TRI Industries NFP in their mission to employ individuals with severe disabilities, including veterans and the blind. It's a win-win for the holidays.
Let's talk about the 2018 Jeep Grand Cherokee Trackhawk for a bit. This is an SUV with a 4×4 drivetrain powered by a supercharged 6.2L HEMI V8 engine, capable of generating 707 horsepower and 645 lb-ft of torque. The engine also comes with a cast iron engine block, a forged-steel crankshaft with a damper, pistons made from a high-strength forged-alloy, and cylinder heads optimized for superior thermal conductivity that pushes this SUV to the limit.
Transferring all that torque to the wheels through an upgraded eight-speed TorqueFlite automatic transmission, it can be all brought to a stop with six-piston calipers and massive 15.7 inch rotors from Brembo brakes. Able to accelerate from 0-60 mph in 3.5 seconds, and with a measured g-force of 0.88 G's, drivers will need all the stopping power they can get.
The 2018 Jeep Grand Cherokee Trackhawk also has luxury inside and out. The vehicle's aerodynamic rear spoiler, front air vents that feed the supercharger cool air, and the four-inch black chrome quad exhaust tips all give the Trackhawk a more aggressive look. Seats are wrapped in Nappa leather and suede upholstery, and the front and rear seats are heated whilst the front seats also get ventilation. Modern technology can be found, such as a Uconnect infotainment system that is integrated into the center console with Apple CarPlay and Android Auto standard, and drivers on the track can access Jeep Performance Pages through an app on Uconnect as well. The Jeep Grand Cherokee Trackhawk also comes with adaptive cruise control with stopping functions, advanced brake assist, blind-spot monitoring with rear cross-traffic alert, full-speed forward collision warning with crash mitigation, lane departure warning, and front and rear park assist to keep it safe on the road.
If someone were to win this SUV, they would sure be happy, or will be able to make someone happy. And if not interested in a supercharged SUV, there's also a cash prize of $50,000 if the winner were to forfeit the SUV in place of a payout. Which will you choose? Let us know on Aventura Chrysler Jeep Dodge Ram social media.
Photo Source/Copyright: Jeep.com