We Review the Two Jeep Wave Programs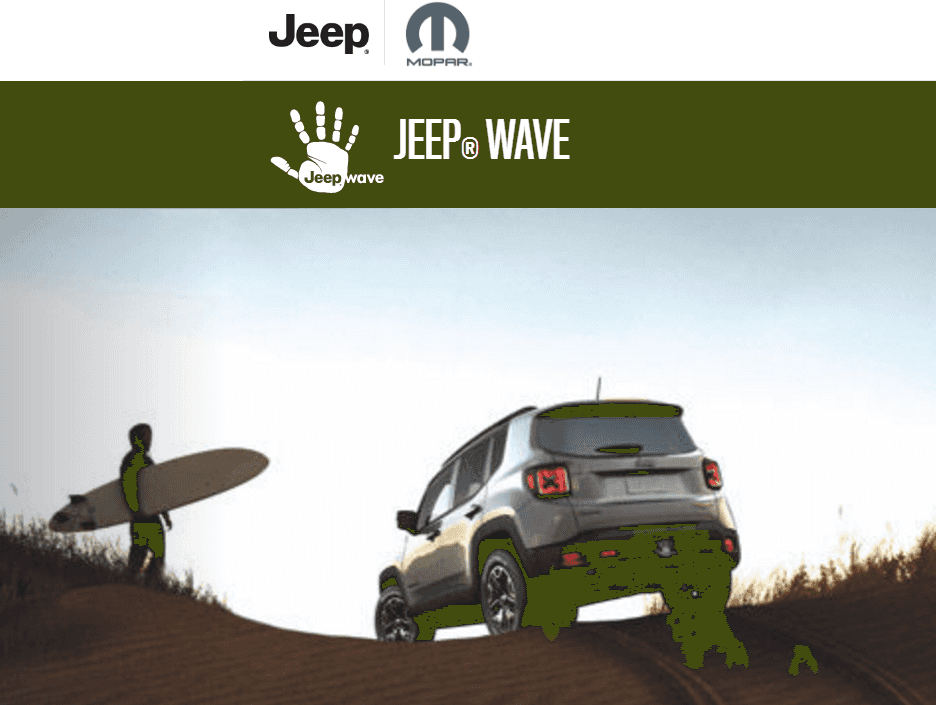 Jeep really has great news for owners and drivers of Jeep® vehicles all-year-round don't they? Always new concepts, models, teases of a hybrid, and have you heard of the new Jeep Wave Program? No? Oh man, you need to check it out. It's like VIP status for Jeep owners, and the benefits extend way beyond the road and the trail.
The Original Jeep Wave
Before we get into the Jeep Wave program, let's talk about its mysterious origins. We're thinking it has something to do with the original "Jeep Wave". Call it a double-meaning gesture, because the Jeep Wave can be used for sending salutations or asking for help. It comes in three forms: a side-to-side motion of one or both hands, a raised hand waving (through the roof or out of the window), or a simple two or four-finger wave from the steering wheel. That last one is the modern chin raise or nod guys give each other in passing.
The original Jeep Wave is simply a way for proud Jeep owners to salute one another on the road. However, the first form described, that side-to-side motion, is probably less than a "What's Up?" and more of a "Oh Gods, please help!" And thus, the Jeep Wave program was born … probably.
What is the Jeep Wave Program?
The Jeep Wave program is designed by Mopar and Jeep to provide select Jeep® Brand vehicle owners with dedicated 24/7 exclusive owner support and a special package of benefits to enhance their Jeep experience.
Jeep Wave Program Benefits
Jeep vehicle owners receive the 24/7 exclusive owner support along with a live chat client, and the following:
Maintenance service for two oil and oil filter changes and two tire rotations per year. Services must be performed by a FCA US LLC Dealer, though. If a car rental is required the same day of maintenance or repair (excluding bodywork), Jeep owners get a $35 first-day rental allowance.
If the Jeep were to become inoperable due to a failure covered by the Jeep Wave Program*, the owner will be provided with up to $1,000 of trip interruption coverage to take care of lodging, meals and emergency transportation such as taxi, bus, or airline for the member and their family.
VIP treatment at nationwide events featuring Jeep vehicles
Exclusive member discounts worth $500 annually
Who is Eligible?
To be eligible for the program, the driver must be a resident of the United States, eighteen (18) years of age or older, and own a Jeep vehicle (2015 or later). Owners of Jeep vehicles made in the model year 2016 and 2017 are automatically enrolled.
2016 Models Covered
2016 Jeep Cherokee Overland and Cherokee Trailhawk
2016 Jeep Grand Cherokee Overland, Grand Cherokee Summit, and SRT
2016 Jeep Renegade Trailhawk
2016 Jeep Wrangler
2017 Models Covered
2017 Jeep Cherokee Overland and Cherokee Trailhawk
2017 Jeep Grand Cherokee Overland, Grand Cherokee Trailhawk, Grand Cherokee Summit, and SRT
2017 Jeep Renegade Trailhawk
2017 Jeep Wrangler
2017 Jeep Compass Trailhawk
It all sounds good right? If these benefits have won you over, be sure to get a 2016 or 2017 model-year Jeep vehicle from our inventory.
*Terms and Conditions Apply