Waymo's Chrysler Pacifica Hybrid Approved as First Self-Driving Ride-Hailing Service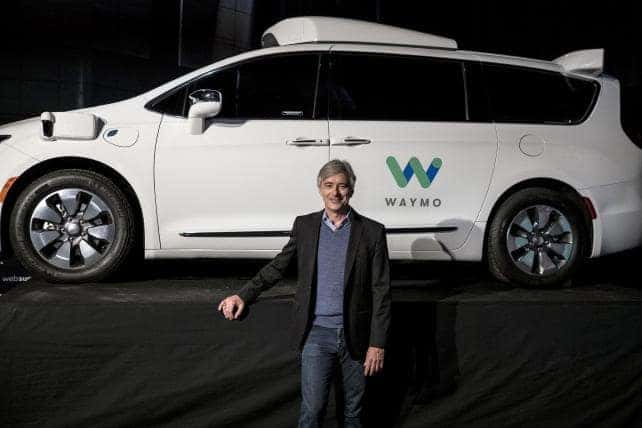 1-2-3-Finally! The Waymo self-driving Chrysler Pacifica has finally made it to the big leagues. For the first-time ever in America, a self-driving autonomous ride-hailing service has been approved. Having recently wrapped up its testing in Arizona, and last heard heading to Atlanta, the Arizona Department of Transportation approved Google Waymo of Alphabet Inc. with a permit to operate as a Transportation Network Company. The vehicles being used are the self-driving Chrysler Pacifica Hybrid models. What an amazing achievement. Who knew this would happen so soon? It's 2018 baby, and there's some big changes being made in the auto industry.
First Driverless Ride-Hailing Service
The first U.S. commercial ride-hailing service without human drivers has been approved, and it's by the guys we love the most – Google. All Phoenix citizens need to do from now on is log into a smartphone app or website, schedule a pickup time and location, and a self-driving Chrysler Pacifica Hybrid will roll up to give them a ride. Man, do we feel bad for Uber and Lyft drivers. In the coming years, they're going to get a throw back to the pizza boy days.
Of course, Google isn't the only big boy on the lot. Companies like General Motors, and even Uber, are trying to challenge the giant with their own technology, being tested in many regions and clocking thousands of hours. The self-driving industry itself is quickly becoming worth hundreds of billions of dollars, and with enough funding, it may soon change the way people get around forever.
When we first left it, the Google Waymo self-driving fleet only had 600 units. Recently, the company claimed it has "thousands" of vehicles ready to take the leap, and when it comes to being a "network", that's about how many consumers a ride-hailing service is expected to reach. The company will of course limit how many units are used in the service at first. We can't expect an entire city or highway full of driverless vehicles just yet, but they will be on the road, that much is sure.
The Google Waymo Project
We covered some major objectives, but here's a little run-down of everything the Google Waymo project has accomplished since it began. It all started back in the summer of 2016 when Google's auto company, Waymo, started working with Chrysler on a self-driving fleet of Chrysler Pacifica Hybrid models. Making the first autonomous car also a plug-in hybrid, or an alternative fuel source vehicle, definitely solidifies the futuristic feel of it all.
The first fleet consisted of 500 Waymo-modified Chrysler Pacifica Hybrids for a year of testing in urban areas and city streets. During this time, Google's self-driving fleet improved in several categories. In 2016, over the course of 600,000 miles, the Google Waymo only needed a safety-driver to assist the vehicle a total of 124 times. Such human-driver interactions consist of "software glitches," "unwanted maneuvers," "perception discrepancies," and "recklessly behaving road user." In conjunction, safety-related interactions dropped to 0.2 per thousand miles, a total 50-percent decrease from 2015.
Two final tests gave the Google Waymo Chrysler Pacifica fleet what it needed to get to where it is today. Self-driving vehicles like the Waymo had a large goal on their list that would truly prove if they were ready for the real world. Countless miles in testing mean nothing if a self-driving autonomous vehicle can't: recognize toll plazas, navigate a tunnel (GPS trouble), or cross a border. So, in August 2017, the self-driving Chrysler Pacifica showed up at the Detroit-Windsor Tunnel, an underwater tunnel that connected Detroit, Michigan, U.S. with Windsor, Ontario, Canada.
Following that test, an "Early Rider" Google Waymo program started up in Phoenix, Arizona. This program allowed volunteers to play a part in the Waymo program by riding in modified Chrysler Pacifica hybrid minivans integrated with Waymo autonomous technology. Now with 600 units in total, testing began in a small area and soon spread to sections of five separate cities around Phoenix. The final testing phase for early riders covered an area of 100 square miles.
After the successful testing in Phoenix, the Google Waymo project headed for testing in Atlanta, Georgia. We're still waiting to hear how it did, but clearly the people of Phoenix were won over, because Google is officially a ride-hailing service in Arizona. Pretty neat.
The real question is, can the Google Waymo self-driving system handle the local drivers here in Miami and South Florida? If the self-driving fleet heads to South Florida and passes that test, they may as well skip the next 45 states of the testing phase. If the Google Waymo can drive through Miami, it can drive anywhere. What do you think? A new age of driving is upon us. Talk about it on Aventura CJDR social media.
Photo Source/Copyright: Adage.com