Turn the Ram ProMaster Into a Mobile Entertainment Room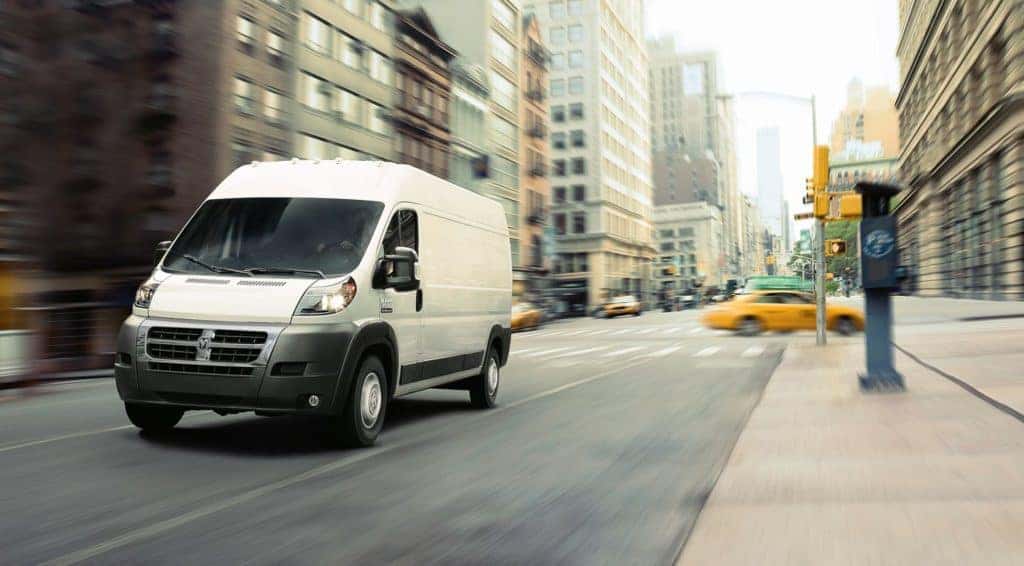 While looking for some inspiration of our own for some 2018 Ram ProMaster projects, we found some ideas that would make for an interesting home do-it-yourself project. Although the ProMaster comes with many upfit options available from Ram, there is still a number of things one can do themselves, even with an empty cargo van. Let's take a bare Ram ProMaster cargo van and turn it into an entertainment room.
The Setup
Okay, to make things simple, let's say we want to keep this mobile entertainment room private. The standard setup for a Ram Promaster cargo van comes with a driver's side door with a window, a passenger's side door with a window, sliding doors on the driver's and passenger's side without glass on both sides of the van, and 260-degree opening rear hinged doors without glass. As is, this is alright.
For the front, we can opt-in for deep tint sunscreen glass or install some aftermarket sunshades for the windshield and windows on either side of the front row. For good measure, let's install an aftermarket locking system on all of the doors that lock them together from the inside – it will become apparent why in a bit. That leaves us with a fully open cargo bay area. This is where the magic happens.
Seating
Now for seating, there are three options. One, we could go with the 2017 Ram ProMaster Window Van, and this opens us up to the option of having a "Livery Interior Upfit", designed for passenger transport with a total of three rows of bench seats and what looks like a flat wall separating the cargo bay and the front row (driver and front passenger). Then, we could install an aftermarket flat screen TV with a tilted mount high up on the front wall. With a large enough TV that isn't mounted too low but just high enough, the cargo bay is now a movie theater. One would hope the bench seats can recline for a true movie theater experience, but we digress.
Another option is to stick with the 2018 Ram ProMaster cargo van and install our own seating. We can bolt down some bench seats facing either side, a couch, or just bring in some chairs. Let's also opt-in for driver and passenger swivel seats so we already have seating for two.
Upfit or Custom
Again can can use upfits. The 2018 Ram ProMaster can come with a mobile office interior, and this can really cut down the DIY project time. With this upfit, we already have a desk, some storage space, and a flat-screen, if this image is anything to by.
If that isn't the exact setup, no matter. That's why we have an open cargo bay and swivel seats. Now, being that the rear hinged doors open away from the van, it would be best to install a flat screen TV on either side of the van, respective of which way our seating is facing.
With a cargo height of 65.4" and a cargo bay area of 259 cubic-feet, there's a lot of space we can use for the TV and TV mount. We can also install our own cabinets and desk to store movies, video games and consoles, computers, etc. Heck, with some Wifi, this baby can become a mobile Local Area Connection (LAN) party. Great for conventions.
Remember that rear speaker wiring prep that comes standard with a ProMaster cargo van? That little number will be perfect for setting up an additional aftermarket speaker for a little more sound. Depending on the prep, and with today's Bluetooth tech, we could maybe even tinker a bit with it and install surround sound in the our new entertainment room on wheels.
Think of some of the other possibilities. Being able to lock the rear hinged doors make this cargo van a great place to party without being disturbed. Order some pizza and sit back with a cold one. Enjoy the show. There's plenty to do and a lot of room.
Tell us about some of your ideas on the ACJDR Facebook Page. If you got your hands on a Ram ProMaster cargo van or window van, what kind of setup would you make? The possibilities are endless.
Photo Source/Copyright: RamTrucks.com