Sneak Peek at the 2018 Dodge Durango SRT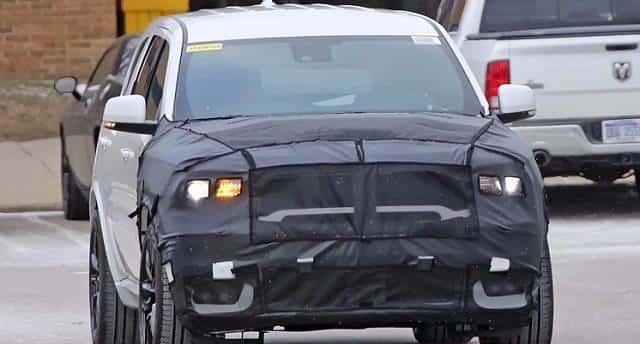 We're only in the second month of 2017 and 2018 is already shaping up to be an interesting year for the auto industry. Although we've seen the apparent shift to SUVs and crossovers, that isn't stopping automakers from producing powerful vehicles. Later this year Dodge will reveal the Dodge Challenger SRT Demon, but that's not the only new SRT vehicle coming from Dodge, the 2018 Dodge Durango SRT is also making some headway.
There were some hints of a new Durango model last year at SEMA when Dodge debuted a concept known as the Dodge Durango Shaker and it piqued some interest. The Durango, an SUV, getting a shaker hood similar to the one used on the world-renowned muscle car, the Dodge Challenger? Seemed like crazy talk … but not for long.
Recently, SpeedLux.com released spy photos of what is said to be a new Dodge Durango SRT. There's no telling how many colors will be available, but in the spy photos the Durango is a blacked out model black, from the roof to the wheel spokes, but that could just be a cover.
Tough to see, but give the picture above a good look. There's a bit of a bulge in the middle of the hood, yes? Could it be a prototype for the Shaker implement? Signs point to "yes," but let's look at what we know for sure.
The new 2018 Durango seven-seater is well underway, and not too far off from being released. Some new designs are also being integrated with a new front fascia with a larger lower grille and a redesigned upper grille, LED running lights and fog lamps, a new rear fascia, and the blacked-out wheels have a resemblance to those found on other SRT models, as well as a dual exhaust. Could this be the next generation of Dodge Durangos altogether? It is, after all, only in its third generation.
Last tidbit – the two SRT engine options are the 6.4-Liter V8 SRT HEMI Engine and 6.2L supercharged 6.2L HEMI SRT Hellcat V8 engine. Seeing how a Durango SRT Hellcat could sound terrifying to some, we're guessing that the 2018 Dodge Durango SRT will most likely be powered by a 485-hp 6.4-liter HEMI V8 engine, but we can't wait to find out for sure.
It all sounds good, but we won't know for sure unless it's revealed at the 2017 New York Auto Show in April.