Ram's New Marketing Campaign, On to Bigger Things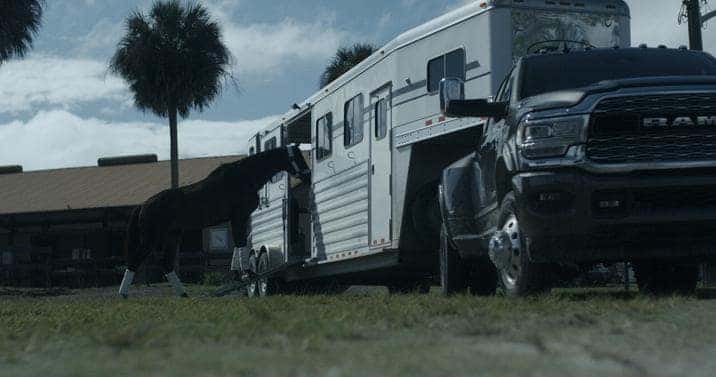 Fiat Chrysler Automobiles (FCA) is always putting together marketing campaigns year-round to promote their lineup of automakers and their star vehicles. As we get further into the spring and the storms get worse, Ram is here to lighten things up a bit with their "On to Bigger Things" marketing campaign. With all the recent fuss over the 2019 Ram HD trucks, there's plenty good to promote. Coming in a four-part series, it's Ram, moving "On to Bigger Things".
Marketing Campaign
"Built to serve," the Ram Truck brand is reinforcing its brand values of leadership, integrity, and hard work in the four-part marketing campaign. Highlighting the functionality and capabilities of the Ram 1500 light-duty pickup truck and Ram 2500/3500 heavy-duty trucks, the new commercials will span across television, digital, and Ram brand social media channels, and each spot will feature a more focused look at one of three individuals: Todd Pletcher, Alex Lovett-Woodsum, and Wayne Mueller. "On to Bigger Things" focuses on the daily activities of these three unique individuals and how they use Ram trucks to get the job done.
The two advertisements have already surfaced, with the first highlighting all three individuals. Shots of Todd Pletcher, 2017 Derby-winning and seven-time Eclipse Award-winning trainer, observing riders running laps with horses and loading horses into a trailer. Pletcher is known as the first horse trainer in over a century to win the Belmont Stakes with a filly, a female horse of three years or younger. Talk about getting attention, no wonder Pletcher has won two Kentucky Derby races.
With a bit of a theme, the first commercial also covers the workings of Alex Lovett-Woodsum, a saltwater fly-fisher competing at the top levels of her sport. Mostly dominated by one gender, fishing for sport has been mostly focused on men, but Alex continues to change that mindset as she perfects her craft. Wayne Mueller also gets a spotlight, the third-generation owner of Texas-based Louie Mueller BBQ. If the name sounds familiar, Mueller has traveled all over the world to share the art of smoking meat. He shows how a BBQ can bring people together, and it's true. Who doesn't like a BBQ?
"The Ram Truck brand has always showcased how its owners never settle for the expected, whether it be in their hardworking jobs or their lifestyle activities…Like our game-changing trucks, this campaign celebrates other experts of their craft, backed by a modern, re-imagined version of the classic song 'Go Your Own Way,' a perfect anthem for those who are carving their own path to bigger things." – Olivier Francois, Chief Marketing Officer, FCA.
The two aforementioned spots are known as "Everything" focusing on all three individuals, and then "Bigger" that focuses on Pletcher. "Everything" shows much of the Ram Heavy Duty, but also has some showtime for the Ram 1500 in its 30-second ad. For "Bigger" the focus is on the 2019 Ram HD pickup truck, needing to transport horses and equipment. With the Ram 3500 delivering the highest towing capacity of 35,100 pounds, it's clearly not a problem.
Ram continues to set the benchmark for pickup trucks, and we'll soon be seeing something a little smaller after the strong reception of the 2020 Jeep Gladiator. Stay in-tune with Aventura Chrysler Jeep Dodge Ram social media for more, and check out a new Ram 1500 or Ram HD today.
Photo Source/Copyright: FCA Media