Ram Releases Mojave Sand Package for Ram 2500 Power Wagon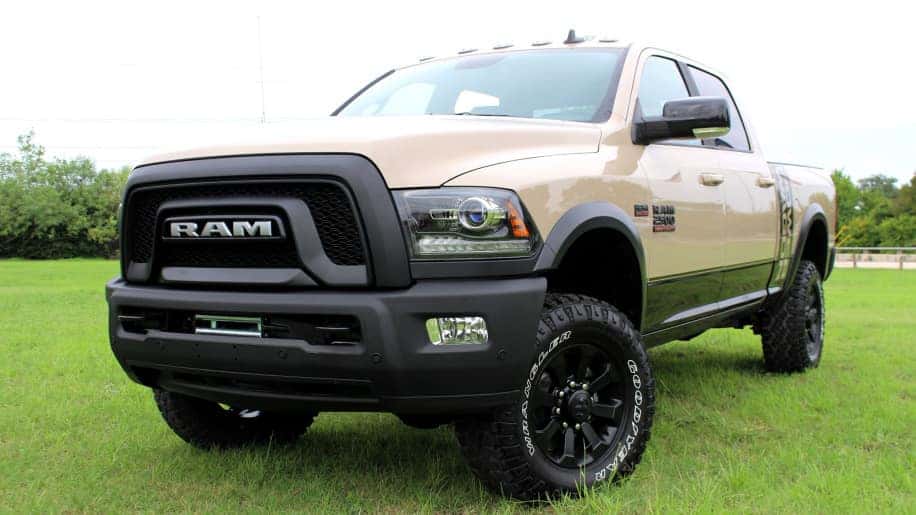 Looking for a one-of-a-kind truck? The sandy appearance package for the Ram 1500 Rebel is now back for another pickup truck in the lineup. What was originally only available on the Ram 1500 Rebel was an appearance package called "Mojave Sand", and it came in a limited edition. Only 1500 units (get it? 1500) were going to be made with the Mojave Sand appearance, and for 2018, 1500 more units will be produced, this time for the Ram 2500. Not just any Ram 2500 though, but the Ram 2500 Power Wagon.
Ram 1500 Rebel Mojave Sand
The Ram 1500 Rebel version of the Mojave Sand limited edition light-duty pickup truck basically came with the new color, better wheels, and a couple of extra features. Being a limited edition, the Mojave Sand paint is exclusive to this series, and consumers could choose either Mojave Sand or a Black/Mojave Sand two-tone paint job. The hood also got a new look with a performance sport hood decal emblazoned on top of it.
Step inside, and the exterior isn't the only thing getting some new looks. The entire cabin is all-black, contrasting the light sandy color of the exterior. High-back bucket front seats with black embroidery and ribbed with a tire tread pattern are very comfortable, and the deep rubber floor mats embossed with gray Ram's head logos will make cleaning the cabin floor super easy. Just in case any consumers decide to test the Mojave Sand name.
Ram Power Wagon
Now that the Mojave Sand appearance will be popping up on the Ram 2500 Power Wagon, let's review what's already good about this pickup truck. The Ram 2500 Power Wagon is powered by a 6.4-liter HEMI V8 engine capable of generating 410 horsepower and 429 lb-ft of torque. Able to tow up to 12,000 pounds, the Power Wagon is as capable as it is an off-road vehicle.
Yes, you read that right – "off-road vehicle". Equipped with heavy-duty rear axles and Bilstein shocks, 14.3-inches of ground clearance, a unique Ram "Articulink" front suspension system, and a new sway-bar disconnect system for additional flexibility and axle articulation, the Ram Power Wagon is truly off-road capable. The original comes with blacked-out headlights and an all-new grille and hood decals exclusive to the trim.
Starting MSRP of $52,695 (plus destination fee).
Ram 2500 Power Wagon Mojave Sand
Now for the new Mojave Sand limited edition. Consumers won't be getting added capability if they get the Power Wagon Mojave Sand, seeing as how the Power Wagon is already quite the beast. This burly off-roader gets a little more than a new paint job and new wheels. The Power Wagon's Heavy Duty Luxury package is also included, adding LED lighting in the bed, power heated/folding mirrors and a garage door opener to the truck. All-black wheels are also new, outfitted with 33-inch Goodyear tires.
The interior of the Ram 2500 Power Wagon Mojave Sand limited edition is also all-black. Being designed on a 4×4 Crew Cab, consumers can also enjoy the good looks and off-road action with a couple of friends. Sounds good, right?
All of this will be made available in the fourth quarter of 2018, so very soon. The option to add the Mojave Sand package onto a regular Power Wagon is $795, so pricing will be over $50,000.* Stay up-to-date with Aventura CJDR social media to know when the Ram 2500 Power Wagon Mojave Sand limited edition is available.
*Pricing to be determined, plus destination fee
Photo Source/Copyright: AutoBlog.com