Ram Debuts New Multifunctional Swing-out Tailgate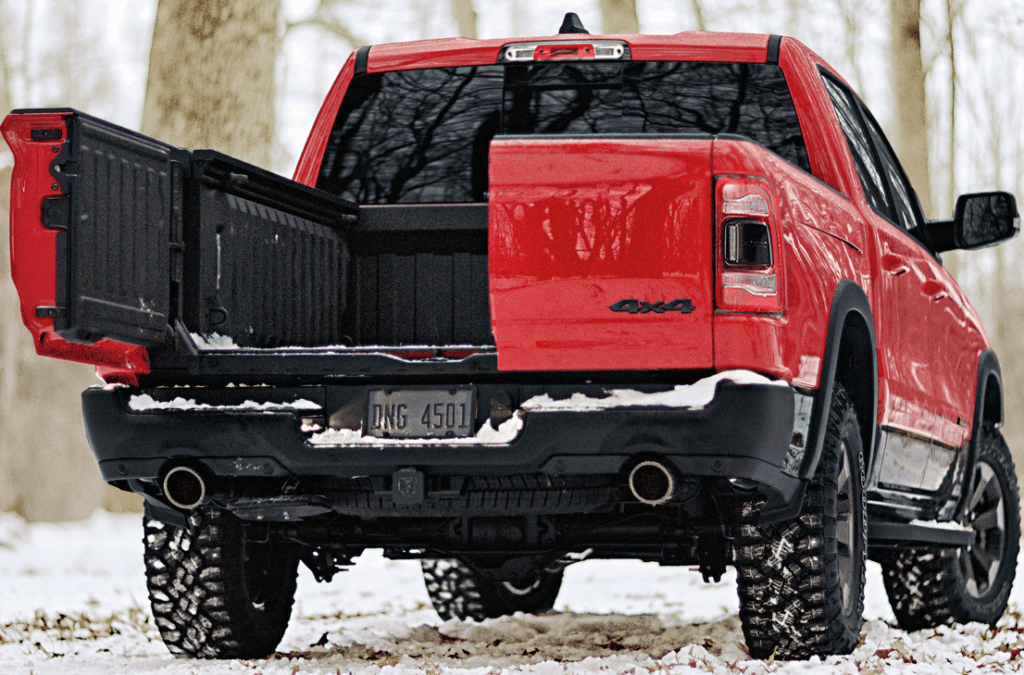 "Works just like a regular tailgate, 2,000 pounds capable, and then also, we've added in a 60/40 swing-out with side-hinges that makes accessing the bed really easy for big loads or heavy loads…and even makes getting into the bed even easier, especially with our new step."
Those are the words of Jim Morrison, Head of Ram Brand, FCA North America, while he demonstrated the functionality of the new Ram multi-function tailgate at the 2018 Colorado Auto Show. Flying a little under the radar, unless in Colorado, not many may know of this auto show, and that's why this new multi-function tailgate is just starting to get some attention. On the other end of that spectrum, Ram Trucks has been hard at work developing this new tailgate to name it the winner when competing for the biggest, most powerful, most luxurious American truck, a competition truck automakers have been battling out for decades.
A little promo video first gave us a glimpse of the new tailgate, mainly highlighting the new functions.
If the promo video wasn't enough, thanks to Morrison, we now know what the new multi-function tailgate is capable of. Even with its new 60/40 split swing-away functionality, the new tailgate still retains the remote-release, fully dampened drop-down features of the standard RAM 1500 tailgate and doesn't lose any of its capability, able to hold up to 2000 pounds prior to opening up the 60/40 split. There are also some new configuration options with the tailgate – its design allows for a flat open bed, total access, or just side access that can double to offer space for longer items that don't quite fit in the truck bed but could use some security with that 60/40 split.
Although other automakers have chided the step-down tailgate function some automakers are known for, calling it "unmanly", we only see Ram providing convenience. With a newly developed kick-down retractable step mounted under the rear bumper to complement the new tailgate design, the new multi-function tailgate allows for easy entry and exit of the truck bed. This, versus needing to reach over the tailgate and awkward loading of heavy or bulky items – what's so great about breaking something expensive because it's not "manly" to use the new kick-down step? With how many trucks are purchased to act as work trucks, the step is just another added benefit of this new swing-out tailgate design for easier loading and unloading.
For those looking to get this new multi-functional tailgate, consumers won't have to wait too long. Outfitted for the 2019 Ram 1500 light-duty pickup truck model, the new tailgate should be available as soon as the second quarter of 2019, between April and June. The upgrade adds on $995 to the starting MSRP of $31,795 (plus destination fee), and the optional retractable kick step will cost another $295.
Not too horrible. Besides, can one really put a price on owning one of the only pickup trucks to have a swing-out tailgate design? The only other U.S. market truck that works with a swing-out is the Honda Ridgeline, but it doesn't offer a 60/40 split – just the entire tailgate to one side. Lame!
We did say there's competition though. Alongside the Ridgeline, Ford released a pull-out bed feature in its tailgate, and GMC released the MultiPro Tailgate, with six configurations, but no swing-out functions. Many buyers were wowed by the 2019 Ram 1500, some even converting from their usual truck automaker. Now, Ram will be converting even more consumers to the most capable light-duty and off-road pickup truck.
Check out the 2019 Ram 1500 at Aventura Chrysler Jeep Dodge Ram, and ask about the new upcoming multifunction tailgate upgrade.
Photo Source/Copyright: GearJunkie.com