Ram 1500 Returning With a Mega Cab Option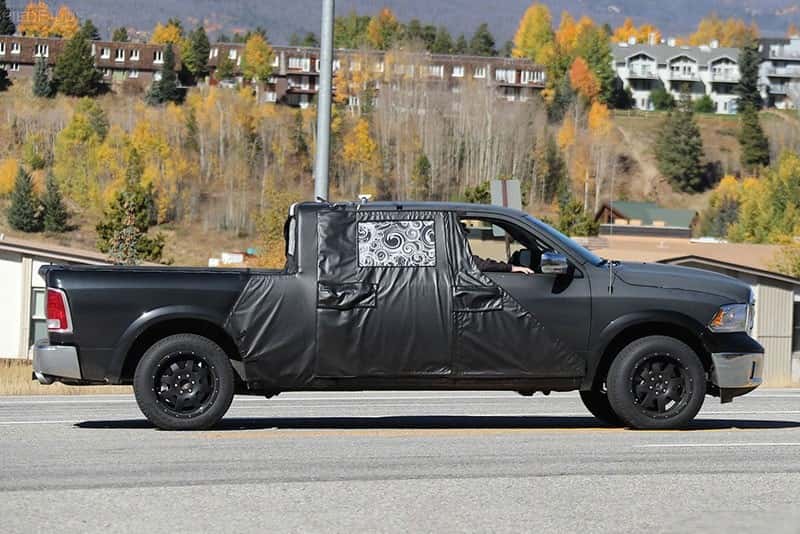 Ready for a Ram 1500 feature that has been lost to the ages? Well, maybe not a feature per se, but more so a cab option. Yes, you guessed it, the Mega Cab is returning to the Ram 1500 for the 2019 model year. Not seen since 2008 on this half-ton pickup truck, the Mega Cab is coming back. With the next generation of Ram trucks getting a luxurious limited edition, known as the Ram Tungsten Limited Edition, if they're gonna be bringing comfort and luxury to the lineup, then bringing back a spacious cabin is a smart move – especially for legroom.
Now, the 2019 Ram 1500 with a Mega Cab has only been captured in spy photos with camouflage. At first glance one could guess it's the Ram 2500 or 3500, but the shape of the Ram 1500 is distinguishable from the rest. Even with a long wheelbase, 6'4" bed, and long rear doors, several sources have confirmed the spied vehicle is the Ram 1500 with some significant changes. One thing we definitely know is even with a Mega Cab, the Ram 1500 will stay a light duty truck, meaning the addition of this cab option isn't for performance, but for added comfort.
With comfort comes entertainment, and spy photos have already gotten a sneak peek at a new dashboard. A new generation Uconnect system is hinted at with the infotainment system having a larger screen than the current Uconnect unit, but nothing is for certain. Some features from the center console are also returning, such as volume and tuning knobs, three-knob HVAC controller, a trailer brake controller, a large TFT screen, a leather-wrapped steering wheel, and a rotary shift knob.
There is some speculation that Ram could use different grille designs for different trim levels, similar to blacking out the grille of special editions. From what has been gathered thus far, the crosshair grille may have been put to rest, as the new grille design is rounder and made up of thicker, horizontal slats. A hint of chrome from the bumper was noted though, along with a center opening to help with airflow and cooling off powertrain components. Squared off tow-hooks were also seen.
Other 2019 updates suggest new body panels for a new look and better finish to complement the upgraded interior. An updated frame and suspension could also allow for a better payload and higher towing capacity for the light-duty pickup truck. Depending on the engine choices, the 2019 Ram 1500 may even receive a better fuel economy than past models. For now, we'll have to wait until its debut, said to be within the next year.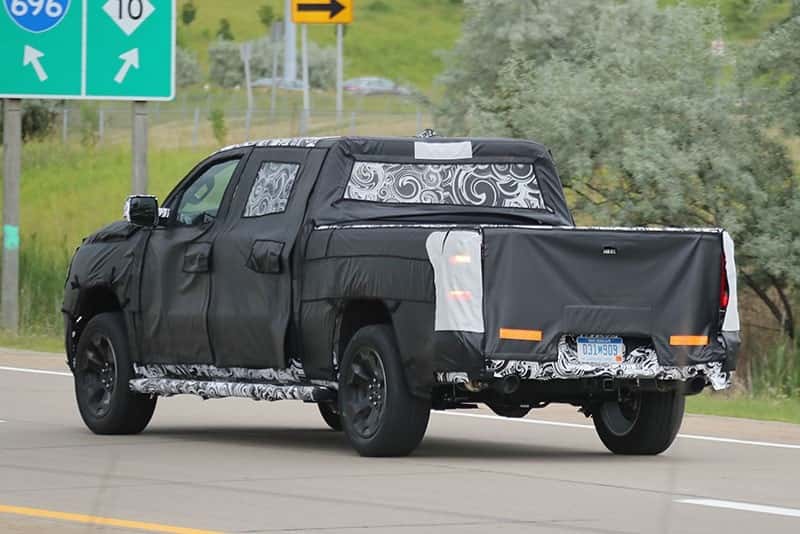 Photo Source/Copyright: Trucks.com