NYIAS FCA Highlights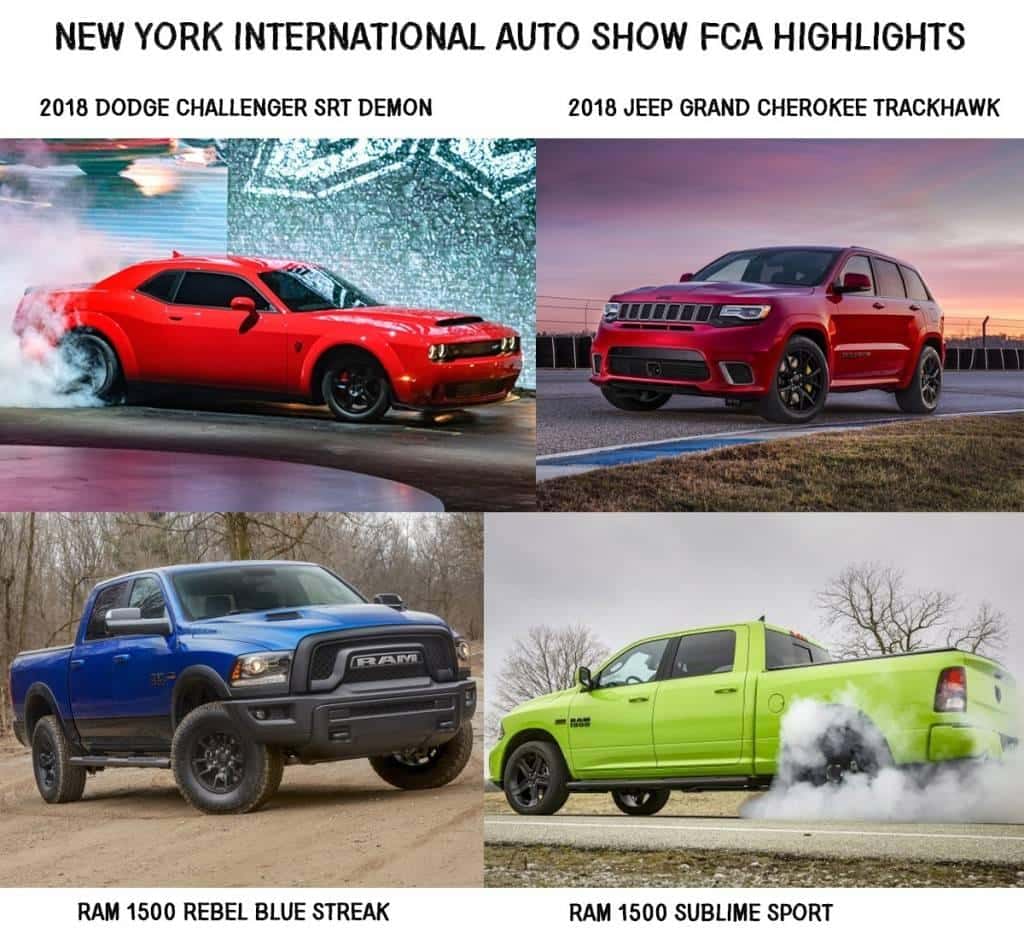 Jeep, Ram and Dodge all had a pretty big presence at the New York International Auto Show this year, and it's been a little hard to keep up with all of the news. In short, Dodge released the 2018 Dodge Challenger SRT Demon, Jeep released the 2018 Jeep Grand Cherokee Trackhawk, and Ram unveiled two new brightly colored trucks. Keep reading to get all the details.
Dodge Challenger SRT Demon
We've been waiting to hear all about the resurrection of the Dodge Demon since the first teaser that was released in January as a part of the three-month If You Know, You Know Campaign. Well, know that we know the details, and we know it was worth the wait. The new 2018 Dodge Challenger SRT Demon is the fastest quarter-mile production car in the world.
At first glance, many people might think the Dodge Challenger SRT Demon is just another Challenger SRT Hellcat, but they'd be wrong, the Challenger SRT Demon is even more extreme. The Challenger SRT Demon has a supercharged 6.2-liter HEMI Demon V8 engine, and it produces 840 horsepower and 770 lb-ft of torque. The supercharger on the Challenger SRT Demon is 0.3 liters bigger than the SRT Hellcat's, and it has several "firsts" for a factory-production car.  
A wide Air-Grabber hood scoop, the largest functional hood scoop on any production car (a total of 45.2 square inches)
Four standard Nitto NT05R street-legal, drag-race tires, a first for a factory-production car
Designed to run on 100+ unleaded high-octane fuel, also a first for a factory-production car
And the largest air induction volume of any production car on the market, a total intake of 1,180 cubic feet of air per minute
So what does that all add up to? The Challenger SRT Demon accelerates from 0-60 mph in 2.3 seconds and covers a quarter-mile in 9.65 seconds. To put it in perspective, the last recording for the SRT Hellcat was 0-60 mph in 3.6 seconds and a quarter-mile in 11.7 seconds.
Jeep Grand Cherokee SRT Hellcat
We know Jeep has been a little "jelly" of the Dodge since the Charger and Challenger SRT Hellcat models came out, so they stepped up their SRT game this year. Speed and off-road action usually don't mix, but Jeep did it anyway and put the same engine found in the SRT Hellcat models into the Jeep Grand Cherokee to create the Grand Cherokee Trackhawk. Yes, the supercharged 707-horsepower 6.2L HEMI SRT V8 previously mentioned above is now in a Jeep Grand Cherokee, and it revs from 0-60 mph in just 3.5 seconds.
In addition to the SRT Hellcat engine, the Jeep Grand Cherokee Trackhawk will also get a large set of front brakes, Uconnect performance pages, all-wheel drive, an upgraded suspension, and the advanced TortqueFlite 8-speed automatic transmission. Plus, the Jeep Grand Cherokee Trackhawk has a new look, and we wouldn't say it's a stretch to call it a "muscle SUV", because it looks pretty aggressive.
Ram 1500 Sublime Sport and Rebel Blue Streak
Ram might not have debuted powerful and loud engines, but they introduced two new bold and loud colors. First up is the Ram 1500 Sublime Sport, and it has bright green paint job coming from Dodge's collection of High Intensity Paint (HIP) colors. In addition to the new hue are some other key features like Ram's Sport performance hood and blacked-out badges. Aside from this, the exterior rides on inky black 22-inch rims, a crew cab is the only cab choice, and a 5.7L HEMI engine is under the hood. If you are hoping to get your hands on the new lime green truck, hurry up because only 3,000 units will be made. MSRP starts at $45,740.
Then there's the Ram 1500 Rebel Blue Streak. Already rugged, built with a factory lift, 33-inch all-terrain tires, and Bilstein shocks, the Rebel Blue Streak is a new blue Rebel that comes with the special Black Appearance Package. This includes black decals on the hood and black paint on the rims and badges. That's it – doesn't sound like much, but Ram must be pretty confident. A recent report by FCA states that Ram sold 46,384 trucks to American customers in March alone – that's more than one Ram pickup sold every minute 24/7. MSRP for the Ram 1500 Blue Streak starts at $45,095.
Things are still shaping up at the NYIAS, it's going on until this weekend (April 23) after all. Stay tuned, 'cause we'll have plenty more to talk about soon.
Photo Source/Copyright: thetruthaboutcars.com, theverge.com, and cnn.com