New FCA Campaign Starring Kathryn Hahn – No Matter How You Parent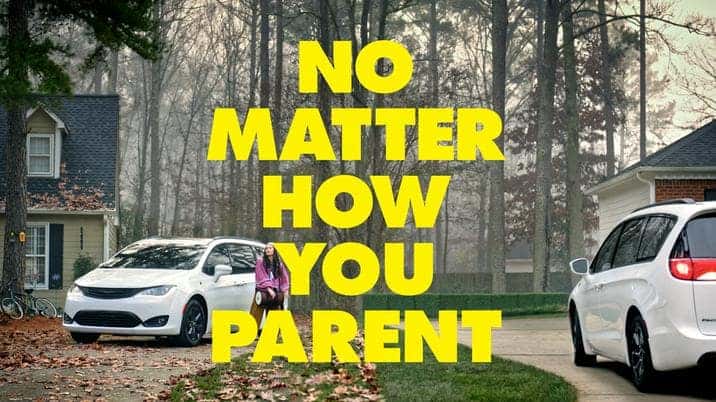 Fiat Chrysler Automobiles (FCA) has always had some interesting ad campaigns – what automaker doesn't? Like all automakers, FCA also tends to get a well-known celebrity or influencer to star in their commercials. In 2018, FCA worked with Kathryn Hahn on several commercials, ending the year with a video called "Caroling" where Hahn takes children actors on a ride around the neighborhood to see Christmas light decorations, but to also show off the wonderful features of the Chrysler Pacifica minivan, like its available 20-speaker Harman Kardon Premium Surround Sound System. This year, FCA has renewed their contract with Kathryn Hahn to star in many more videos for the new Multimedia Marketing Campaign "No Matter How You Parent" for the Chrysler Pacifica and Chrysler Pacifica Hybrid.
We're not sure if Hahn knew how many videos she was going to shoot, but we're pretty sure that she's going to become the face of the Chrysler brand for a while. Starring in the new advertising campaign for the Chrysler Pacifica and Pacifica Hybrid where she reprises her role as mom to highlight all the great features of these minivans, Hahn will be driving either minivan in this multimedia series will span across television, digital and social media, including Chrysler brand's Facebook, Twitter and Instagram channels.
The first video, "School Drop-Off", will launch via broadcast on Monday, February 17, 2020, but all videos are already available to view now via the Chrysler brand's YouTube channel.
Hahn is in a total of nine videos for the "No Matter How You Parent" campaign, and in each she plays a different character that allows her to show off some of the best features of the Chrysler Pacifica, from a family minivan that can keep everyone on the move while also providing comfort to a technology packed minivan that offers all sorts of video and multimedia features. Hahn sure is a versatile actress, and her versatility is the perfect way to show off the various capabilities of the Chrysler Pacifica minivan is. After all, FCA invented the original family vehicle more than 35 years ago, and the Chrysler Pacifica continues to provide an unprecedented level of functionality, versatility, and technology with a bold style.
"The Chrysler brand recognizes there are many different ways to parent, and a style that works for some may not work for others…As one of television and film's most multifaceted actresses and a friend of the Chrysler brand, who better than Kathryn Hahn to partner with us in our all-new 'Mom Personas' campaign to demonstrate how the Pacifica and Pacifica Hybrid are fun, versatile and responsible vehicles built to support all parents and their unique lifestyle demands." – Marissa Hunter, Head of Marketing, FCA – North America
The "No Matter How You Parent: Pacifica" campaign was actually created in collaboration with Hahn and her husband, actor, and screenwriter Ethan Sandler (and in partnership with Doner). We're not sure how often that tends to happen, but it's fun to know that Hahn and her husband drew inspiration from their own experiences as parents to create authentic characters in relatable parenting situations, from the social media obsessed to the overzealous soccer mom. We even got a nature-loving hippie Hahn in there for the environmentally conscious Chrysler Pacifica Hybrid.
Look for the new "No Matter How You Parent" campaign from FCA starring Kathryn Hahn and check out the new Chrysler Pacifica or Chrysler Pacifica Hybrid minivan at Aventura Chrysler Jeep Dodge Ram.
Photo Source/Copyright: FCA Media