New Distributor for Mopar Dodge Drag Pak Engine Parts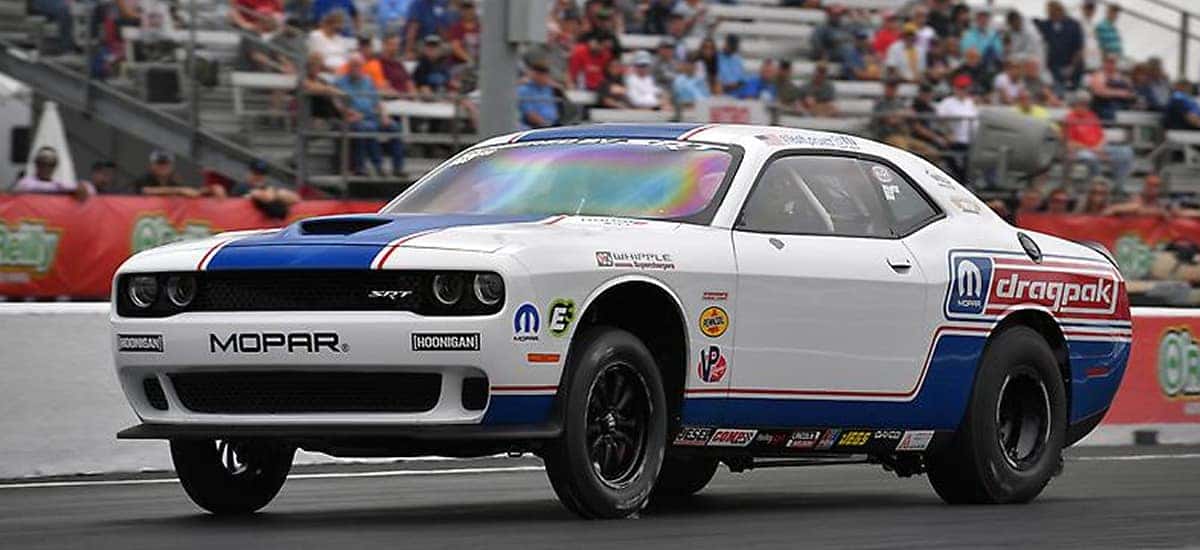 Things weren't looking all that great for Dodge//SRT soon after the Fiat Chrysler Automobiles (FCA) and PSA Group merger officially became Stellantis. PSA Peugeot CEO Carlos Tavares holding the tie-breaking vote on the board, and well-known for not tolerating brands that don't perform well, i.e. sales, they get the axe. Believed that the SRT faction was holding Dodge back from becoming a more green brand, the "Street & Racing Technology" team was almost disbanded. Instead, the team will be focused on bringing Dodge muscle cars into the age of electrified vehicles, one way or another. But just in case, there is always MOPAR, the official custom auto parts retailer of FCA and known for having catalogs of after-market parts for modifying and increasing the performance of Dodge//SRT vehicles.
The latest addition to the family is Don Schumacher Racing (DSR) Performance. Named as the new distributor of officially licensed engine parts and components for the 2015 and 2021 Dodge Challenger Mopar Drag Paks, DSR Performance is currently taking online and at-track orders. Dodge Drag Paks may be somewhat unknown to the average consumer. With only two made, the 2015 model and the most recent 2021 model, these vehicles are better known by racing fans, having competed in grassroots and professional drag races sanctioned by the National Hot Rod Association (NHRA) and National Muscle Car Association (NMCA). In March 2021, the fastest and most powerful Drag Pak ever built made its debut, and dropped jaws with its seven-second-flat quarter-mile run at the NHRA Gatornationals in the Sportsman's Factory Stock Showdown (FSS) class.
This is the kind of performance Dodge//SRT and Mopar are known for. Now, the new DSR Performance online catalog can offer the same engine components to modify the supercharged 354-cubic-inch Gen-III HEMI® V8 engine under the hood of the two Drag Pak models. DSR, Mopar, and Dodge//SRT have been in cahoots for much longer than many know. Dating back to 1971, a partnership between the three aforementioned parties became official in 2003, and since then, has earned 14 NHRA world championships and 279 event wins, including world championship in 2018 with DSR pilot Leah Pruett behind the wheel of the third-generation Dodge Challenger Mopar Drag Pak.
"DSR has enjoyed an extremely successful partnership with Mopar and Dodge//SRT for more than 20 years now and, for me personally, our relationship extends back five decades…Our partnership is always evolving and to now expand into this new venture where we are the official distributors of licensed Dodge Challenger Mopar Drag Pak components is something we're quite proud of. We can't wait to offer this additional level of support to the Drag Pak community of racers and enthusiasts." – Don Schumacher, owner of DSR
This catalog is really for the gearheads that can wrap their head around the inner-workings of engines. Made up of twenty individual parts, the entire catalog offers aluminum race blocks and rebuild kits, cylinder head assembly and hardware, camshafts, rotating assembly parts (cranks, bolts, rods, and pistons), valve train and intake valves, various pulleys (tensioner, supercharger and idler), and oil pan assembly. The average consumer couldn't point half of those parts out just by opening the car hood, and that's okay.
Own one of the legendary Mopar Dodge//SRT Drag Pak models? Find parts for either the 2015 or 2021 model at dsr.parts/collections/dragpak. Want to enjoy the high-performance only a Dodge muscle car can provide? While the brand is still pumping high-octane engines, find your new Dodge at Aventura Chrysler Jeep Dodge Ram.
Photo Source/Copyright:  Stellantis Media