New Camping System for Jeep Gladiator from FiftyTen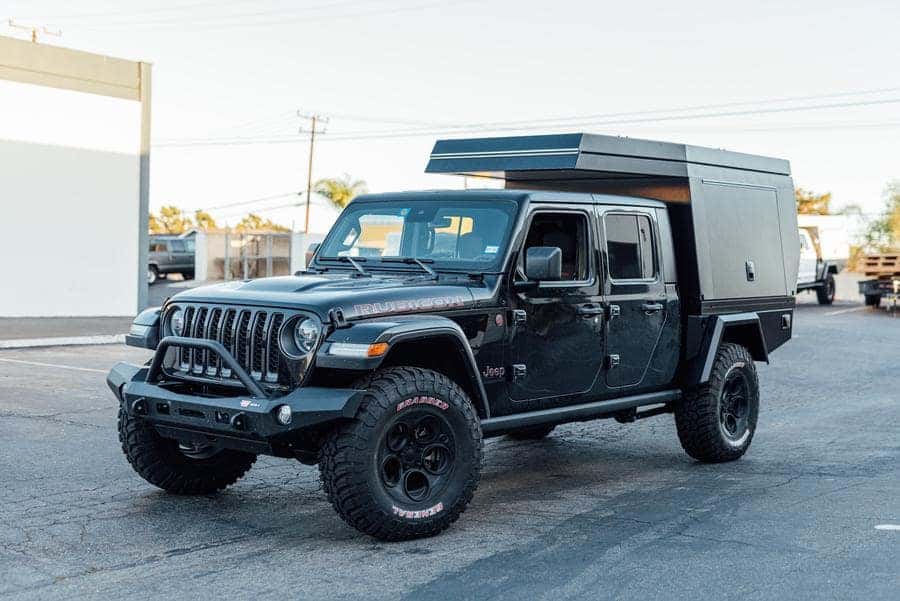 Since the 2020 Jeep® Gladiator midsize pickup truck was revealed at the 2018 Los Angeles Auto Show, it sure wowed fans of trucks and Jeepers a like. It was the best of both worlds, and now truck lovers had the customization of a Jeep Wrangler with the capability of a Ram 1500. Plus, Jeep is known for the ability to add on lots of mods on Jeep vehicles to customize them for any kind of adventure. Well, it didn't take long for aftermarket companies to start working on the Gladiator and see what they could come up with. Mopar was of course the first to hit the stage, debuting their new catalog and customization during the LA Auto Show. The most recent customization comes from FiftyTen, a German-firm that produces camping systems and accessories.
Anyone Want to Go Camping?
Camping is a favorite pastime among many people in the U.S. and all over the world. From Boy Scouts to family bonding, it's a great way to reconnect with the outdoors. Some people like to bring campers, and some will even transform their own vehicle into a camper. Ever heard of #VanLife? It's a movement where one person, or a couple, will transform their minivan or cargo van into an on-the-road camper. They make use of solar panels for cars and transform the cabin into a one-bedroom apartment.
Another way people tend to go about this is with trucks like the Ram 1500 and Ram 2500 that one can install a camper onto. The larger the truck bed, the larger the living space. If someone were to purchase a large enough topper, they can also live the #VanLife. If they were to install a pop-up camper, they may even be able to stand and stretch from the comfort of the truck. It was only a matter of time before someone looked at the 2020 Jeep Gladiator and saw the potential.
The German firm FiftyTen saw that potential and is ready to reveal their most recent project: the Jeep Gladiator Mid-Size Camping System. You can see what it looks like closed up above, but here's what it looks like once opened up.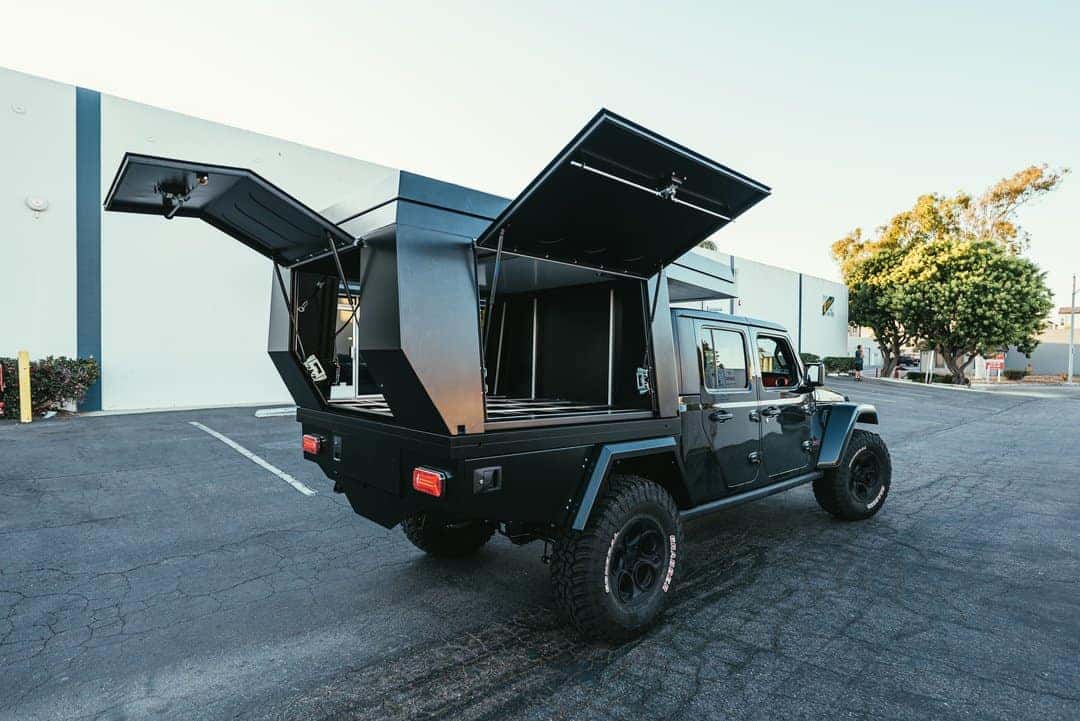 This mod comes with a Rooftop-Tent that is easy to set up in just a few seconds and then stored away when not in-use. An accessible roof system has been installed that can be loaded with Airline rails that make it easy to move cargo across its entire length. When it comes to the interior, there are many options available on the FiftyTen website, but to make this camper ready to go, the Gladiator Mid-Size Camping System also comes with an 80mm mattress with a Froli spring system that can be adjusted in strength and a washable mattress cover.
For those already planning their next camping trip, here's some dimensions:
Exterior
Width: 63″
Length: 63″
Height Closed: 43-1/4″ From top of tray to top of camper
Height Open: 91" From top of tray to top of camper when open
Left & Right-Side Access Doors
Width: 41"
Height: 32-1/4"
Rear Access Door
Width: 36-1/4"
Height: 31-1/2"
Surprised to see U.S. metrics from a German-engineered product? That's because FiftyTen has a USA site and has all the intention of selling the mid-size camping system in the United States through its partners of Goose Gear or right off the US website, fiftytenusa.com. The price for the Jeep Gladiator Mid-Size Camping System is $32,880. Given the starting price of the 2020 Jeep Gladiator ($33,545 plus destination fee), it's actually a great deal.
What do you think of the Jeep Gladiator Mid-Size Camping System from FiftyTen? Join the discussion on Aventura Chrysler Jeep Dodge Ram on social media.
Photo Source/Copyright: FiftyTenUSA