Minivans, Crossovers, and Trucks, Oh My!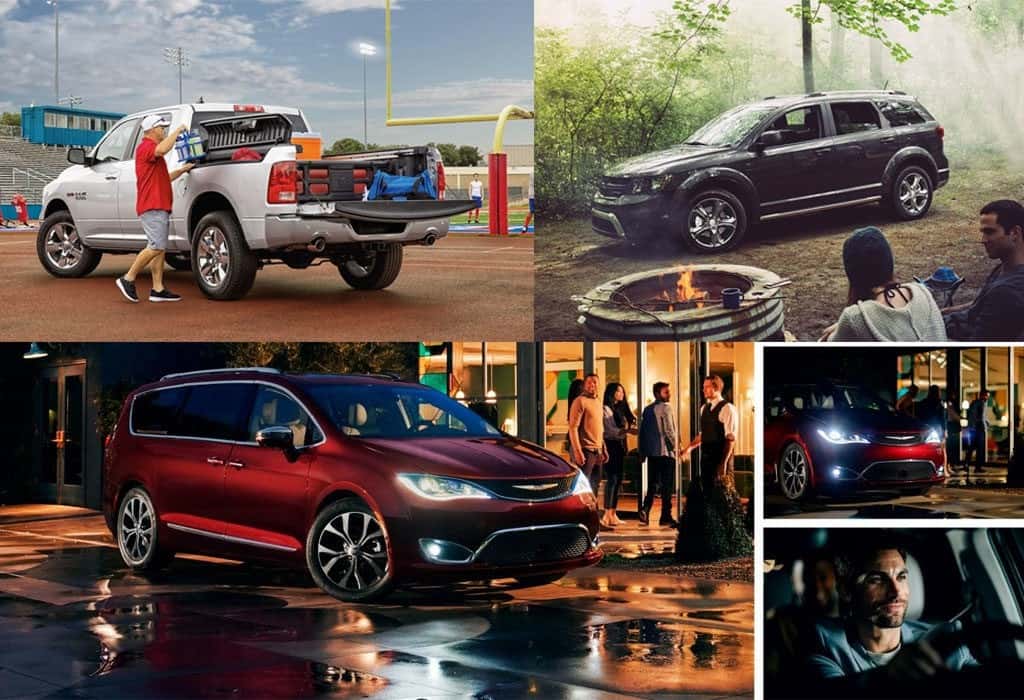 With so many versatile options in the auto market today, consumers tend to have a lot of questions. The number one question – what kind of car should I get? Well, no one can really answer that for you, but by looking at a couple of features, we can help narrow down the choices. Let's look at some of the top three vehicle types in the market: minivans, crossovers, and trucks.
For this exercise, we're gonna compare the high-end trims for the 2017 Chrysler Pacifica, 2017 Dodge Journey, and 2017 Ram 1500. That would be the Pacifica Limited, Journey GT, and since there are many, many configurations for Ram trucks, we went with the Limited 4×4 with a crew cab and 6'4" truck bed.
Space
When it comes to choosing between a minivan, crossover, or truck, many variables come to play. One of which is space, and not just for people. Are you buying your new vehicle just for you and the boys cracking a cold one (not while you're driving we hope), or is the whole family going on a road trip? Will everyone fit? Will all the cargo fit? These are things to consider.
The 2017 Chrysler Pacifica Limited is available with seating for up to eight people. The 2017 Dodge Journey can seat up to five or seven people depending on the trim and options selected. The seating capacity of the 2017 Ram 1500 depends on the cab and the largest cab option, a crew cab, sits six people comfortably.
Then there's cargo space to consider. The Chrysler Pacifica has up to 140.5 cubic feet of cargo space available with the second- and third-row seats folded into the Stow 'n Go seat compartments; if the seats are up, the Stow 'n Go compartments can be used for storage instead. Plus, the Pacifica has a third-row 60/40 split bench, which is ideal when a user only needs to open one side of the cabin for extra cargo space. The Journey has 67 cubic feet of space for cargo with the 60/40 split-fold second-row and 50/50 fold third-row seats folded down, but that's if we're not taking into account the many hidden storage spaces around the vehicle, such as the in-floor storage compartments, passenger in-seat storage, and cargo in-floor storage in the back. There is not as much interior cargo space available on the Ram 1500, but some trims are available with an under-the-seat storage compartment and of course, there's that huge truck bed. So, if hauling a 4-wheeler and you don't own a trailer, load it up in the bed and don't worry about dirt getting in the interior. Additionally, there's also the available RamBox Cargo Management System, which is a great tool for managing cargo.
Hauling
There are other ways to carry cargo, and not just inside the cabin. For anyone who likes water sports or fishing, they may consider getting a large vehicle to tow the boat. Plus, many vehicles also come with roof racks for extra storage.
In addition to the available Stow 'n Place roof racks, the Chrysler has a maximum towing capacity of 3,600 pounds, which is enough weight to tow a couple jet skis and then some. Surprisingly the 2017 Dodge Journey doesn't come with roof racks and it has a maximum towing capacity of 2,500 pounds. Some would say it's made for the small stuff, given all the interior storage compartments. It should go without saying, but the 2017 Ram 1500 blows both out of the water with its available maximum towing capacity of up to 10,200 pounds! That's enough for a speed boat or even an RV.
There are of course other variables to consider, such as safety, technology, convenient features, and the like, but comfort and capability are the top two. Do you want more space, or more power? That will help narrow down the choices.
Looking for a 2017 Chrysler Pacifica, 2017 Dodge Journey, or 2017 Ram 1500? Check out our inventory for yours today.
Photo Source/Copyright: Chrysler.com, Dodge.com, RamTrucks.com