Jeep Collaboration Produces Custom Wallace Detroit Guitar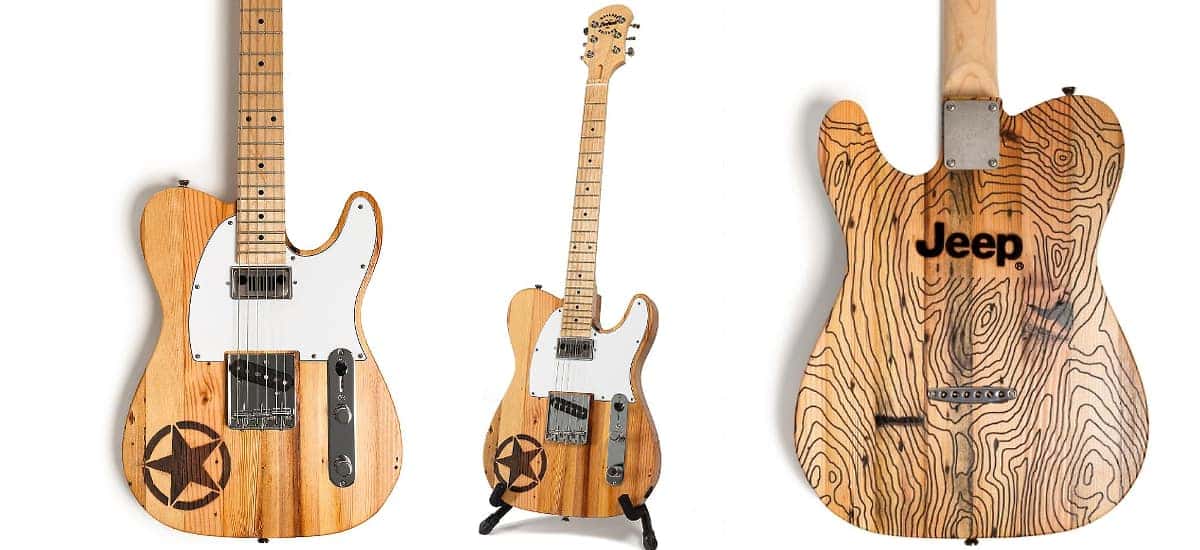 When thinking of the word "Jeep", rock music doesn't exactly spring to mind. Adventure, yes. The great outdoors and a lifestyle that takes you to those hard-to-reach places, also yes. A guitar isn't really synonymous with the off-road automaker, and yet the Jeep brand collaborated with Wallace Detroit Guitars and Cherrytree Music Company's DETROIT DREAMERS to launch a fancy and expensive custom guitar. Priced at $2,900, these guitars take 90 days to make, with the wood sourced from old-growth wood from historic Detroit buildings.
Sounds like a true novelty item. It's a one-of-a-kind, multi-faceted marketing collaboration, and it makes sense, because I don't know about you, but I've never heard of this band, "DETROIT DREAMERS", so I'm sure they could use the marketing and publicity. For those of you who are fans of Jeep and rock music, this is a chance to get a never before seen, custom-built guitar crafted by Wallace Detroit Guitars. To accompany the guitar, Cherrytree Music Company's rock group DETROIT DREAMERS created a custom track, "Dreamers" (truly, wordsmiths), to launch the initiative.
"Music, architecture and the automotive industry are revered in the city of Detroit…This initiative with Wallace Detroit Guitars and DETROIT DREAMERS to launch a custom Jeep-branded guitar and custom track gives fans the opportunity to own a unique and authentic work of art that both acknowledges their passion for the Jeep brand and celebrates the city's history of music and its automotive roots." – Olivier Francois, Global Chief Marketing Officer, Stellantis
The song, "Dreamers", is an origin story of DETROIT DREAMERS founder Martin Kierszenbaum and bandmate Tony Lake, and their passion for rock music and following their dreams. Is this rock music or pop? Regardless, the guitar is the real star of this story. Just take a look at all of the features of this $2,900 novelty item – the Wallace Detroit Deluxe Jeep Guitar.
In collaboration with Jeep, we can find two icons of the brand with a quick spin. A graphic of iconic Jeep version of the U.S. Army star has been branded onto the front the body of the guitar, whereas the back comes with an engraved and "hand-painted" Jeep brand logo accompanied by a Detroit topographical map. The logo looks more like a stenciled airbrush, if you ask me. The iconic Jeep grille graphic also makes an appearance on the neck of the guitar, a Humbucker.
Complementing the old growth-wood is a maple neck and fretboard. Accentuating the body of the guitar are deluxe beveled edges with a white pickguard, chrome hardware with traditional bridge and controls, and a single coil bridge pickup. A hand-applied oil finish completes the look of this custom guitar, and each instrument comes with guitar straps made from recycled car seat belts and a Gator hard-shell guitar case. To add more value to the novelty of the guitar, each will come with a few lines printed as a part of the build:
Reclaimed Wood: Packard Plant
Detroit, Michigan
313-JEEP-(unique identifier #)
Pre-orders for the guitar have already begun. Consumers can visit wallacedetroitguitars.com to order their custom, one-of-kind Wallace Detroit Deluxe Jeep Guitar. If you get your hands on one, play us a tune on Aventura Chrysler Jeep Dodge Ram social media.
Photo Source/Copyright: Stellantis Media