Helpful Safety Features on the Chrysler Pacifica Minivan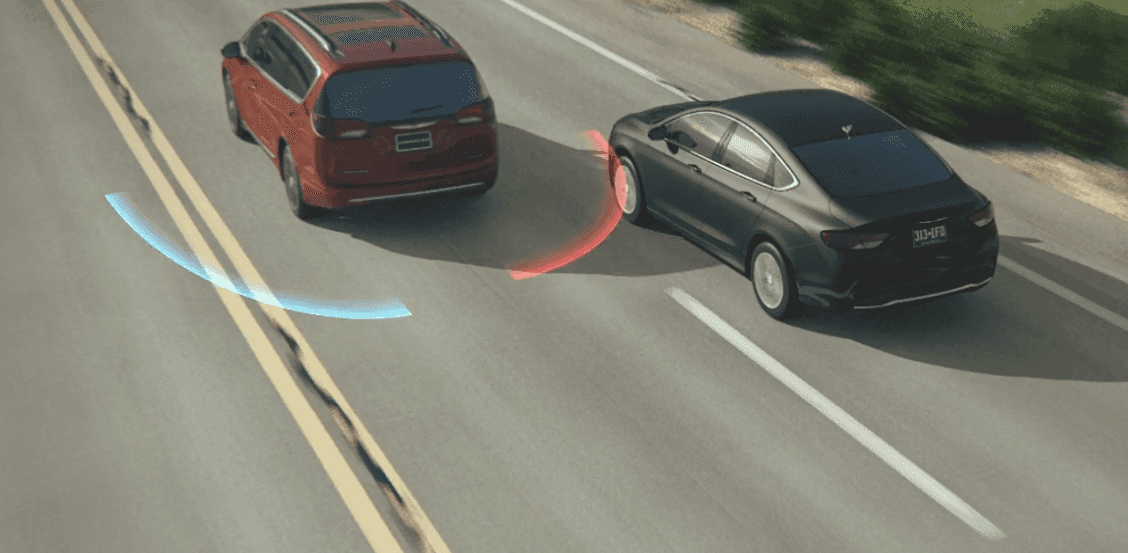 It's been over a year since the release of the Chrysler Pacifica minivan, and yet it's still the breadwinner for the automaker. A Chrysler crossover is said to be on the horizon, and it may give the Pacifica a run for its money when it comes to choosing between a new high-tech crossover or a new high-tech minivan. After all, the Chrysler Pacifica has all kinds of entertainment thanks to next-generation Uconnect, Uconnect Theatre, and the AT&T-Chrysler Wi-fi contract. The Chrysler Pacifica also won over many families not just because of entertainment value, but also the safety and convenience the Pacifica minivan delivers.
Convenience
Convenience comes in two forms when talking about the Chrysler Pacifica. Some of the most obvious convenience features deal with the exterior of the minivan, such as the available hands-free sliding doors and a class-exclusive hands-free power liftgate. With the key fob on one's person, a user can simply kick under the chassis of the vehicle near the sliding door to open the door, or under the bumper to open the liftgate, both perfect features when both hands are full. And don't forget all of the seating configurations available with Stow 'n Go seating and their respective under-floor compartments for extra storage even with a fully-seated cabin.
Past ease-of-access and seating configurations, the Chrysler Pacifica also offers parking assistance. With standard ParkSense rear park assist, drivers get a little help for backing into spots with with a sensor that will alert the driver with visual and audio cues when getting too close to another vehicle or static object. Going further, an available safety feature on the Pacifica is the Parallel and Perpendicular Park Assist system that controls the steering wheel while the driver follows on-screen directions for easy parking in a tight spot. With available rear cross path detection, getting back out of one of those tight spots is a little easier, able to notify the driver if their exit path is clear or not.
Safety on the Road
Let's talk about more available advanced safety features that help make driving a little safer with the Chrysler Pacifica. A common practice we're all taught in Driver's Ed is taking a look at our blind spots in a vehicle because the rearview mirrors and side mirrors won't always capture the "full picture," and that can lead to horribly executed maneuvers or even an auto incident. With available safety features like the Blind Spot Monitoring system, drivers will be notified when a vehicle is approaching from their blindspot, and an available 360-degree surround view camera can always give drivers a clear look at their surroundings in every direction.
Another feature that helps while on the road is LaneSense Lane Departure Warnings with Lane Keep Assist. Are you a new driver and have some trouble staying in your lane? Or maybe not used to driving a larger vehicle thanks to new additions to the family? Well, this LaneSense feature will come in handy because it provides the driver visual and audio cues when they're leaving their lane. While the lane departure warning helps to coach drivers and help them stay in-lane, lane keep assist will also attempt to guide the vehicle back into its proper lane unless the turn signal is on. This way, any absent-minded merging blunders can be avoided a little more quickly. Speaking of absent-minded, one more convenient safety feature is the available Adaptive Cruise Control with Stop and Go technology that can slow the vehicle down while on cruise control if approaching another vehicle quickly and can even bring the car to a stop, or try to, if that other car isn't moving, such as an abrupt traffic jam while on the highway.
With all these helpful safety features in the Chrysler Pacifica minivan, it's almost as if no one has to worry on the road when behind the wheel. Just be sure to look out for other drivers. Interested in testing out all of this safety yourself? Come to Aventura CJDR for a test drive.
Photo Source/Copyright: Chrysler.com