Get Work Done with a Ram Chassis Cab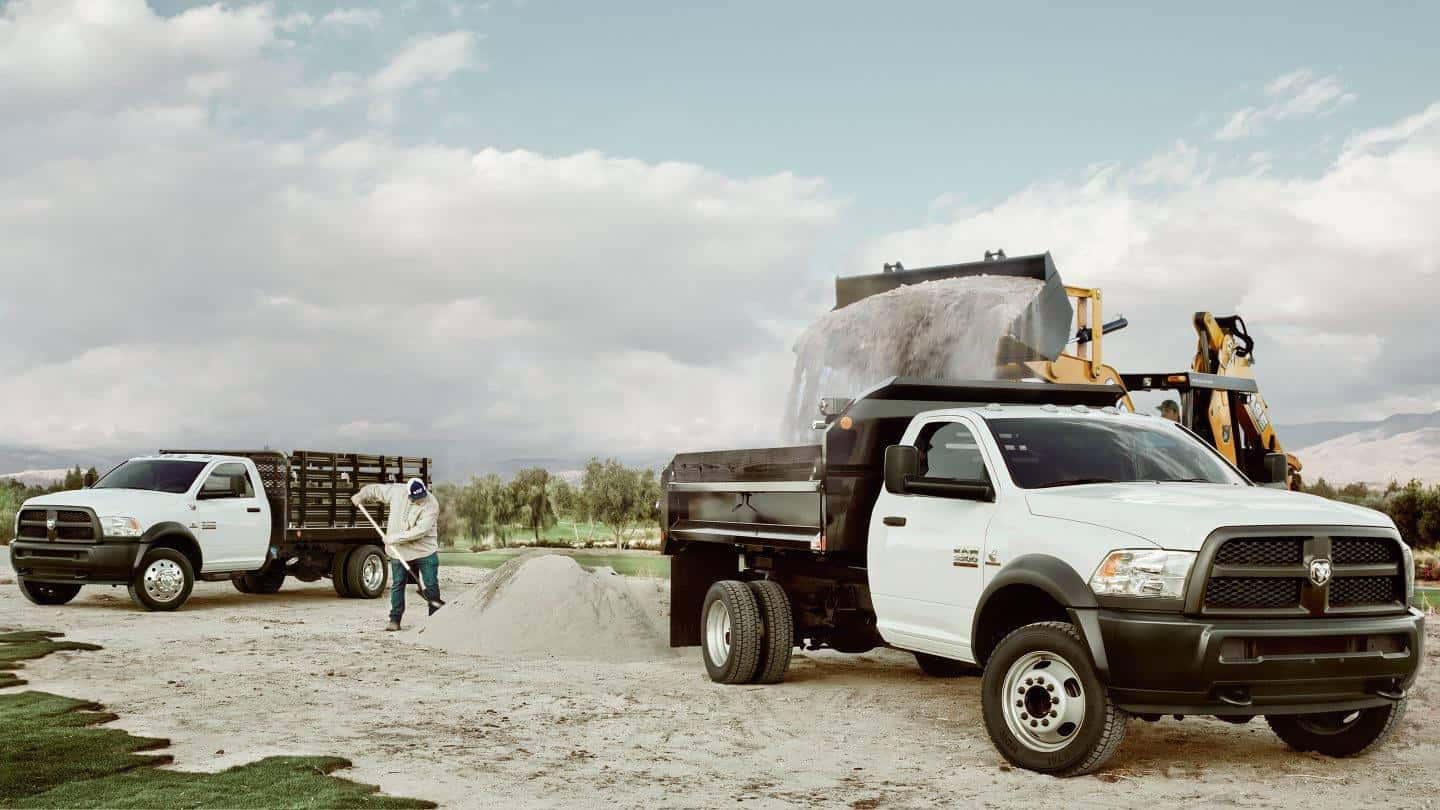 The 2017 Ram Chassis Cab isn't one to get the spotlight. It's all about Ram pickup trucks, the ones we usually see on the road. But what about construction work? What about the models that move land from one destination to the next? We're talking a maximum towing capacity of 30,600 pounds. That's the 2017 Ram Chassis Cab.
Performance
What kind of power is behind a vehicle that can tow nearly 15 tons? Well, the standard engine is a 6.4-liter HEMI V8 with VVT. Anyone who has heard of the Dodge Charger or Challenger engine lineup has heard of this V8 beast and knows it's got some real power humming to life. It boasts 410-horsepower and best-in-class 429 lb-ft of torque for a maximum towing capacity of 18,550 pounds on the Ram 4500 Chassis Cab model.
The optional engine is a 6.7-liter Cummins Turbo Diesel I6 engine. "Cummins" is a well-known name in the world of diesel engines – generating 325-horsepower and 750 lb-ft of torque, diesel is the way to go if towing a large haul is the goal. This engine increases the 2017 Ram 4500 Chassis Cab's towing capacity to 24,000 pounds and gives the Ram 5500 Chassis Cab a maximum towing capacity of 29,000 pounds. There is a 6-speed automatic and manual transmission option for each engine and an automatic transmission is standard for the 6.4L HEMI and manual for the 6.7L Cummins Turbo Diesel. With the right equipment, a 2017 Ram Chassis Cab 5500 can tow up to 30,600 pounds.
Built to Last
Not only are Ram Chassis Cabs designed to be durable, built with a rear frame able to withstand 50,000 PSI, but also with best-in-class available 74-gallon combined dual fuel tank capacity, those jobs that may take a day or two of driving have fewer fill-ups and cost less. Plus, the Chassis Cab is upfit friendly, meaning owners can install modifications and components into the truck itself, thanks to a flat frame.
When doing the dirty work and stability and traction are just as important as power, dual rear wheels are standard on the 4500 and 5500 Chassis Cab models (optional on the 3500). That's the loading bit, but what about unloading? Available features such as ParkSense Front and Rear Park Assist Systems and a rear camera are a nice touch for seeing where you're going when there's nothing but a ton of gravel behind you and the rear window.
All this comes down to is an interior that also gives the driver some comfort. The 4500 SLT, 4500 Laramie*, and 5500 Laramie come with 40/20/40 front bench seats for various seating arrangements and a variety of Uconnect versions available. The standard is a Radio/Uconnect 3.0, but upgrading to 5.0, 8.4 NAV, or Uconnect Access are always a smart choice for those long, lonely drives.
These are just some of the highlights of the 2017 Ram Chassis Cab, but when it comes to getting a truck for the work place, what else do you need to know?
*Crew cab models only
Photo Source/Copyright: ramtrucks.com