FCA Runs their Big Finish Campaign for the Holidays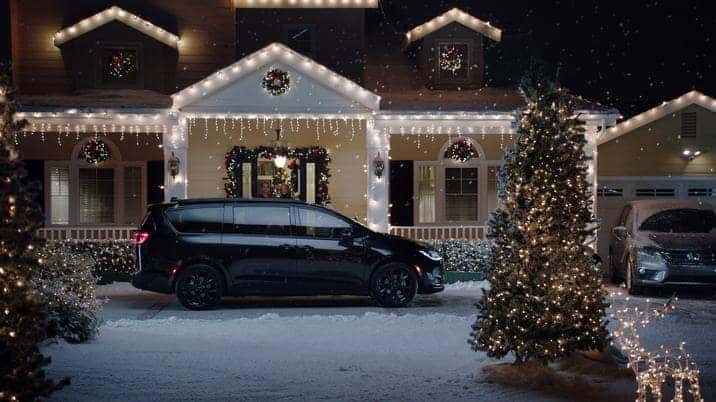 Remember the summer ad campaign Fiat Chrysler Automobiles (FCA) put together to show off Apple CarPlay and new technology features found in FIAT, Chrysler, Dodge, Jeep®, and Ram brand automotive vehicles? It was fun seeing all the different commercials, made to highlight the "Apple Experience". Now that the year is coming to a close and the holidays are upon us, FCA is producing another round of commercials for the "Big-Finish" advertising campaign.
Big-Finish
The year-end "Big-Finish" advertising campaign by FCA launched on Monday, November 5, 2018, and will be viewed on various media channels – television, social media, and digital platforms. When not live, we can be sure some of these commercials will find their way into ads on YouTube, Hulu, and other digital media streaming surfaces. To make the campaign as fun as it was in the summer, Pop Rock band OneRepublic and famous actress Kathryn Hahn will be returning, both featuring musical renditions of holiday classics by various artists.
"We set out to accomplish three objectives with our Big Finish campaign – it must be unique to each brand personality, it must be impactful to help sell cars during the automotive industry's biggest selling season, and it must be relevant…Our challenge during the holidays – when we are oversaturated with holiday music and bells ringing — is how do you get more than your fair share of attention if you use the same device as everyone else, and at the same time remain true to the identity of our brands? The answer, as always, is the creative twist. From a rap reimagination of 'Jingle Bells,' to the heavy metal track 'Santa Claus is Back in Town,' to enlisting artists such as OneRepublic and Gwen Stefani to put their own spin on holiday music, it gives us the opportunity to hear a story that speaks to the moment and stands out at the same time." – Olivier Francois, Chief Marketing Officer, FCA
Chrysler Brand – Caroling – Kathryn Hahn
Featuring the original rap track "Lit Christmas" by Scott Stallone ft. MC Rellik and Stones Throw Records, Kathryn Hahn goes caroling in her neighborhood. "Lit Christmas" is a rap-infused reimagining of "Jingle Bells", and during this 30-second spot, Hahn is taking her kids (actors) out in the Chrysler Pacifica and make use of the available 20-speaker Harman Kardon Premium Surround Sound System in the Chrysler Pacifica.
Jeep Brand – Colorful Christmas – OneRepublic
Although the media-spot is called "Colorful Christmas", the commercial will feature "White Christmas", performed by OneRepublic. As noted, this will be their second collaboration with FCA in 2018. All of the Jeep lineup is given some love with each one getting the spotlight. Watch each one take on sandy terrain, drift in the snow, or ride along softly lit city streets.
Ram Brand – You Make it Feel Like Christmas – Gwen Stefani
Breaking out her newly released deluxe holiday album by the same name, Gwen Stefani performs the backdrop to the Ram brand's 30-second commercial, the "Ginger Builders". The 2019 Ram 1500, Ram 2500, and Ram 3500 all play a part in the construction of a Christmas project – a life-size gingerbread float.
Dodge Brand – Santa Claus is Back in Town
To show off their high-performance vehicles, Dodge has taken a 30-second spot to bring Santa Claus to the modern age with an upgrade. Santa's Sleigh is demonized when it comes equipped with the 797-horsepower Challenger Red Eye engine, dual exhaust tips, six piston Brembo brakes and seven-passenger seating. The commercial stars Dodge "personalities" Bill Goldberg (professional athlete, NFL player, pro wrestler and automobile aficionado) as Santa and "All Girls Garage" host and automotive enthusiast Cristy Lee as Mrs. Claus.
With all the holiday deals going on, be sure to check out Aventura Chrysler Jeep Dodge Ram. We have Chrysler, Dodge, Jeep and Ram brand vehicles here at a great price. Find yourself a vehicle for the holidays at Aventura.
Photo Source/Copyright: FCA Media