FCA Offers Jeep Death Wobble Solution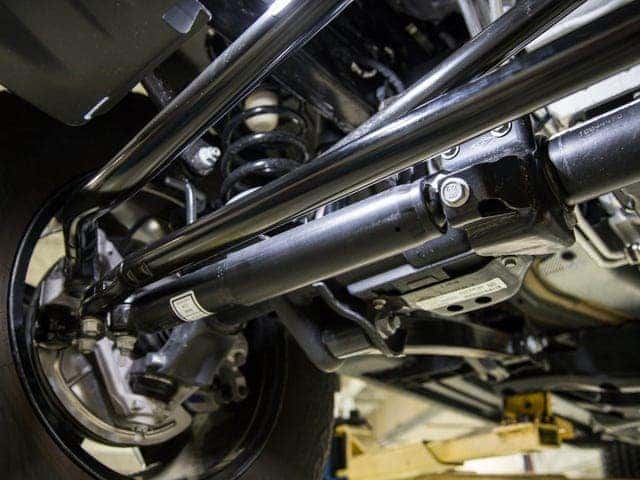 Ah, the dreaded Jeep® Death Wobble. It's a well-known situation amongst Jeepers, most notably amongst those who own or drive a Jeep Wrangler, but the terrifying behavior can happen on any kind of Jeep vehicle. It's a rare event- according to the NHTSA, only 600 death wobble reports have been filled in the last 20 years. Still, many Jeepers have described the Jeep Death Wobble as if the entire Jeep is falling apart. Throw in the customization of a Wrangler, able to delete the doors and remove the roof, and it's a scary experience to feel like you're losing control. Fiat Chrysler Automobiles (FCA) has been investigating the death wobble for some time, and now the automobile group claims to have a solution.
Can It Really Be Fixed?
That's one side of the equation. Many Jeepers don't believe the problem causing the death wobble is something that has a simple fix. In the past, Fiat Chrysler has provided possible reasons why one may experience this occurrence – a damaged front axle, steering column, or even poor maintenance are all common causes. Mark Chernoby, Chief Technical Compliance Officer for FCA provided another point of view that has led to the new solution.
"[The issue is resonance, like hitting a tuning fork] …if you bang it with that frequency it'll just sit there and keep going forever. It won't slow down, it won't dissipate, and that's essentially what we're talking about here with the vibration in the new Wrangler…When you hit a bump in the road, if everything is just right, this suspension can set off that resonance and what we started seeing is as soon as it got cold this past fall, early winter, we started seeing complaints." – Chernoby
Since June, approximately 370,000 new Jeep Wranglers have been built, and only 2-percent of them are said to have experienced the death wobble. A small number sure, but in the effort to increase driver safety, FCA has decided to install a new steering damper, also known as a stabilizer, to help curb the issue. Future models may require revisions to the platform or 4×4 systems altogether for a more permanent solution.
What If I Experience a Death Wobble?
Although FCA aims to mend the issue known as the death wobble, many Jeepers may not be so quick to contact the appropriate persons to get the repairs. "If the death wobble is so rare, surely it won't happen to me," they think. Maybe so, but in case things go sideways, here are some helpful tips in case you find yourself in a Jeep with a death wobble.
    It should be second nature, but not everyone thinks to hit the brakes and slow down. If this was just a case of uneven pavement or a bumpy road, that's one thing, but when the engine sounds like it's gargling, it's time to pull over and cut the power for a bit.
    Now that the vehicle has been brought to a stop and turned off, get out and inspect the vehicle for any damage or obstructions that may have caused the wobble. Sometimes a flat tire can be the culprit or damaged parts. If that's the case, then it's time to get some maintenance.
    Regular maintenance is key to keeping any vehicle in good condition. If you experience a death wobble, getting your Jeep a check up as soon as possible can help identify any issues that may just need a quick fix.
Although a frightful term, FCA has stated that the automobile group is not aware of any fatalities or injuries that have been caused by the phenomenon. Know of any possible causes or fixes that can help to avoid the Jeep Death Wobble? Share your thoughts on Aventura Chrysler Jeep Dodge Ram social media.
Photo Source/Copyright: JUNFU HAN, DETROIT FREE PRESS