FCA Expands Relief Efforts to Charities Providing Meals for Children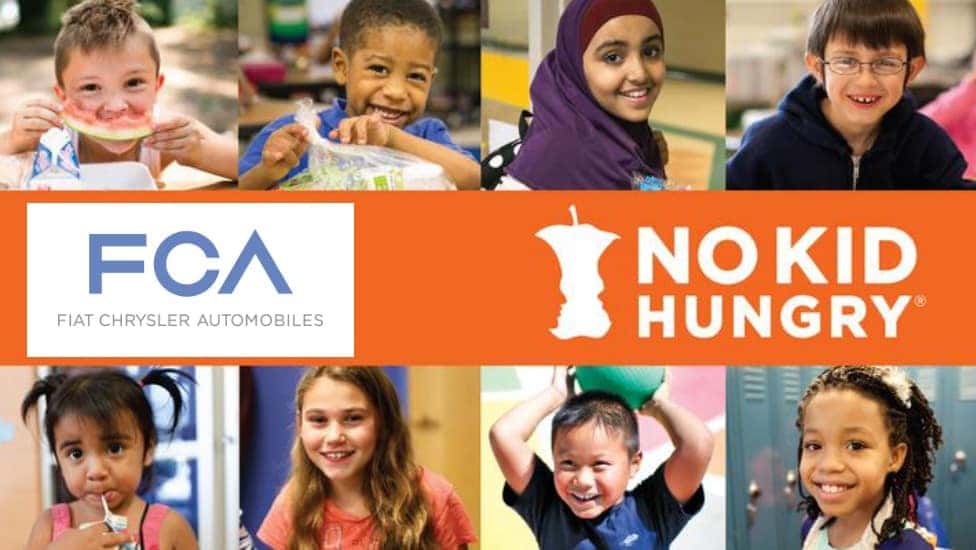 With the industries currently being affected by the coronavirus outbreak, the economy might take a bit of a hit in 2020, but social communities and the wellbeing of our fellow man is more important than that right now. Although automakers may be closing down factories and pausing production of vehicles, big names like Fiat Chrysler Automobiles (FCA), General Motors, and Ford are putting efforts into manufacturing medical equipment and producing ventilators for the growing need in areas all over the world. FCA alone has already started to produce protective face masks in high volume, the number one way to help stop the spread of the virus. FCA isn't stopping at healthcare – the automobile group is also turning its attention towards charities that help children and families in this trying time.
FCA already has plans to produce a million protective masks every month, with production already starting. Delivery of these masks will start in the U.S., Canada, and Mexico in the coming weeks. Protective face masks can help people stop the spread of the virus because the easiest and quickest way to become infected is through tiny droplets of infected saliva. Medical professionals dealing with the many medical cases every day will be endangering themselves if they can't exchange their gloves, masks, and other equipment to keep themselves and others safe. Alongside wearing latex gloves, many people around the country are investing in making or purchasing their own masks to help stop the spread.
Although South Florida is in a lockdown until mid-April (actual duration to be determined), there are organizations doing what they can to help their community. To aid these organizations, especially charities, FCA has expanded its Coronavirus-related relief actions to work in partnership with non-profit organizations and foundations that provide food to children. Many children in America rely on programs through their local school to supply breakfast and/or lunch, and many charities are helping to keep children fed until schools return to session. Already in motion, FCA is helping to provide more than 1 million meals to school-age children in the communities around principal manufacturing plants in Illinois, Indiana, Michigan, and Ohio, but the program will extend nationwide in the U.S., Canada, and Mexico, supporting similar relief efforts for children.
"There has never been a more important moment to help children and their families with vital needs in our communities than during this time of great uncertainty," said FCA CEO Mike Manley
This wouldn't be the first time Fiat Chrysler has stepped in to help provide children with meals. Just before the COVID-19 outbreak turned everything upside down, Chrysler has already expanded its partnership with No Kid Hungry, a national campaign focused on ending child hunger in America, founded in 2010. In the span of ten years, No Kid Hungry has provided more than 1 billion meals to kids in need, cutting childhood hunger in America by one third. Chrysler first partnered with No Kid Hungry in 2018 to aid in their goal of ending childhood hunger, and now in 2020, Chrysler will be expanding their efforts by providing up to 10 million meals.
How can Chrysler afford to do this? Simple. For every Chrysler Pacifica sold from now through the end of the school year (June 30, 2020), Chrysler will donate enough to provide up to 500 meals to kids in need. To help families looking for that new minivan and want to also lend a helping hand, the Chrysler also wanted to make things financially easier for all families with Chrysler Pacifica Family Pricing. This means no negotiations or bargaining – all consumers the same great discount plus zero-percent financing for 60 months on every 2020 model year Chrysler Pacifica model sold, ranging from the 2020 Chrysler Pacifica Touring to the 2020 Chrysler Pacifica Hybrid Limited. For those just sticking to gasoline-powered Pacifica models., no payments for 90 days are also available.
Join Fiat Chrysler in helping to keep America safe while also helping to end childhood hunger. Get in contact with us at Aventura Chrysler Jeep Dodge Ram and learn how you can purchase a new 2020 Chrysler Pacifica or 2020 Chrysler Pacifica Hybrid during this time of social distancing.
Photo Source/Copyright: FCA Media