Dodge Charger Daytona: Then and Now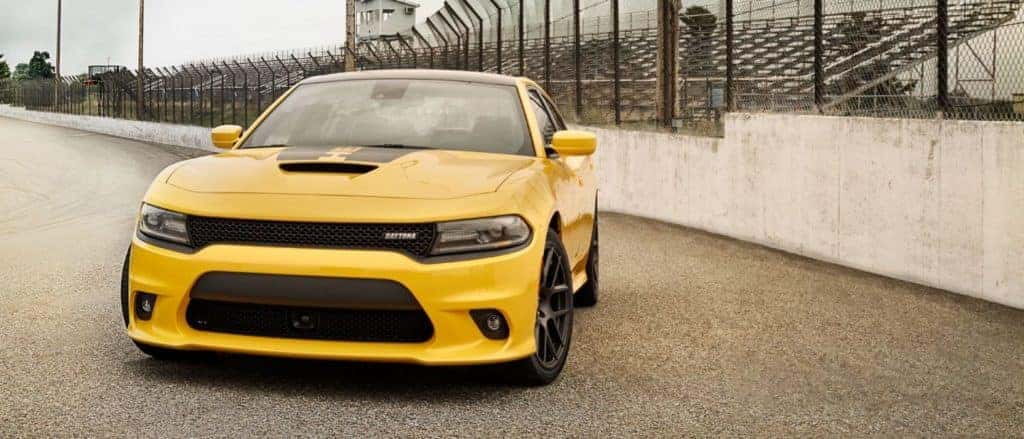 Back when we first got a tease of the 2019 Dodge Challenger and Dodge Charger, we were interested to learn that parts and features from the 2018 Dodge Challenger SRT Demon would be finding their way into the lineup to make both vehicles better versions of themselves. When the 2019 Dodge Charger SRT Hellcat was released, we definitely saw the Demon-speak come to fruition. We also noticed the 2019 Dodge Charger SRT Hellcat was getting some heritage-inspired options, such as a nostril intake integrated into a new front grille design for added performance. This wouldn't be the first time Dodge has brought heritage style back into the lineup either. In 2017, and again for 2018, Dodge brought back the Dodge Charger Daytona.
First Dodge Charger Daytona
Like several automakers, much of the fame Dodge received came from its time racing in the Daytona 500 in NASCAR. In previous years, Dodge met some failure with the 1969 Dodge Charger 500 and decided to create a high-performance, limited-edition version of the Dodge Charger for the sole purpose of winning high-profile NASCAR races. In the same year, 1969, the Charge Daytona won its first race in the fall, the inaugural Talladega 500.
Throughout the first generation, the Dodge Charger Daytona won USAC and ARCA race circuits, was the first vehicle to break the 200 mph mark in NASCAR history, and set numerous race and pole records. The Dodge Charger Daytona was definitely modified to be a race-winning machine, with improvements including a 23-inch-tall stabilizer wing on the rear, a sheet-metal "nose cone" that replaced the front grille, a flush rear backlight, a window cap to cover the original rear window, new front fenders, and a hood that was later implemented into the 1970 Charger, stainless steel A-pillar covers, and fender mounted cooling scoops.
Today, the Dodge Charger Daytona is a collectible item, but it's been resurrected several times. 2017 wasn't the only model year to see the Charger Daytona return. In 1975, the legend returned for its second generation.
Second-Generation Dodge Charger Daytona
After a reprieve for nearly a decade, the Daytona name returned to the Charger on a rebadged Chrysler Cordoba. Now a vehicle available for public retail and not strictly a NASCAR vehicle, the Charger Daytona could be ordered and personalized with a 2-tone stripe-and-decal appearance package, a styling choice still popular on the Dodge Charger and Challenger today. The standard engine was a 318 cubic-inch V8 able to generate 150 horsepower, but speed demons could opt-in for a 245 horsepower 400 cubic-inch four-barrel V8 if they wished. The second generation was also limited in production, mainly due to the rise in gas prices and America's shift towards more economical cars.
Third-Generation Dodge Charger Daytona
It took nearly 30 years for the Dodge Charger Daytona to return to the lineup, reintroduced for 2006, again in limited production, and was sold with a badge listing its number in production to denote this. This time, the Daytona name belonged to an add-on package that included a sportier interior, classic high impact exterior colors, a rear spoiler, a front chin spoiler, a blacked out grille surround, rear quarter panel striping that read "DAYTONA" on either side, a blackout vinyl between the taillights, and a black vinyl on the hood with the word "HEMI" cut out twice. Even if just looking for the Daytona style, it was all there for consumers in 2006.
Performance was also tweaked with this package though, adding a performance suspension with load-leveling rear shocks, stock R/T 18-inch wheels with charcoal grey painted pockets, and lower profile wider tires. In 2007, the option of 20-inch chrome clad wheels were introduced. In 2008, the rear quarter panel stripes were removed and replaced with a strobe stripe that read "DAYTONA" towards the front of the vehicle. In 2009, new variable camshaft timing technology was introduced, modifying the HEMI engine to produce up to 368 horsepower.
2013 Dodge Charger Daytona
The third-generation Dodge Charger Daytona returned in 2013 shortly after its debut at the 2012 Los Angeles International Auto Show. Another limited-production run, only 3000 units were produced, all with numbered badges. The Charger R/T and Charger R/T trim levels were also made available at this round.
With a 370 horsepower HEMI V8 option, the style of the 2013 Dodge Charger Daytona had to match, and several colors were offered to complement the dark trim that emphasized the Charger's iconic muscle car design, Satin Black front crosshair grille with a heritage "R/T" badge, custom vinyl hood graphic, rear R/T spoiler, "DAYTONA" graphic on the rear quarter panels, and the 20-inch five-spoke polished aluminum wheels with Gloss Black painted pockets. Inside the R/T trim level, consumers found heated and ventilated black performance Nappa leather and suede seats with Daytona Blue stitching and piping, and "DAYTONA" embroidered into the front seat backs. To complete the new model, an 8.4-inch touchscreen with Uconnect and a 10-speaker Beats Audio System were also included.
A fourth generation of the Dodge Charger Daytona in unlikely. After it ended in 2009, the third generation has only been brought back as limited editions. It wasn't until 2017 that we saw the Dodge Charger Daytona return for more than a year. This time around, the production was not numbered, suggesting the Daytona is no longer a limited edition model.
Available in two trims, the Charger Daytona and Charger Daytona 392, consumers would find a 5.7-liter V8 engine under the former and a 6.4-liter V8 under the latter. Both trims came performance upgrades with the Super Track Pack designed by Dodge that included a sport suspension, custom brake linings, and Goodyear Eagle F1 Tires. In 2017, over 6,000 units were sold in total, it's highest in sales since 2006.
The Dodge Charger Daytona remains to be a favorite amongst muscle car enthusiasts. What are some other heritage models you'd like to see Dodge revive? Let us know on Aventura CJDR social media. You can also find many high-performance Dodge Charger models in our inventory.
Photo Source/Copyright: Dodge.com