Dodge Announces New Dodge Power Dollars Program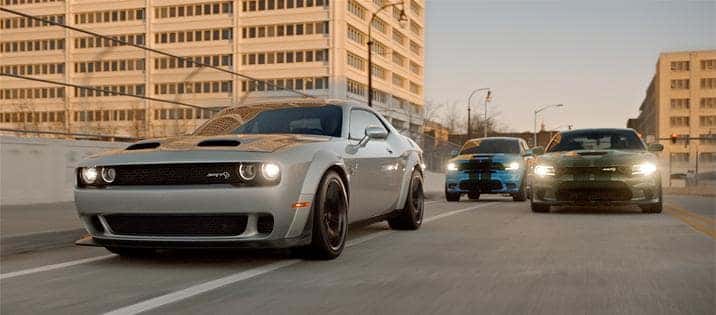 Wow, Dodge may turn into an electric or hybrid automaker in the coming years, but the current horsepower enthusiast is reaping the rewards. No, literally, the latest program coming from Dodge is the Dodge//SRT "Dodge Power Dollars" program, and consumers are getting a payout for every bit of horsepower they get, whether it's the base trim or an SRT-powered hotrod, Dodge is giving consumers a whole new reason to get in on the last of the high-performance vehicles before the collection of available powertrains diminish and we see the likes of a plug-in hybrid Dodge Charger. Available on the Dodge Challenger, Dodge Charger, and Dodge Durango, this innovative and industry-exclusive program has already begun!
"Since bringing the Charger and Challenger back to market, Dodge has put 485 million horsepower into the hands of our loyal enthusiasts…Dodge has more horsepower than anyone else, and we want to share it and give those who have always wanted more the ability to get more. The goal is to grow to a half-billion horsepower before the end of the year. This is what we believe John and Horace Dodge would want us to do."  – Tim Kuniskis, Global Head of Alfa Romeo and Head of Passenger Cars – Dodge, SRT, Chrysler and FIAT, Fiat Chrysler Automobiles (FCA) – North America.
Dodge has seen a lot of success for these three vehicles in recent years. Their sales of the Dodge Challenger hit an all-time high in 2018, the Dodge Durango is heading for its best calendar-year sales total since 2005, and for three years in a row, the Dodge Charger has been leading the U.S. large car segment with 2019 in tow. To celebrate, Dodge is offering consumers a cash allowance – the automaker will pay out $10 for every unit of horsepower purchased.
This new "Dodge Power Dollars" program is available to all trim levels of the 2019 Dodge Challenger, Charger, and Durango. Whether it's the SXT or GT models powered by the Pentastar V6 and equipped with available all-wheel-drive (AWD) capability or the Challenger SRT Hellcat Redeye, the quickest, fastest, and most powerful muscle car (barring the 2018 Dodge Challenger SRT Demon), Dodge pays out for every unit of horsepower. How does this work? It's simple math.
The 2019 Dodge Challenger SXT can get up to 305 horsepower, so consumers get a cash allowance of $3,050. If consumers go to the top of the trim levels with the 2019 Dodge Challenger SRT Hellcat Redeye, able to generate up to 797 horsepower, then consumers get a payout of $7,970. This same method applies to 2019 Dodge Charger and 2019 Dodge Durango.
To support the new program, a 30-second advertisement spot has begun airing across TV, digital, and Dodge social media platforms this week, but we're sure the run will last for a while.
On that note, Dodge hasn't mentioned if this new "Dodge Power Dollars" program is a limited-time and whether or not it will be available to the 2020 Dodge Challenger or the new 2020 Dodge Charger SRT Hellcat Widebody. It may just be for the old 2019 models now that we're getting ever closer to 2020. What better reason than to come buy a new 2019 Dodge Challenger, 2019 Dodge Charger, or 2019 Dodge Durango at Aventura Chrysler Jeep Dodge Ram?
Photo Source/Copyright: FCA Media