Chrysler Launches New Marketing Campaign for Pacifica #VanLife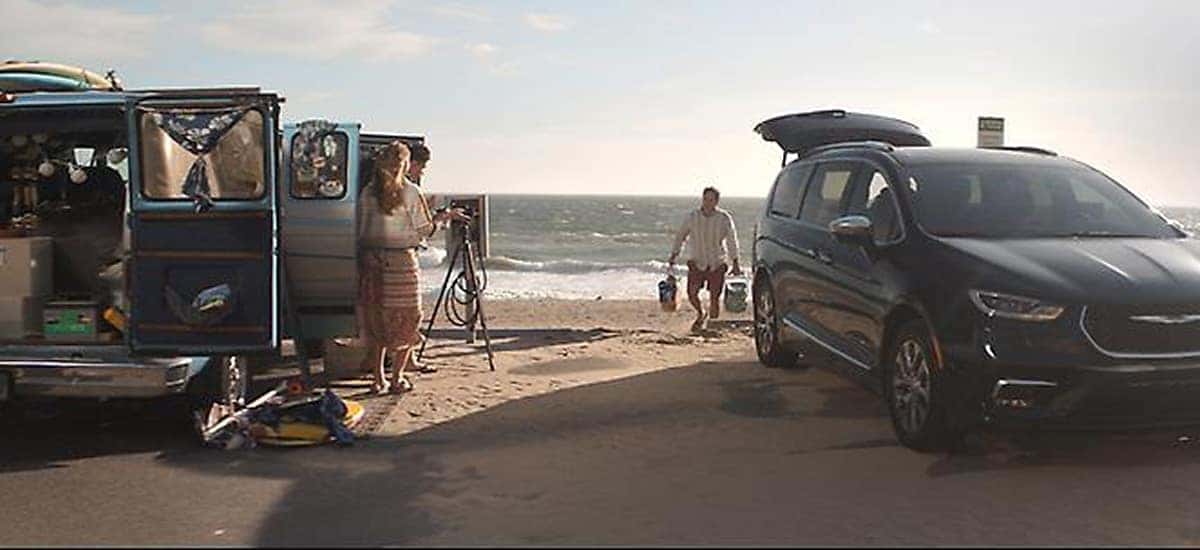 May is coming to an end, and the summer is just around the corner. That hot, humid, South Florida summer. That also means it's time for automakers to start up new social media and multimedia marketing campaigns to sell, sell, sell! One of the first to start off this year is none other than family car winner, Chrysler. None for the Chrysler Pacifica minivan and its hybrid alternative, the Pacifica Hybrid, are known all around the world as two of the best family minivans out on the market today. Even though many awards, over 170 honors and accolades since its introduction, prove this fact, the automaker has an all-new multimedia advertising campaign for the Chrysler Pacifica and Pacifica Hybrid. It's all about #VanLife.
#VanLife has become a growing sensation around the world, especially in America. With the cost of living going up, and employee wages going down, a lot of people find it less expensive to buy a large van and live out of that. It's actually quite possible – just remove the seats, fill it with necessary furniture, and with a couple of accessories for power, anyone could turn a van into a camper. There have been amazing stories, like one student who lived in his van while getting his college degree, because housing was too expensive. Although, long-term, it doesn't sound like the best idea – how does one get medical treatment if their home address is constantly on the move? Surely, a nightmare for health insurance companies.
Of course, #VanLife doesn't just have to be about people who literally live in and out of their van. Ever hear the phrase, "Living out of a suitcase"? It's a common saying for people who travel a lot and usually don't have the luxury of packing and unpacking, so everything they need for the day is in a suitcase. Vans can be used in the same way, with people putting all of their equipment and tools and what-have-you in the back of a van. When it comes to families, there's always a need for cargo space for after-school activities, or groceries, and the convenience the Pacifica offers for seating configurations, and in some trims, a built-in vacuum for easy clean ups of spilled snacks, cereal, or dirt from shoes. These are some of the reasons the Chrysler Pacifica minivan is constantly praised.
"The van life of everyday families is different from what many might see in pictures and video across social media…Our Pacifica and Pacifica Hybrid owners want premium features like Nappa leather seats. Screens for every child. An ingenious space with storage to carry everything. Seamlessly connected infotainment and safety features. And yes, even a built-in vacuum. This the van life that our owners and families crave, and this is what van life means for the Chrysler brand." – Chris Feuell, Chrysler brand CEO – Stellantis
To start off the new multimedia advertising campaign for the Chrysler Pacifica and Pacifica Hybrid, the automaker has produced three new 30-second spots called "Van Life". The first premiere 30-second television spot, "Duel," has #VanLife" influencers battling it out with owners of a Chrysler Pacifica. Not a real fight, but in "Duel" the influencers show off what they can do with their van, whilst the owners of the Pacifica match them, feature-for-feature. Watch it below for a better idea.
All three videos are now viewable on the Chrysler brand's official YouTube channel, with two of the ads focused on the Chrysler Pacifica Hybrid (plug-in). If the "Duel" ad seems convincing, come find a new Chrysler Pacifica at Aventura Chrysler Jeep Dodge Ram today. 
Photo Source/Copyright: Stellantis Media