AutoPacific Names Chrysler and Jeep in Ideal Vehicle Awards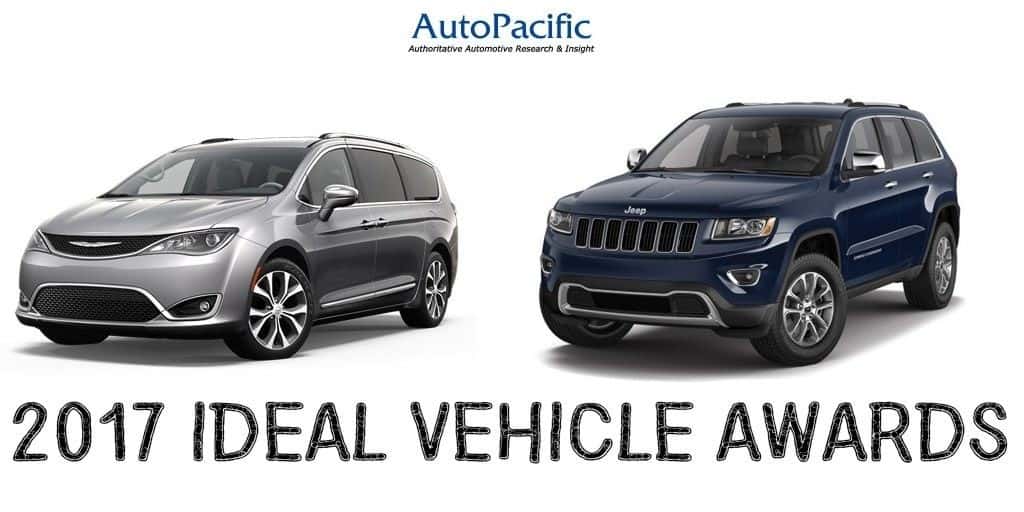 AutoPacific released the details of their 2017 Ideal Vehicle Awards, and one model from two of our brands were named. Jeep and Chrysler both received an award, no surprise there. With Jeep booming in global expansion and Chrysler working with Google on the Waymo, these brands are two to watch.
Who is AutoPacific?
AutoPacific is an automotive marketing research and product consulting firm that has been reviewing and researching vehicles for more than 30 years. The firm also consults auto manufacturers on future vehicle forecasts to keep them in the loop about consumer wants. Thus, when AutoPacific composes a list of ideal vehicles for the market, one can trust they know what they're doing.
2017 Ideal Vehicle Awards
AutoPacific's 2017 Ideal Vehicle Awards are based on responses from over 65,000 vehicle owners that own 2016 and 2017 model-year vehicles after 90 days of ownership. The questions asked in the survey focus on changes owners would like to see made to their vehicle in 15 key categories. As a winner of a vehicle in two different segments, the Jeep Grand Cherokee and Chrysler Pacifica were found to exceed consumer expectations and consumers didn't have as much of a desire to change those models in comparison to other models in the same class.
For the seventh year in a row, the Jeep Grand Cherokee was named the Ideal Vehicle by AutoPacific for the midsize SUV segment. Having long defined what a premium SUV should be years ago, with a refined exterior, rugged capability, and top-mark craftsmanship, the Grand Cherokee earned this award. George Peterson, president of AutoPacific, definitely thinks so.
"The Grand Cherokee is a perennial best-in-class winner in AutoPacific's Ideal Vehicle Awards … Its excellent design, capability and breadth of the product offering contribute to Grand Cherokee's award-winning ways." – Peterson
Much can also be said about the Pacifica.
"Chrysler's new Pacifica minivan checks all the boxes a minivan owner desires. Pacifica is the minivan that most closely meets the expectations of its buyers … As the inventors of the minivan 35 years ago, the Chrysler Pacifica shows Chrysler designers, planners and engineers understand minivans best." – Peterson
With all that praise, it's not a surprise the 2017 Chrysler Pacifica was named the top minivan for its segment. A best-in-class vehicle, 78 innovations through the generations of minivans and 37 minivan firsts, the Pacifica has changed the game. Plus, having released the industry's first plug-in hybrid electric vehicle (PHEV) minivan, Chrysler is on top of their game in the auto market.
With some good news, find yourself looking for a new car? Now you know Jeep and Chrysler are two award winning brands to choose from. You can find many of their vehicles in our inventory.
Photo Source/Copyright: autopacific.com, Chrysler, and Jeep