Alternatives to Leather Upholstery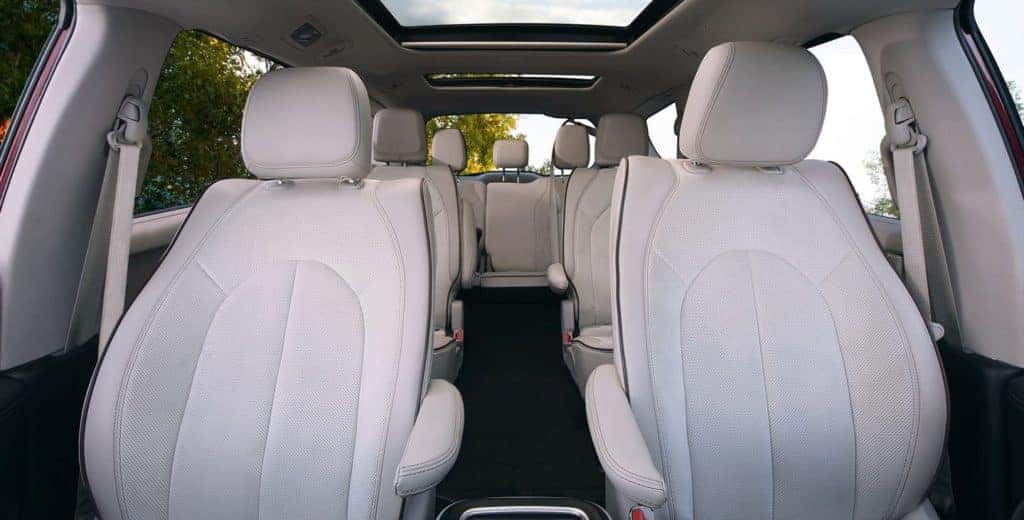 There was something very interesting about the release of the Chrysler Pacifica Touring Plus trim that came out in spring 2017. This wasn't just a new trim option, this was a Pacifica trim made for animal lovers who aren't too crazy about sitting on leather for comfort. This got us thinking about other leather alternatives out there – whether be it through guilt or ease-of-use, there's gotta be some other options for a comfortable seat, and there definitely are.
Chrysler Pacifica Touring Plus
While on the subject, let's cover the Pacifica non-leather trim. Since consumers who opt-in for this trim forego the comforts of leather seats and a leather-trimmed steering wheel, the trim has select upgrades like LED tail lights, projector headlights, three-zone automatic climate control, a power liftgate, and sunshades for the second- and third-row seats. The tech isn't too fancy, still coming standard with a 5-inch touchscreen with Uconnect 5.0 and a 6-speaker sound system. However, Chrysler did up the ante; if consumers decide to spruce up the Touring Plus with the option of Uconnect 8.4 and 18-inch wheels, Chrysler will add a second-row overhead DVD console for free. Now that's incentive for family drivers.
Leather Isn't All Bad, Right?
Despite this being a leather alternative, let's point out that many consumers do enjoy leather upholstery and trim. Leather is soft, smells great, and breaths to keep the seats pretty cool, even in the hot weather. And oh man, is it comfortable – anyone can feel the difference between cloth-trimmed seats and leather seats. COMMMMMMMFY!
There are alternatives that look like leather, like "leatherette" fake leather, but alternatives don't perform as well as real leather. Most get a little gross in the hot weather, all hot and sticky – eww. Some leather alternatives are more durable than standard leather upholstery, however, prone to scratches, cracks, and wearing down fast. Some automakers develop synthetic leather to find a middle-ground between the two to offer a more humane option that is still soft and lightweight.
Anything But Leather
There are other choices by select automakers out there. Tesla offers faux-leather upholstery in the Model 3, X, and S, a setup pushed forward by some PETA members on the board. It's called a "Vegan interior", but there isn't a whole lot on what that entails. Plus, it's just the upholstery that's made of the fake stuff, so vegans will still have to dirty their hands with a leather-wrapped steering wheel.
Most automakers offer other options like vinyl and other materials that will offer durability and comfort. Call it publicity, but getting other materials on-hand can definitely increase the sales and popularity of an automaker. It's better than all of the crazy propaganda Dodge had to dodge when a rumor spread that the automaker was offering elephant-skin leather as an option for the Dodge Challenger SRT Hellcat.
That fire died down when the rumor was proven to be false. Dodge isn't made up of cold-leather poachers. The elephant-skin interior came from a Poland-based international custom interior company, Carlex Design. The company took a Dodge Challenger SRT Hellcat and customized every interior surface of the car to make it truly look like it came from Hell. As far as we can tell, the option is still available on their website if you're into that sort of extreme style (image below).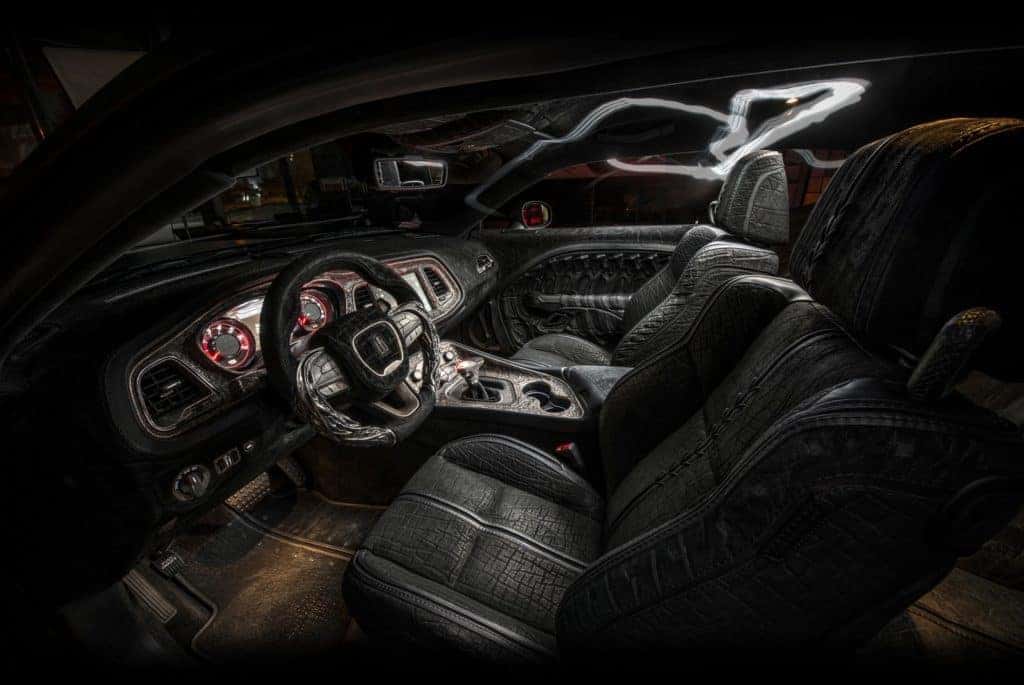 Moving forward, more automakers are taking environmental concerns into mind when developing new concepts and options for vehicles today. After all, with alternative fuel on the up-rise for cleaner fuel or no fuel at all (electric vehicles), we may as well have cars that are as environmentally friendly on the inside as they are on the outside. Otherwise, we may as well be oh-so hypocritical living in glass houses like we're "so much better" for our own personal choices *nudge nudge wink wink*. Besides there's always the choice of opting-in for the standard cloth and getting an after-market accessory to make that seat a little more comfortable.
Interested in getting the Chrysler Pacifica Touring Plus trim? You can find plenty in our inventory.
Photo Source/Copyright: Chrysler and Carlex Design