2021 Ram HD Gets New Gooseneck Hitch for Over 31k Towing Power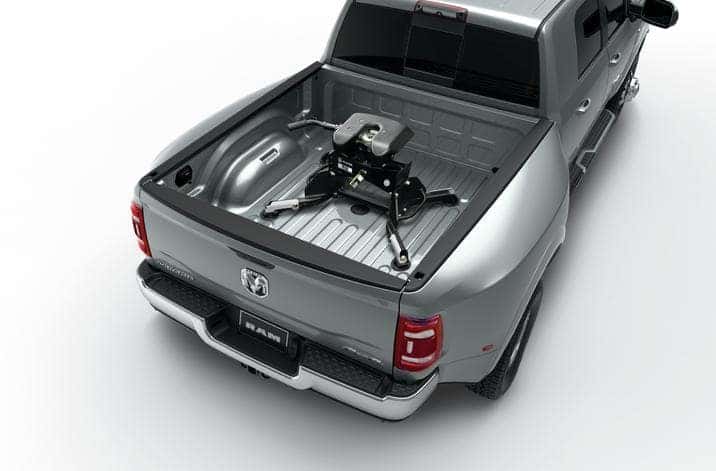 When it comes to loading cargo and towing more than you can carry, getting a truck or SUV with the ability to tow is one of the benefits of large automobiles. There are of course many ways to pack more – truck beds, cargo racks, truck caps, but towing has always been the classic original for hauling anything extra to the destination. There are also a number of ways to tow, starting with the variety of hitches one can use when loading a trailer. One of the lesser known is the Gooseneck hitch, found on heavy duty trucks that tow the heaviest of loads around the road, able to haul more than 30,000 pounds. Well, Fiat Chrysler Automobiles (FCA) will keep up the competition with the new Gooseneck hitch on the 2021 Ram HD trucks, offering the highest Gooseneck towing capacity of 37,100 pounds.
Gooseneck hitches are a little different than their trailer counterparts, and not just how much it can handle. Installed in the center of the truck bed rather than the rear, a Gooseneck has a lot more power and foundation to make it a rock-solid hitch for those large loads. One can only imagine a regular hitch in the rear tearing off the bumper if carrying all that weight. Of course, it's not actually recommended to fill a truck with a Gooseneck up to the max – drivers get better control and handling with less weight, of course, but that's why this new Gooseneck on Ram Heavy Duty pickup trucks has increased its capacity.
"Ram regains capability leadership by delivering the highest ever torque rating for a diesel pickup truck and heaviest gooseneck towing capacity…We understand the attributes that are most important to our customers within the heavy-duty segment; they demand hardworking, long-lasting capability." – Mike Koval Jr., Head of Ram Brand
How is the 2021 Ram Heavy Duty, the most powerful, most capable pickup in the segment, able to tow over 37k pounds? The more a vehicle can tow, the more torque it has to have, and the new Ram HD boasts a surprising 1075 lb-ft of torque. How did this happen? As usual, Ram Trucks works closely with Cummins, known for its powerful diesel engines, and the improvements made for 2021 increase its limits with a boost from a variable geometry turbocharger and an increase of the flow rate in the fuel delivery system. More fuel and air mean more power – it's just automotive science! Oh, and the added torque doesn't hurt the durability nor efficiency of the engine.
Enough about towing, though. The new 2021 Ram Heavy Duty adds a new level of refinement to the interior cabin. One may forget they're riding around in a truck with authentic premium quality materials, Uconnect 4C NAV with a 12-inch reconfigurable touchscreen, and state-of-the-art connectivity. A taste of personalization, the touchscreen features tailor-made graphics for various Ram models, and with the split screen feature, consumers can control music through Apple CarPlay or Android Auto while navigating or changing the A/C settings. And these trucks will be available soon.
Start looking for a new 2021 Ram HD truck at Aventura Chrysler Jeep Dodge Ram by 2021.
Photo Source/Copyright: FCA Media