2020 Ram 1500 EcoDiesel Announced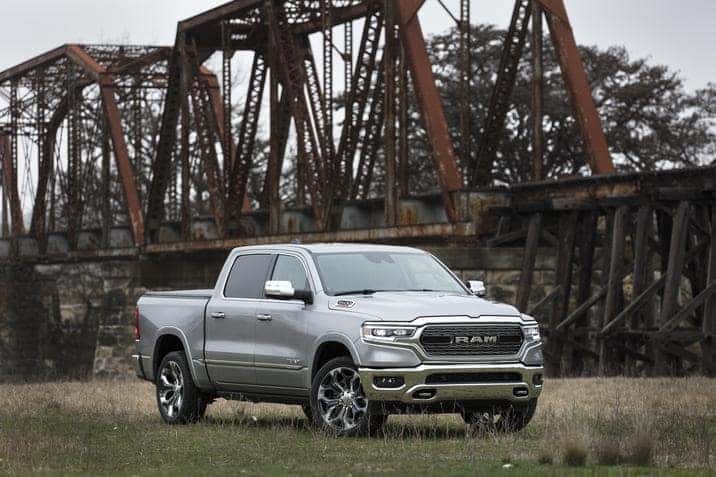 Back when the new-generation 2019 Ram 1500 light duty pickup truck debuted during the 2018 Detroit Auto Show, the auto market went a little crazy. Truck buyers were looking at Ram Trucks in a whole new light. Not only had the 2019 Ram 1500 transformed itself into an all-around lifestyle truck, capable of going off-road and storing just about anything with its multitude of storage compartments, but it was powerful. Well, the 2019 model year might just have to move over sooner than we thought. Straight from Fiat Chrysler Automobiles (FCA), the 2020 Ram 1500 EcoDiesel is America's new half-ton diesel torque leader, able to achieve up to 480 lb-ft of torque.
That's A LOT of Torque
For a light-duty pickup truck. The only way to manage that kind of towing power with the next-generation 2019 Ram 1500 was to saddle up with the 5.7-liter HEMI V8 engine with eTorque to add another 130 lb-ft of torque onto the 410 lb-ft of torque that engine can already generate. So now we have the 2020 Ram 1500, introducing a new powertrain, that automatically crushes the standard torque output of its predecessor.
The 2020 Ram 1500 will become America's most capable light-duty diesel, powered up for a towing capability of up to 12,560 pounds. A new generation pickup truck needs a next-generation engine, and the all-new third-generation 3.0-liter V6 EcoDiesel is under the hood of the 2020 Ram 1500. This V6 EcoDiesel is also said to be the new titleholder in fuel economy for the trucks' respective segment.
"The new Ram 1500 EcoDiesel is America's most powerful half-ton diesel pickup, following up on Ram's Heavy Duty torque leadership and achieving what no other manufacturer has, with up to 480 lb.-ft. of torque in a 3.0-liter engine…The all-new EcoDiesel engine and our eTorque mild-hybrid powertrain technologies deliver the highest available fuel efficiency for our Ram 1500 customers." – Reid Bigland, Head of Ram Brand.
All-New EcoDiesel Engine
What's also great about the all-new EcoDiesel engine? Along with superb towing power, Ram has also improved its use of noise, vibration and harshness (NVH) technology to minimize the sound of the engine inside the cabin. There have also been several changes made to the new generation EcoDiesel engine to improve its fuel economy. These upgrades build on previous successes with the EcoDiesel V6, having been listed on "Wards 10 Best Engines" for three consecutive years (2014, 2015, and 2016). The changes made follow:
       A new-generation water-cooled turbocharger. Designed with a variable geometry turbine (VGT), the efficiency and responsiveness of the engine during transient conditions is improved.
       Redesigned cylinder head intake ports have increased the performance and fuel economy of the engine.
       The exhaust gas recirculation (EGR) system design has been upgraded. Now featuring a dual loop (low and high pressure) system, combined with the low-pressure circulation system that draws gases after the diesel particulate filter, turbocharger loses less energy. This also helps to increase fuel economy.
       The compression ratio of the engine has been optimized to 16.0:1 from 16.5:1.
       With all the new designs and upgrades, the high-pressure (29,000 psi/2,000 bar) direct-injection fuel injector nozzles were also redesigned for an optimized combustion chamber.
       Along with new designs and construction, lightweight aluminum alloy pistons were also completely redesigned to reduce energy losses.
       New electric dual vacuum pump system uses that improves overall system efficiency.
Sound good? Keep up to date with the new 2020 Ram 1500 and find out when it's available when you follow Aventura Chrysler Jeep Dodge Ram on social media.
Photo Source/Copyright: FCA Media