2020 Jeep Renegade Earns Top Safety Pick from IIHS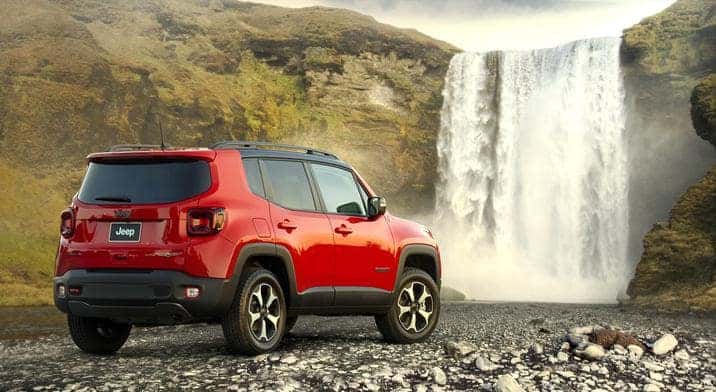 Although known as the most off-road capable SUV on the market, some consumers often wonder if the Jeep® Renegade is safe. Vehicles are meant to be on the road, not high up in the mountains or crossing a stream…right? Well, no, not when it comes to Jeep vehicles. Jeep vehicles are made to go where normal vehicles won't. For anyone still unsure about the kind of safety a rock-climbing vehicle can provide, the Insurance Institute for Highway Safety (IIHS), know for its rigorous testing of vehicle safety, has recently provided the 2020 Jeep Renegade with a Top Safety Pick rating. Still think the Jeep Renegade is unsafe?
"The Jeep stable of SUVs continues to be recognized for superior on- and off-road performance and the addition of many available advanced technology, safety and security features…With more than 70 advanced safety and security features paired with benchmark 4×4 systems, Jeep Renegade provides drivers with the confidence to handle any adventure, in any weather condition." – Jim Morrison, Head of Jeep Brand – FCA North America.
Since 1959, the IIHS has become known as a trusted organization for testing vehicle safety. The organization does this by running vehicles through five major tests that test for crash avoidance and mitigation to find the vehicle's "crashworthiness". This is how well a vehicle holds up in the instance of a car crash or similar incident as well as whether or not features have been installed/equipped to avoid a crash altogether. Think Forward Collision Warning Plus, an automatic safety feature that warning the driver if approaching another vehicle too quickly and will attempt to bring the vehicle to a stop if the driver does not intervene.
That's just the kind of advanced safety feature a consumer can opt-in for on the 2020 Jeep Renegade, recently added to the model for the 2020 model year. In fact, the Renegade's optional Forward Collision Warning-Plus system earned a "superior" rating, the highest possible rating IIHS will award a vehicle for its front crash prevention. This is just one way IIHS tested the 2020 Jeep Renegade to find its crashworthiness. The favor major tests that measure the strength of the vehicle and its ability to handle a crash are the small overlap front, moderate overlap front, side impact (both sides), roof strength, and the head restraints and seats. A vehicle must receive a "good" rating, or the highest rating for crash mitigation, in all five tests to receive a Top Safety Pick.
Like most vehicles, the IIHS gives vehicles ratings based on certain variables. For instance, the 2020 Jeep Renegade has been certified with a Top Safety Pick by the IIHS assuming consumers opt-in for the Forward Collision Warning-Plus system as well as LED projector headlamps with optional automatic high-beam control. The available LED projector headlamps with optional automatic high-beam control are helpful for the driver with switches for headlamp modes that can change between high- and low-beam function without driver intervention – depending on traffic and daylight conditions of course.
In addition to these new safety features, the 2020 Jeep Renegade has more than 70 standard and available safety and security features. Still wondering if it's safe to drive an off-road vehicle? Think again with a test-drive of the 2020 Jeep Renegade at Aventura Chrysler Jeep Dodge Ram.
Photo Source/Copyright: FCA Media