2020 Jeep Gladiator Named "Truck of the Year" by the Rocky Mountain Automotive Press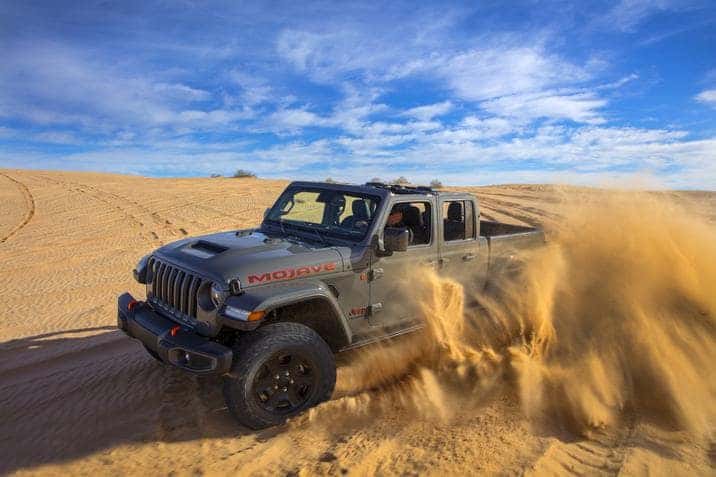 "As the voting finished up for the Rocky Mountain Automotive Press vehicle of the year, we were thrilled to have the 2020 Jeep Gladiator come out on top…When it comes to an iconic name, Jeep has to be one of the top in the industry and we at RMAP definitely felt the new Gladiator was worthy of this award. We are thrilled to have it as our Truck of the Year in the Rocky Mountain region." – Rocky Mountain Automotive Press (RMAP) President Craig Conover
That's right. The all-new 2020 Jeep Gladiator wins again. In 2020, RMAP held its 14th annual Rocky Mountain Vehicle of the Year awards, aimed at recognizing all-new or significantly revised trucks for the 2020 model year, as well as available RMAP members to test and in the Rocky Mountain regional press fleet. Made up of 95 automotive media members in Colorado, Utah, Wyoming, New Mexico, Arizona, Nebraska and Kansas, RMAP has a diverse range of reviewers and maybe even some consumers judging each truck.
RMAP is also known for its journalists that regularly receive manufacturer press fleet vehicles that are then tested and reviewed for the public consumer. Like many automotive review sites out there, RMAP wants to the public make educated choices in purchasing or leasing new vehicles, but members also regularly interact with automaker's executives, engineers, designers, and other representatives to get juicy details the latest vehicles. With an outreach of millions of potential car, SUV, and truck buyers through multiple channels on the internet, in print, on TV, and radio, anyone looking for a truck will hear the 2020 Jeep Gladiator is the pickup truck to get.
It took some time for the Jeep pickup truck to get here, but once the Jeep Gladiator was released, Jeepers flocked to the new midsize truck. Basically, a Jeep Wrangler with a truck bed, the Jeep Gladiator reserved the same outdoorsy style, but now had added functionality with extra storage space via a five-foot truck bed, a towing capacity of 7,650 pounds, and a payload capacity of 1,600 pounds. Like all Jeep Wrangler models, the Gladiator is configurable, able to remove the roof, doors, and windshield at any time. Plus, what kind of Jeep vehicle would the Gladiator be without enough ground clearance to take on a little rock crawling? The 2020 Jeep Gladiator comes built with an approach angle of 43.6 degrees, breakover angle of 20.3 degrees, a departure angle of 26 degrees, and a total ground clearance of 11.1 inches.
Midsize trucks are making a comeback, and the Jeep Gladiator knows adventure. For those that weather the storms, the 2020 Jeep Gladiator Rubicon trim comes with 30-inch water fording capability. Starting at an MSRP of $43,545 (plus destination fee), it's a great place to start. Plus, with all the recent success of the Jeep midsize pickup truck, the midsize truck segment may bounce back, opening up space for other FCA vehicles to join while still hot.
Keep up with what's new on Aventura Chrysler Jeep Dodge Ram social media. Interested in the 2020 Jeep Gladiator? Contact us at Aventura Chrysler Jeep Dodge Ram and learn about our available home test drive during a time of social distancing.
Photo Source/Copyright: FCA Media