2019 Ram 1500 V6 with eTorque Crowned by WardsAuto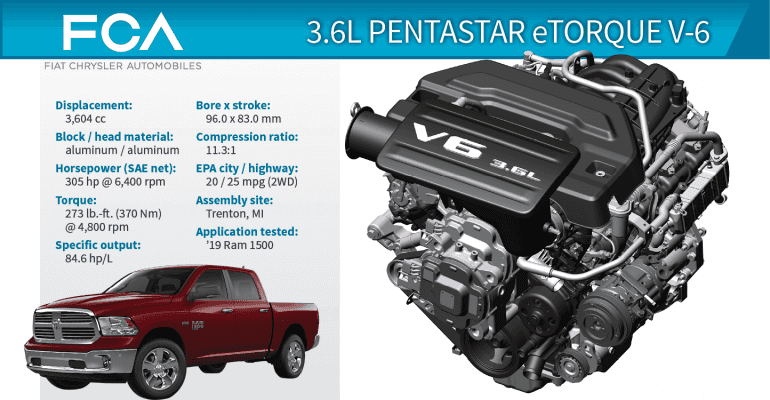 It feels like it was just two weeks ago that the Fiat Chrysler Automobiles mild-hybrid system, eTorque, was named on the WardsAuto 10 Best Engines List. Now, the same lovely invention and powertrain option from the automotive group has been crowned the 2019 Winner by WardsAuto for "2019 Best Engine". Specifically, the award goes to the new 2019 Ram 1500 when powered by the 3.6-liter Pentastar V6 engine with eTorque. Being the standard powertrain for the lineup, it's hard for consumers to not get a good deal when shopping for the award-winning 2019 Ram 1500.
Quick review – the eTorque system is a new mid-hybrid system from Fiat Chrysler Automobiles (FCA) that increases fuel economy and produces more torque in vehicles equipped with it. Able to offer hybrid capabilities, such as auto stop/start, electric power assist, extended fuel shut-off, transmission shift management, intelligent battery charging, and regenerative braking, this is a new marvel for FCA, able to enhance the fuel-efficiency of their more powerful engines. eTorque is also an available powertrain addition in the Jeep Wrangler JL, so why is it so special for the 2019 Ram 1500?
Not only does the 48-volt mild-hybrid system replace the traditional 12-volt battery that keeps a charge via the truck's alternator while also having enough energy to power onboard electrical devices, but its true power is in the name. It's all about the torque, baby! The standard powertrain is a 3.6-liter Pentastar V6 engine with VVT, able to generate 305 horsepower and 269 lb-ft of torque. Add eTorque system to that system, and the Pentastar V6 engine is able to generate an additional 90 lb-ft of torque in addition to its original output of 269 lb-ft of torque, resulting in over 300 lb-ft of torque. Optional on the 2019 Ram 1500 is the 5.7-liter V8 HEMI engine with variable valve timing (VVT), able to deliver 395 horsepower and 410 lb-ft of torque. The eTorque adds an additional 130 lb-ft of torque to this engine, resulting in a total of 530 lb-ft of torque.
"Solid power from start to speed…Punch the pedal at just over 1,000 rpm, and the engine responds with a lightning-quick jump to 5,000." – Judge Bob Gritzinger
All of that is just one part of why the 3.6-liter V6 with eTorque won the "2019 Best Engine" award from WardsAuto. As mentioned, the eTorque offers hybrid capabilities and may allow stronger engines to still be fuel-efficient. When testing the Pentastar V6 with eTorque, judges recorded 21 to 22 mpg (as the average fuel economy during their test drives. For a 2½-ton truck with a 4-wheel drivetrain (4WD), that's a pretty outstanding number.
FCA knows that pickup-truck owners have always wanted a truck that can handle a heavy payload, towing capability, durability, and utility purposes, plus fuel economy. It can be a tall order for some automakers, but this 3.6-liter V6 with eTorque tips the scale with its efforts to provide a solution for the time being. Just think of what this mild-hybrid system could do if FCA hooked it up to their "New Turbocharged Inline Six-Cylinder Engine".
Interested in testing the power of a truck with eTorque? Drive a new 2019 Ram 1500 at Aventura Chrysler Jeep Dodge Ram today.
Photo Source/Copyright: WardsAuto