2019 Ram 1500 Named on 2018 WardsAuto Best Interiors List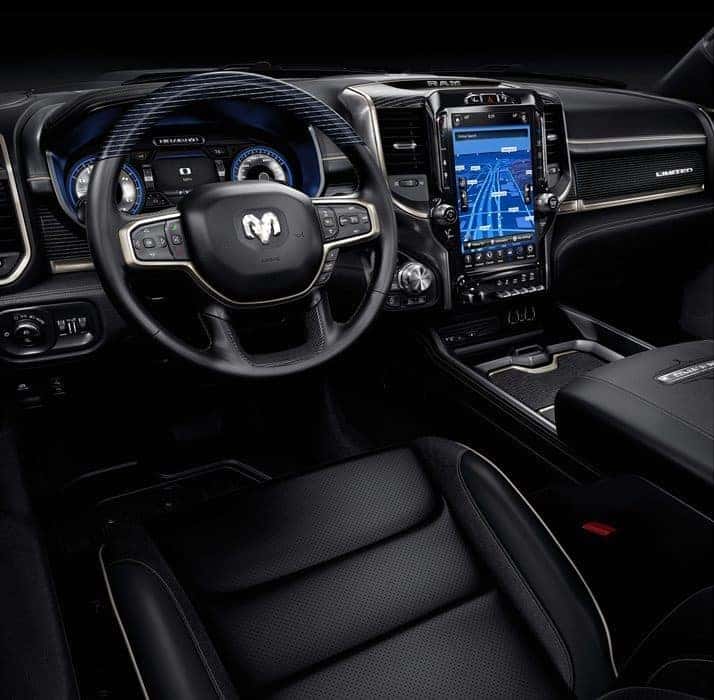 WardsAuto recently conducted its "10 Best Interiors" list for 2018, and guess who popped up? One of the vehicles on the list was none other than our new and upcoming 2019 Ram 1500. We can't blame WardsAuto for including a yet to be released 2019 model. According to them, consumers are looking for interiors with a little more oomph, and the 2019 Ram 1500 is one of them.
"We know a lot of consumers end up buying black, gray or beige interiors, but there are also a lot of shoppers who want more excitement. This year's class of winners will make those folks happy." – WardsAuto Senior Content Director Drew Winter
WardsAuto is an organization that covers the latest news, data, and analysis for today's auto industry. When it comes to their "10 Best Interiors" list, 40 car interiors are nominated for analysis, but only if those interiors are all new or were significantly improved from the previous year. Such changes can be color choices, aesthetics like accents and stitching, styling, and the materials used. This year, from an array of blazing colors and digital dials that perform multiple functions to an in-floor storage bin, this year's Wards 10 Best Interiors winners tell us one thing. Automakers are listening to consumers more, and instead of adding common amenities as mainstream features, they're treating such as something to dazzle consumers, improving on what they want in a standard vehicle.
When it comes to the 2019 Ram 1500, the completely redesigned interior earned the light duty pickup truck a spot on Ward's 2018 10 Best Interiors List. Keeping a reputation for extreme attention to detail, the Ram 1500 Limited-grade Crew Cab 4×4 was able to show off its indigo/frost interior color combination, also found in the 2017 Limited Tungsten Edition. Moreover, the interior of the Limited trim on the new Ram 1500 truck takes a few steps back from the whole "country" vibe some Ram trucks are known for, adding in stylish cloth upholstery and materials to accent the patterned Harman/Kardon speaker grilles and distressed metal trim.
For convenience in the interior, the 2019 Ram 1500 integrates acoustic glass and active noise cancellation technologies to create an exceptionally quiet interior cabin. Always nice to be able to ignore the bothersome noises outside. The center console has also been redesigned to offer a dozen storage options, boasting "nearly 100% more storage capacity" than its closest competitors. The second-row also includes available slide reclining seats, a flat load floor with integrated Ram Bins, tie-down rings, and expandable under-seat storage compartments. And of course the giant, vertical 12-inch touchscreen wowed those at WardsAuto, not only because it's an impressive sight to behold, but its menu structure is logical and easy to comprehend. Intuitive access is always best when designing technology and user interface.
"Starting with the eye-catching 12-inch touchscreen that dominates the instrument panel, the 2019 Ram 1500 shows the world what is possible inside a full-size pickup truck … In addition to the ultra-sophisticated electronics, the materials and design details in the Limited and Laramie Longhorn editions would be at home in a luxury car costing six figures. And, on top of that are dozens of surprise and delight features that turn the Ram 1500 into a lifestyle vehicle for many different — and fun — lifestyles." – WardsAuto Senior Content Director Drew Winter.
We're surprised WardsAuto doesn't mention a few more technological functions, like the wider docking area for optional wireless charging of a small tablet or smartphone, a deep storage tub designed for a 15-inch laptop and additional lined compartment under the center armrest, and another tablet holder for rear passengers behind the two cup holders. There's even a hidden cubby in the dashboard behind the glove box – but maybe that one was just too secretive to uncover. Either way, the editors picked a great vehicle when they put the 2019 Ram 1500 light duty pickup truck on the 2018 Wards 10 Best Interiors list.
Do you agree? Does the new 2019 Ram 1500 interior sound like all it's cracked up to be? We'll be sure to snag plenty of pictures soon enough. Keep in touch on Aventura CJDR social media.
Photo Source/Copyright: RamTrucks.com