2018 Ram 1500
When it comes to the light-duty truck segment, there are only three truck models on the market, but that doesn't mean the number of features, capabilities and price points are limited. Knowing the segment is small, Ram has made a comprehensive Ram 1500 lineup that offers consumers a number of options, so it is easier for them to get the truck they want and at an affordable price. Here's a closer look at all of the options available on the Ram 1500.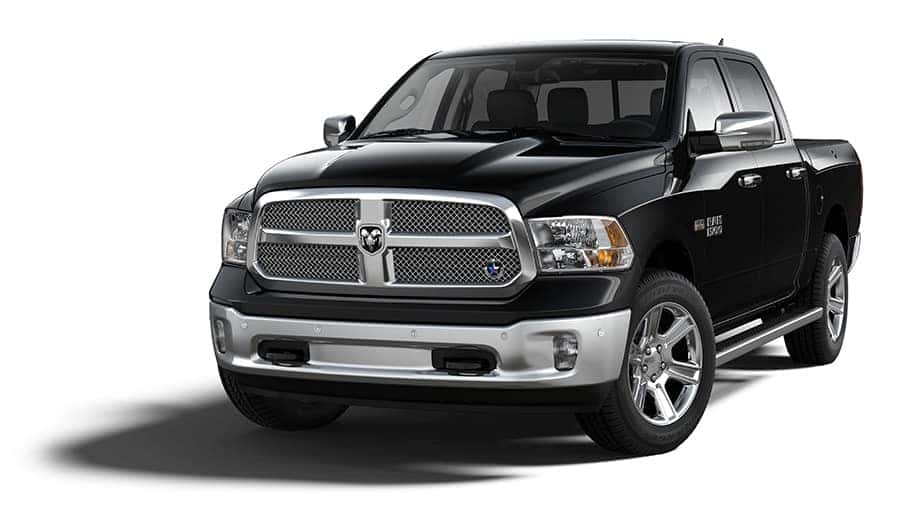 Configurations and Options
Trims
The 2018 model year includes 11 Ram 1500 trims. The newest trims include the 2018 Ram 1500 Sport Hydro Blue, the Ram 1500 Harvest Edition and the Ram 1500 Tungsten Limited Edition, which is the most luxurious trim option ever offered by Ram. Trims returning to the lineup include the off-road demon, Ram 1500 Rebel, as well as the Ram 1500 Sport and Ram 1500 Express.
Available Options
Consumers have a lot of choices when trying to decide which Ram truck is best for them. The Ram 1500 is available in a number of trims, three cab sizes, three truck bed sizes, a dozen color options and three engines. Additionally, there are two drivetrain options and almost all Ram 1500 trims are available with a 4×2 or 4×4 drivetrain, however the Ram 1500 Rebel is an off-roading trim and it comes standard with a 4×4 drivetrain.
Cab Sizes
There are three cab sizes, a regular cab, quad cab and crew cab. The regular cab is a two-door cab that has seating for two to three passengers. The quad cab and crew cab configurations are both four-door cabs that provide seating for five to six passengers. The crew cab is slightly larger than the quad cab as it has additional legroom for backseat passengers.
Truck Bed Sizes
Truck bed sizes include the 5'7", 6'4" and 8'. The crew cab is available with a 5'7" or 6'4" truck bed, the quad cab is only available with a 5'7" truck bed and the regular cab is available with a 6'4" or 8' truck bed. Buyers looking for the most cargo passenger and bed capacity will want to opt for a Ram 1500 with a crew cab and 6'4" bed.

Engines
3.6L V6 Engine
The base engine on the Ram 1500 lineup is the 3.6-liter V6 engine, which is a staple to the Ram, Jeep, Dodge and Chrysler brands. The 3.6L engine produces 305 horsepower and 268 lb-ft of torque and it gives the Ram 1500 a towing capacity between 4,810 to 7,320 pounds depending on drivetrain, axle ratio and other configurable parts. With the exception of a few trims, 3.6L engine is available on almost all Ram 1500 trims.
3.0L EcoDiesel Engine
The Ram 1500 is the only light-duty pickup truck on the market that is available with a diesel engine option, which is a 3.0-liter EcoDiesel 1-4 engine. Designed to be fuel efficient and a durable engine that produces a lot of torque for towing, the 3.0L EcoDiesel engine is an excellent engine option. The 3.0L EcoDiesel engine produces 240 horsepower, 420 lb-ft of torque, which helps the Ram 1500 achieve a towing capacity that ranges between 8,280 to 9,290 pounds depending on configuration. With a best-in-class highway fuel economy of 29 mpg, the Ram 1500 with the 3.0L EcoDiesel engine is the most fuel efficient light duty engine available.
5.7L HEMI V8 Engine
The third engine option on the Ram 1500 lineup is the 5.7-liter HEMI V8 engine with variable valve timing (VVT), which is an engine function that improves fuel economy and decreases emissions by adjusting the timing of valve events. The 5.7L engine produces 395 horsepower and 410 lb-ft of torque and with an available towing capacity between 8,510 to 10,620 pounds, it is the most powerful engine.

Features
Exterior
The Ram 1500 is available with a variety of practical and convenient exterior features. Wheel options range from 17-inch steel wheels to 20-inch aluminum and chrome wheels. For ease of getting in and out of the truck, several Ram trims come standard with side steps, which is also an available option on other Ram 1500 trims. A new feature introduced to the 2018 model year includes a remote exterior switch that can turn on LED lights in the truck bed.
For better visibility at night and convenience, automatic headlamps come as a standard feature across the lineup. Another convenient feature to look for on select trims would be heated exterior mirrors, some of which are made with integrated turn signals. If looking for an organized way to carry small piece of equipment and cargo, the optional RamBox Cargo Management system is a perfect choice to add on.
Interior
The Ram 1500 is comfortable and durable. Seating materials range from an easy-to-clean vinyl material to premium leather. For convenience, entertainment and safety, all 2018 Ram 1500 trims come standard with a touchscreen and a backup camera. Speaker options include a six-speaker system all the way up to 9 Alpine speakers.
When it comes to seating arrangements and trading passenger space for cargo, look for the 20/20/40 split bench seat and the rear 60/40 split-folding seats found on various trims. For that extra comfort, select trims come with heated and ventilated front seats and select trims offer dual-zone automatic temperature control. If looking for ease-of-access to cargo in the truck bed, a rear sliding window is a lineup option.

Specialty Trims
Ram 1500 Limited Tungsten Edition
The Ram 1500 Tungsten Limited Edition surpasses the Ram 1500 Limited as the most luxurious trim available and it has a number of exterior and interior upgrades. For style and comfort, the 1500 Tungsten Limited Edition trim has unique "Natura Plus" frost and indigo-colored leather through the cabin, including the seats. To keep drivers and passengers comfortable all year, the truck is equipped with heated and ventilated front seats. Other standard features include remote start, an 8.4-inch touch screen, backup camera and navigational radio.
Featuring Tungsten chrome accents, badging and a Tungsten chrome grille, the Ram 1500 Tungsten Limited Edition is also equipped with an air suspension and a sport hood. Trucks with the 6'4" truck bed come standard with the RamBox cargo management system, which offers users a few different storage options in the truck bed.
Ram 1500 Harvest Edition
Designed as a truck for those in the agricultural industry, the new Harvest Edition trims available on the 1500, 2500 and 3500 are pickup trucks intended to be used on farms. Available in two exclusive red and blue hues used by one of the country's most popular farm equipment manufacturing subsidiaries, buyers can purchase a truck that matches the color  of their farm equipment.
To make the vehicle as practical as possible for working out in the field, the 1500 Harvest Edition is equipped with side steps, a spray-in bedliner, a fold-out bumper step and mud flaps, rubber floor mats, skid plates and tow hooks. There is also an advanced Uconnect 4.0 system that includes navigation and up-to-the minute weather maps.
Ram 1500 Rebel
As one of the fiercest off-road full-size pickup trucks on the market, the Ram 1500 Rebel has a lot of exterior equipment to help the truck traverse through tough terrains. The 1500 Rebel is equipped with tow hooks, skid plates and a durable powder coated front bumper. To give the Rebel more space between the ground and increase its breakover and departure angles, the Ram 1500 Rebel has an 1-inch lift. The Rebel rides on Bilstein shocks, 33-inch Toyo all-terrain tires and 17-inch wheels.
Find Your 2018 Ram 1500  at Aventura Chrysler Jeep Dodge Ram
Price and Warranty
The 2018 Ram 1500 Tradesman has a starting MSRP of $26,995 (plus destination fee). Ram backs its trucks with a 3-year or 36,000-mile limited basic warranty, a five-year or 60,000-mile limited powertrain warranty on gas engines and with a 5-year or 100,000-mile limited powertrain warranty on diesel engines. Ram also offers complimentary roadside assistance for five years or 60,000 miles.
Photo Source/Copyright: Ramtrucks.com and FCA Ad Planner