2018 Jeep Grand Cherokee – From Off-Road to the Paved Track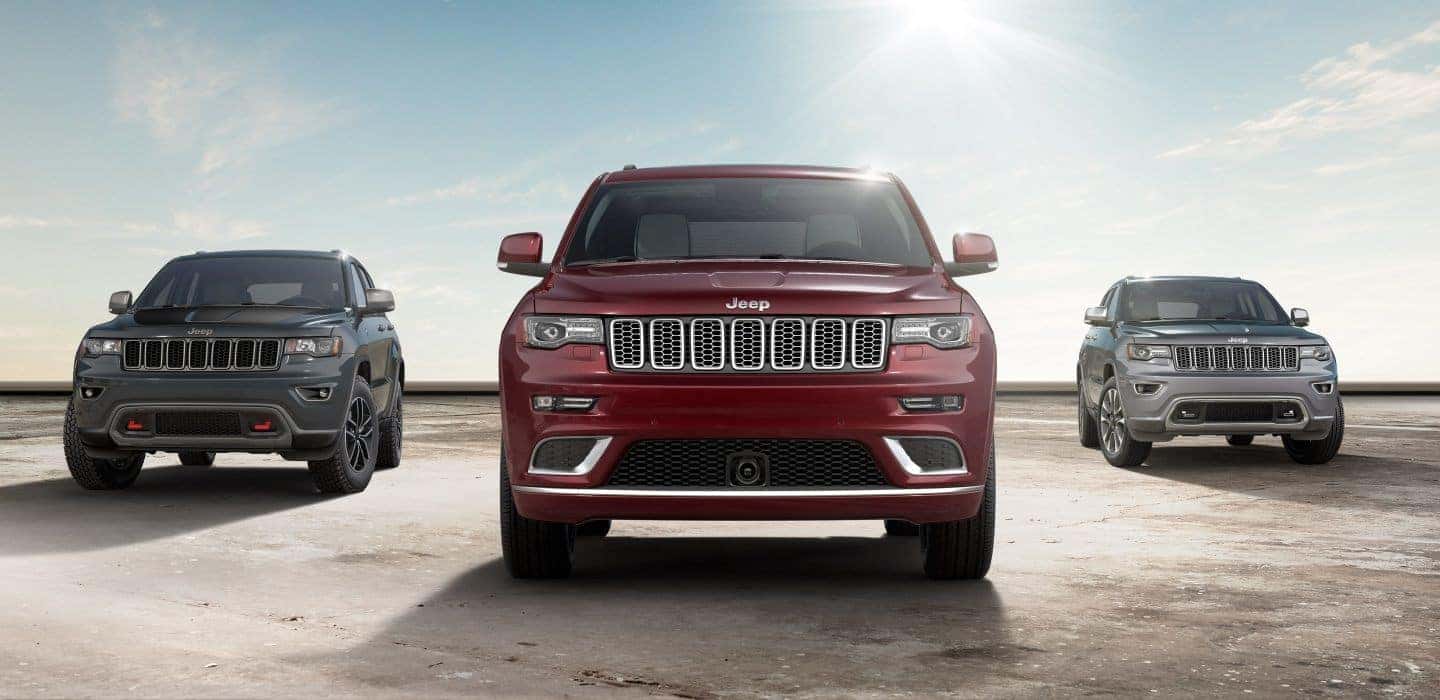 At first glance, the Jeep® Grand Cherokee may not seem like much of an off-road vehicle. Large SUV? Sure. Able to handle harsh terrain, dirt, mud, and rocks? It doesn't sound possible, but the 2018 Jeep Grand Cherokee can handle that and more. In fact, the Jeep Grand Cherokee is a "drive anywhere" SUV.
Long Road Trips
On the road for awhile? It can be a bit tiring when driving for a few hours to one's destination. The 2018 Jeep Grand Cherokee is made for long trips and is available with heated front and second-row seats for cold nights and ventilated front seats for when the sun is up and things get warm. If looking to cool off the entire cabin, select trims are available with a power sunroof, and all trims have dual-zone automatic climate control.
If looking to keep back-seat drivers entertained, the basic sound system is made up of 6-speakers with a 5-inch touchscreen display. However, drivers may upgrade to a 19 Harman Kardon speaker system with a subwoofer, and add one of several video systems. These include a Blu-Ray compatible dual screen video system, a rear seat dual screen Blu-Ray/DVD player, or a simple rear seat video system.
Going Off-Road
What kind of Jeep vehicle would be complete without a 4×4 system? Available with a 4×4 drivetrain, there are three 4×4 systems available on the Grand Cherokee lineup, which includes the legendary off-road Trailhawk trim. The first standard is Quadra-Trac I, a full-time system that is always engaged for all-weather capability and integrated with a brake lock differential to keep command of the road. Other trims come with Quadra-Trac II, made with a two-speed transfer case for transmitting power to each axle in one-of-two speed settings for each gear and for taking corrective action when tire-slippage is detected.
The Jeep Grand Cherokee Trailhawk comes with the Quadra-Trac II, a system designed with a rear electronic limited-slip differential. Also a full-time 4×4 system, this system is the most advanced by Jeep by far, with superior all-weather capability and able to transfer all of the vehicle's torque to a single wheel if the situation calls for it. If ever in a jam, all the driver needs is a single wheel with traction, and the 2018 Jeep Grand Cherokee Trailhawk will get moving.
Racing
There are four engine options available on the 2018 Jeep Grand Cherokee. The standard across the lineup is the popular 3.6-liter V6 engine with VVT and electric start-stop. Optimized with variable valve timing (VVT) technology, this V6 engine generates 295 horsepower and 260 lb-ft of torque. If on a 4×4 drivetrain, the 5.7-liter HEMI® V8 engine becomes available, generating 360 horsepower and 390 lb-ft of torque. This one is definitely the engine for rock crawling – more torque is always better off-road. When going racing however, that's a different story.
Sure, torque is great and all, but racing calls for power! There are two 2018 Jeep Grand Cherokee vehicles to take to the track. There's always the Jeep Grand Cherokee SRT, powered by a 6.4-liter SRT HEMI® V8 engine, capable of delivering 475-horsepower and 470 lb-ft of torque, able to accelerate from 0-60 mph in just 4.4 seconds and finish a quarter mile in 13 seconds flat. Or there's the 2018 Jeep Grand Cherokee Trackhawk, a powerhouse with a supercharged 707hp 6.2-liter HEMI® SRT V8 engine under the hood. This beast accelerates 0-60 mph in 3.5 seconds and can cover a quarter-mile in 11.6 seconds. Now that's a powerful SUV.
See all that? The 2018 Jeep Grand Cherokee can do anything. So what are you waiting for? Check out the 2018 Jeep Grand Cherokee in our inventory today.
Photo Source/Copyright: Jeep.com