2018 Jeep Easter Safari Concepts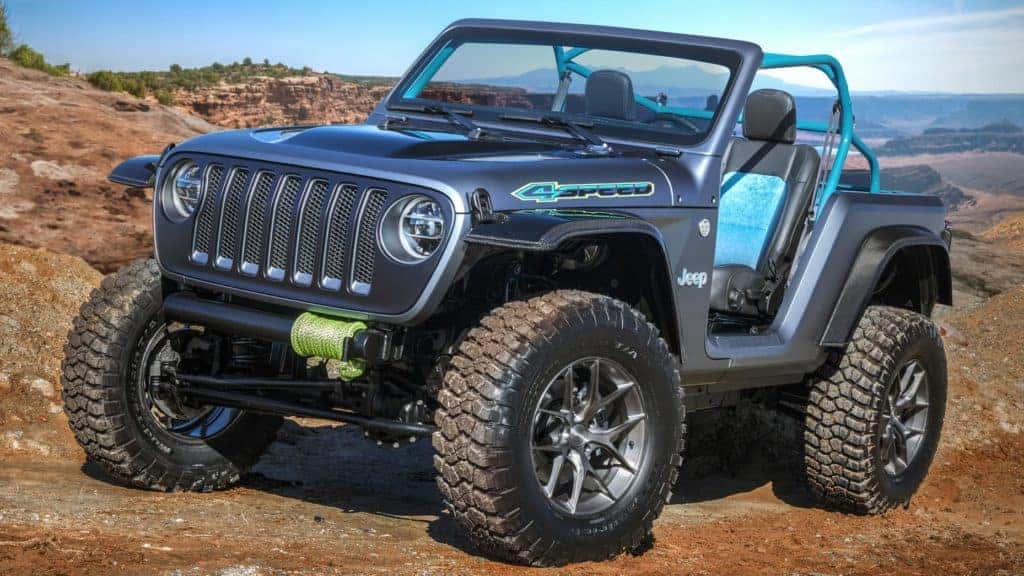 Another year, another Moab Easter Jeep® Safari. Every year, come Easter, the Jeep Safari takes place over the course of nine days. It all started as a simple get together for Jeepers to go off-roading on trails together. Since its early days, the Moab Easter Jeep Safari has expanded over the years, and is now an event with much more than getting together and going trail riding for nine days. Jeep Safari is the automotive version of a nerdy convention for comic books and anime, which are nothing to snort at! One will see the same sort of stuff. Exhibitors and vendors selling swag, small and main events, contests, etc. Last year, we covered the 2017 Jeep Easter Safari concepts and some new off-road accessories, and we're back to cover some of the good stuff to look for this year.
Concepts
Every Easter Jeep Safari shows off new parts and accessories, prototypes, and concepts.
Jeep 4SPEED
When someone hops in a Jeep, they're not thinking "speed," and at first glance, many would mistake this concept for just another modified Wrangler. That's not 100 percent correct. There are some changes that help this concept live up to its name (image above).
First off, the Jeep 4SPEED is lightweight. Losing some weight is always a good trick to make a vehicle faster – the less the engine has to haul, the faster it can move. To achieve this lightweight Jeep, the 4SPEED Wrangler comes with a carbon fiber bonnet, 'high-clearance' carbon fiber arches and rear tub, and perforated aluminium panels. These additions actually offer a 2-inch higher ground clearance than standard Jeep Wranglers, as well as improve its approach and departure angles. The 4SPEED is powered by a 2.0-liter turbocharged engine and is paired to an eight-speed automatic transmission.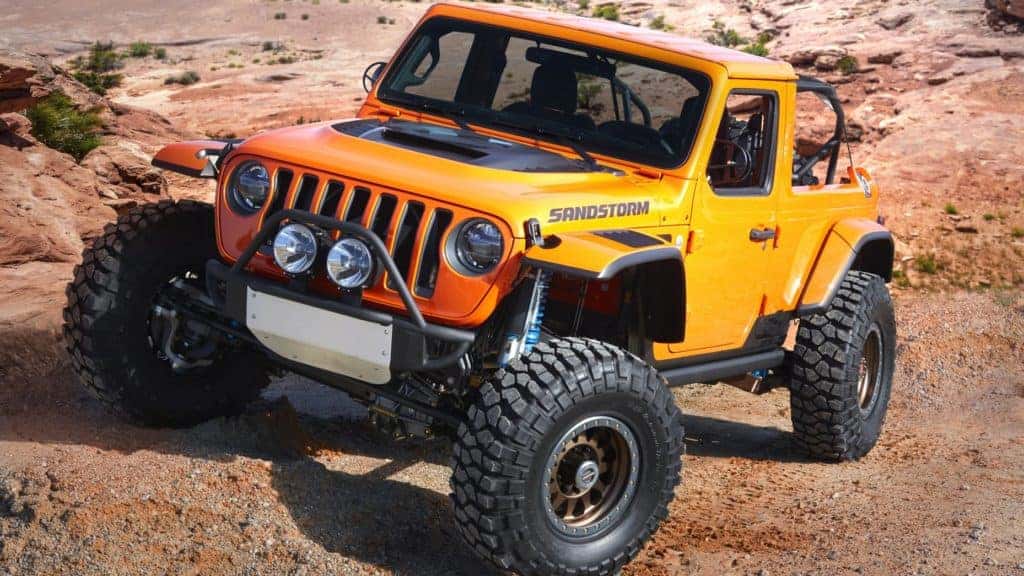 Jeep Sandstorm
Unlike last year's Jeep Quicksand, the Sandstorm concept is a more literal take on the name. Sand storms are fast and dirty. Inspired by Baja desert racers, the Jeep Sandstorm is all about blazing through sandy straightaways while also performing as an everyday kind of vehicle. Designed with a carbon bonnet, vented arches, tube bumpers all round, modified rock rails, on-board air compressor, racing fuel filler, auxiliary lights, heavy duty four-link suspension up front, and a trailing arm four-link at the back, the Sandstorm definitely won't get in over its head if one were to go off-roading. However, with the open back, don't go chasing any sandstorms. The Jeep Sandstorm concept is powered by a 6.4-liter V8 engine from the Mopar performance catalog.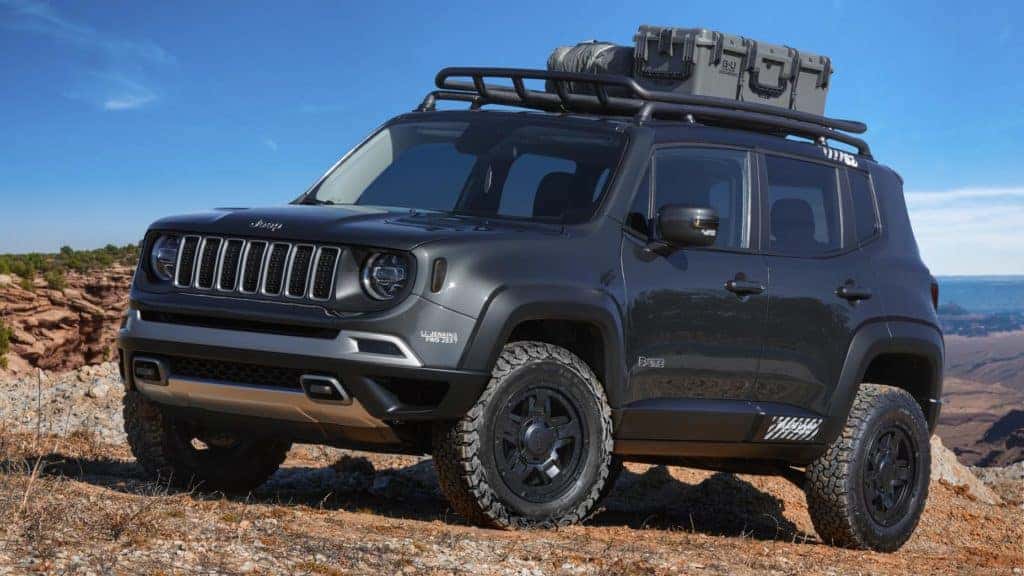 Jeep B-Ute
Not much is known about this concept at the moment. It's name is a play on words, but it's not really flashy or attractive in any sense. The all-black Renegade does look a little different though, we'll admit that. There are also some changes to the exterior and interior that give the B-Ute concept an overall improved look.
Along the exterior, there's a 1.5-inch lift kit, a roof rack and rock rails, and 17-inch wheels. The cabin comes with custom trimmed seats, a carbonite finishing on the gear shift, speaker, and vent surrounds, and Mopar floor mats. The B-Ute concept is powered by a 2.4-liter Tigershark engine paired to a nine-speed automatic transmission.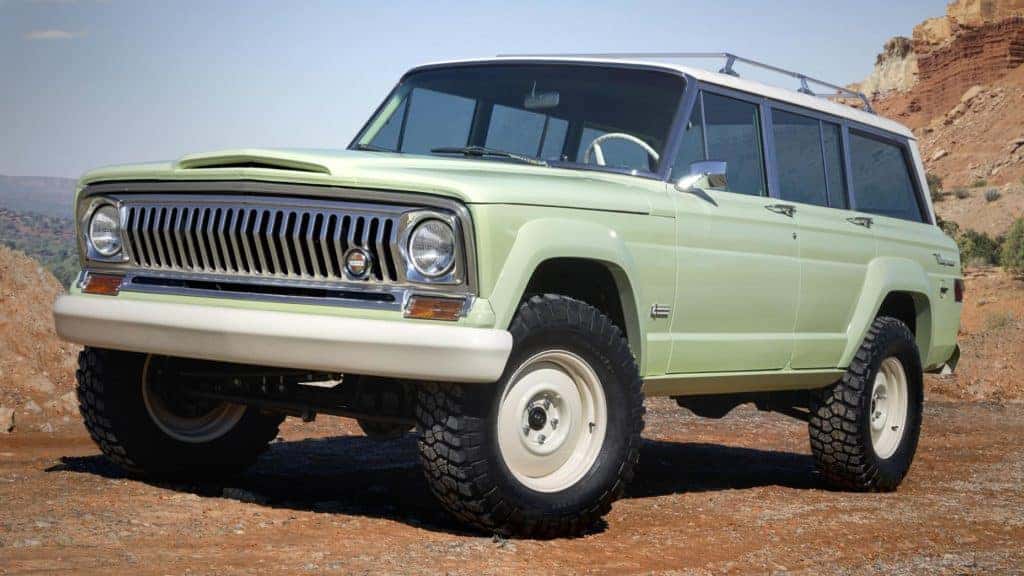 Jeep Wagoneer Roadtrip
Well now this looks like a classic concept. While the Grand Wagoneer is still in the works as a "super premium model," Jeep has decided to try out a similar concept. Stretched out a bit by five inches, and with an updated steel body to match, the Wagoneer Roadtrip comes with a wider track, reinforced frame, and custom arches to match the off-roading capability Jeep is known for today. The wheel wells have been updated, and a new grille has been added, along with 17-in steel wheels, coilovers, and an interior with a lot of leather. Under the hood is a powerful 5.7-liter V8 engine paired to a four-speed automatic transmission.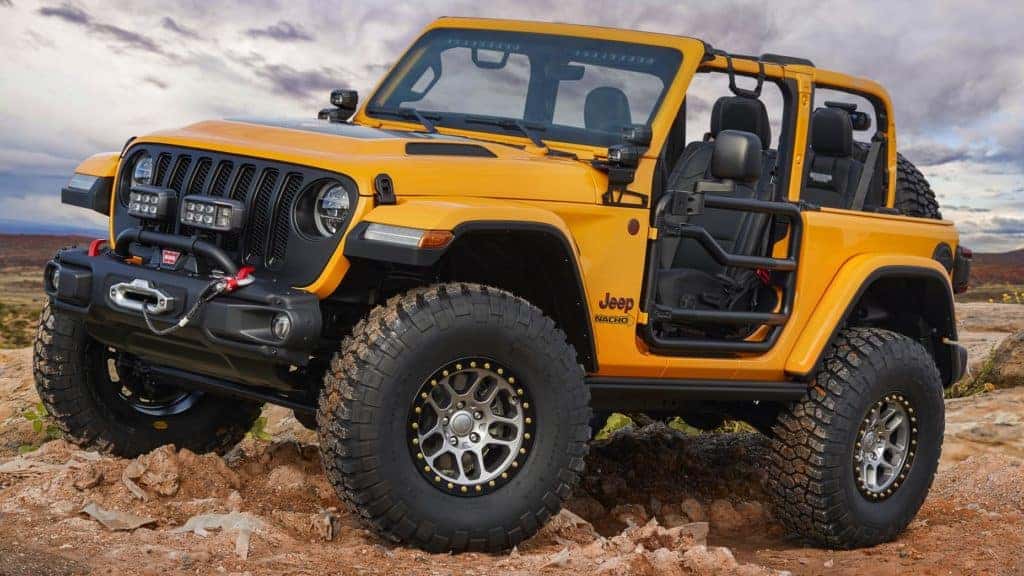 Nacho Jeep
Yep, that is definitely the color of nacho cheese. Like most nacho-themed dishes, this concept is fully loaded with add-ons, but holds the chives. Integrations and additions include a new bonnet designed for a cold-air intake installment, a new grille, bumper, and winch, LED lights, a two inch lift kit, 2.5-inch aluminium shocks, and oversized tires.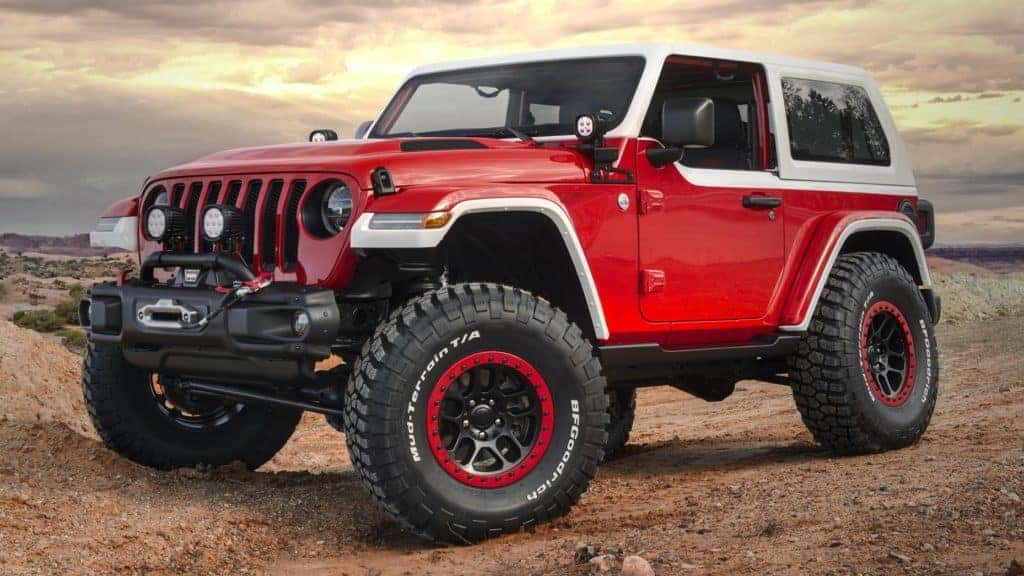 Jeep Jeepsteer
Any ol' timers remember this one? Well, maybe not with all the upgrades to modern times. Borrowing the color from the 1966 Jeepster model, this Wrangler Rubicon sports the flashy looks without sacrificing capability. Past the red and white paint job is a foldable raked windshield, a new bonnet with an optional snorkel, LED off-road lighting, a two-inch lift kit, 2.5-inch aluminium shocks, and a full roll cage.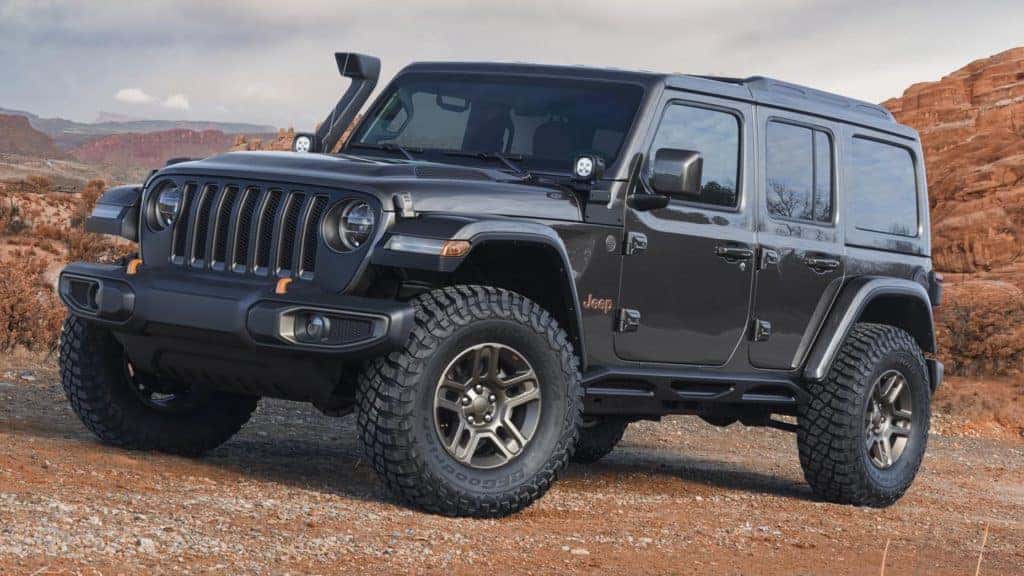 Jeep J-Wagon
Does the name give it away? Like "J-Pop", this is a Japanese-market special with a new bonnet (again with an optional snorkel), new 5-inch LED lights, 17-inch wheels, and a "Brass Monkey" finish that looks completely different from the Dodge Durango Brass Monkey (below).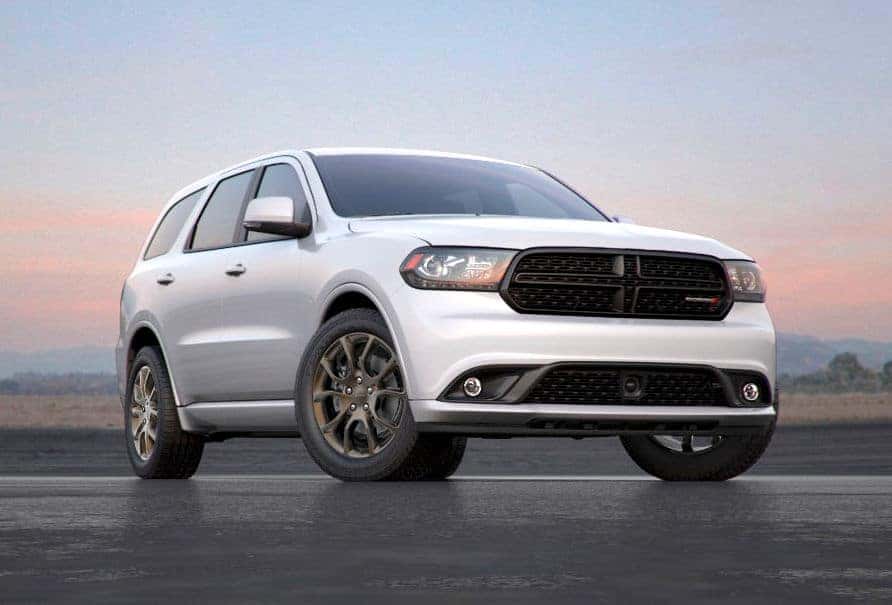 Be sure to keep a close-eye on us via Aventura CJDR social media. Depending on how this event continues, we may chat up some of the new off-road accessories found at the Jeep Easter Safari like we did last year. If you join the adventure, be sure to send us some pics of your Jeep on and off the trail.
Photo Source/Copyright: TopGear.com