2017 FCA Recap and Upcoming 2018 FCA Highlights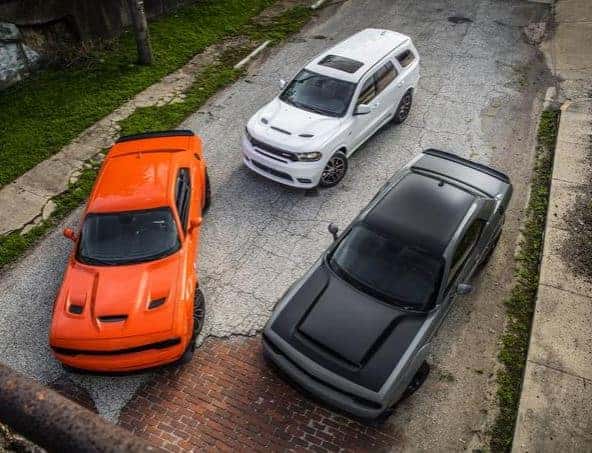 The 2018 model-year is starting up in the automotive industry, so there are a lot of changes, some small, some large, taking place with a lot of brands. Four brands most important to us are Chrysler, Dodge, Jeep, and Ram and there is plenty to look forward to.
Chrysler
Chrysler had a lot of good things happen during the 2017 model year. They were among the FCA brands were heralded for their improvement during the J.D. Power 2017 Initial Quality Study, and the Pacifica led the minivan class segment during the J.D. Power 2017 APEAL Study and the J.D. Power Initial Quality Study. The Pacifica was also named the best minivan by Edmunds and Parents and it earned awards and recognition during: the Texas Auto Roundup (named "Family Car of Texas"), was named the best minivan by popular mechanics, named an Idea Vehicle by AutoPacific, and "Northwest Family Green Vehicle of the Year" by the Northwest Automotive Press Association. This might be what has spurred FCA to go green with more vehicles. In 2017, Chrysler also got involved with the community with Kango rideshare, boasted its family minivan features with the characters from Sesame Street, and even added a whole new trim for customers who want high-end features without leather upholstery, the Chrysler Pacifica Touring Plus.
What's next for 2018? 2018 Chrysler Pacifica Touring Plus, Touring L, Touring L Plus and Limited models, and Pacifica Hybrid Touring Plus, Touring L, Limited models, and the Pacifica Hybrid Touring Plus in the United States will start to offer a variety of prepaid and postpaid data plans from AT&T with an unlimited data plan starting at $20 a month with 4G LTE network capabilities and 4G LTE Wi-Fi hotspots from within the vehicle itself. Just check out some of the benefits Wi-Fi in a vehicle can provide.
Dodge
Dodge has been tearing it up ever since the 2018 Dodge Challenger SRT Demon debuted in April, 2017. Dodge has also earned its own share of awards, such as the Durango SRT being named on the WardsAuto 10 Best User Experience List, and it was also among the FCA brands that improved between 2016 and 2017 for the J.D. Power 2017 Initial Quality Study, and the Dodge Charger won a quality award by Strategic Vision for Total Quality Impact, along with the Pacifica, Dodge Durango, and Jeep Wrangler. Still, with the Demon in tow, a lot of enthusiasts are wondering where they would get to test its raw power.  Then John Hennessey entered. For a brief stint, Hennessey opened his Lonestar Motorsports Park for Demon enthusiasts to race. Also, last month, legal drag racing also took place in Michigan during "Roadkill Nights Powered by Dodge" with Dodge Demon racing simulators.
In addition to the 2018 Dodge Challenger SRT Demon, for the 2018 model year, Dodge finally released the 2018 Dodge Durango SRT, and in case other Durango lovers want that Dodge Durango SRT look, and don't mind trading out the power, new Dodge Durango owners have the option to do so. We discussed such options in an article that also shared some light with the new Dodge Challenger SRT Hellcat Widebody and a new Ram Limited Edition trim.
Jeep
The Jeep brand also has its own good news.  Jeep, too, was an improving brand during the J.D. Power 2017 Initial Quality Study, the Jeep Grand Cherokee was another Ideal Vehicle named by AutoPacific, the Jeep Wrangler and Cherokee were named the top-two "most American" vehicles on Car.com's American-Made Index, the 2017 Jeep Grand Cherokee was named NEMPA's Official Winter Vehicle of New England, and also won an award alongside the Chrysler Pacifica during the Texas Auto Roundup. Easter Jeep Safari spurred on many interesting concepts and tons of new Jeep products and accessories were debuted during the 2017 Easter Jeep Safari back in April.
The most exciting bit of news from Jeep for the 2018 model year is  the Jeep Grand Cherokee Trackhawk, the Jeep version of the Dodge SRT Hellcat. The fastest SUV in America, the Jeep Grand Cherokee Trackhawk is not a vehicle to mess with. Able to accelerate from 0-60 mph in 3.5 seconds, it may just mow traffic down.
Ram
Improving more than any other brand in the 2017 J.D. Power Initial Quality Study was Ram. Out of all 33 brands included in the study, the Ram brand tied Ford for the fourth best Initial Quality score. Ram was also named the Best Family Pickup Truck by the Greater Atlanta Automotive Media Association and won the 2017 King of the Hill as The Fast Lane Truck with the Ram 3500.
For 2018, Ram has debuted Limited Edition Tungsten trim for the 2018 Ram 1500, 2018 Ram 2500, and 2018 Ram 3500, discussed in the article above with the SRT Hellcat Widebody.
Along with that, Ram released the Ram Harvest Edition for 2018 models just in time for harvest. Great news for American farmers. Plus, the Ram 3500 received improvements with the 6.7L Cummins diesel engine, now able to generate enough torque to handle 30,000 pounds with a fifth-wheel hitch. Lastly, 2019 Ram 1500 Rebel spy shots have already begun to surface.
A lot has been going well for FCA if all this has anything to say for it. We can only hope 2018 will continue to have great news.
Photo Credit: FCA Media Site