Thanksgiving Recipes – That Coconut Turkey Soup and a Dessert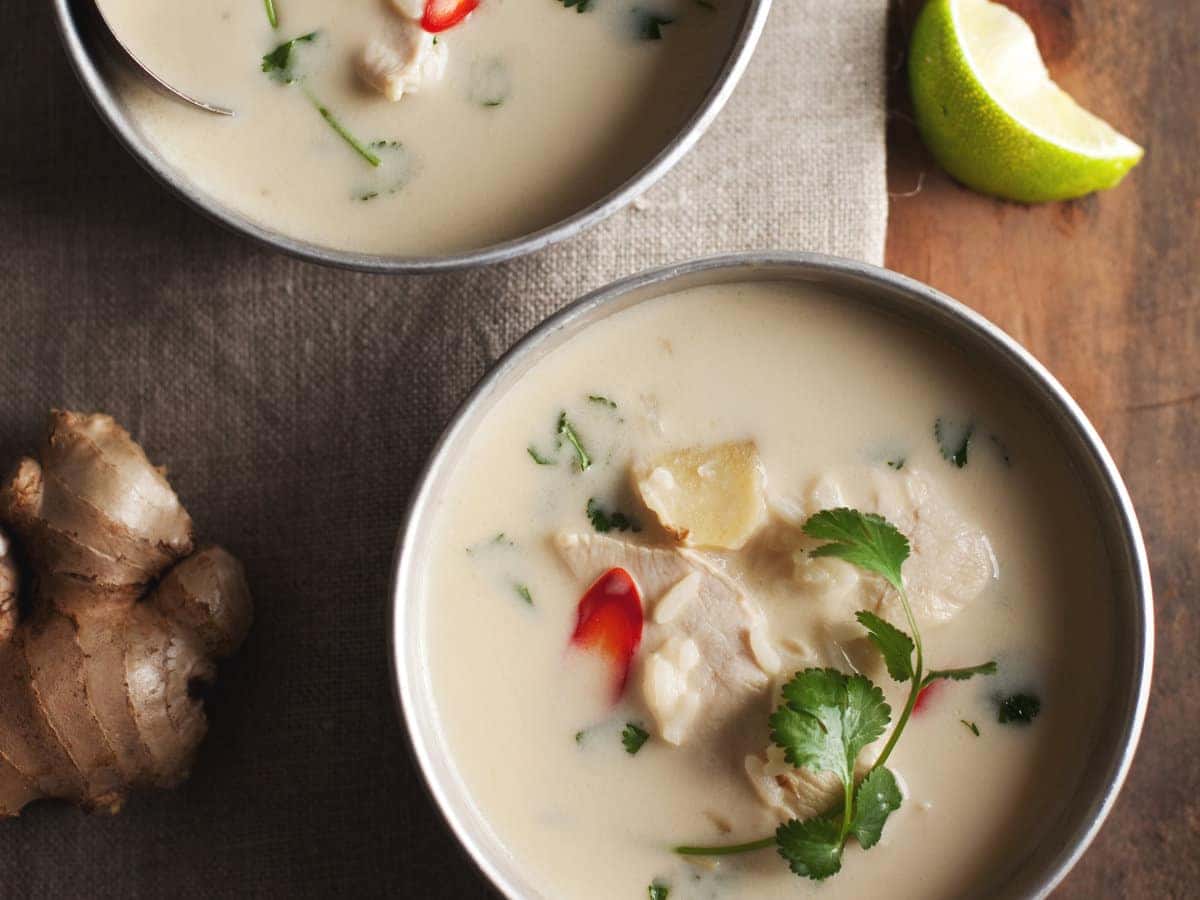 Oh boy, Thanksgiving is next week. SO excited. Mainly for those Thanksgiving leftovers – who doesn't like a roast turkey sandwich with all the fixings? Well, if looking for a different kind of flavor, we have you covered. This year, we're writing up a special soup recipe we found that can be used with chicken, shrimp, or even turkey.
Thai Coconut Thanksgiving Soup
This is one dish that can take half a day to make, so it's best to prepare everything before hand. The recipe says it takes about 30 minutes and serves eight, but those are lies. Although filling, the soup is tasty, and could easily be devoured by two people. Also, when it comes to the ingredients, you may find yourself browsing the local Chinese marketplace for some of the items.
Ingredients
8 kaffir lime leaves or the zest of 1 regular lime
2 cans (13 1/2 fl oz) of coconut milk
2 cups of chicken stock
6 fresh or 4 dried galangal slices, or ginger slices, each about 1-inch in diameter
4 lemongrass stalks, cut into 2-inch lengths and crushed
4 fresh small green chili peppers, halved
1 tablespoon That roasted chili paste (also known as nam prik pao)
1 whole turkey breast, cut into 1/2-inch cubes
1 cup of whole straw mushrooms (drain the can first)
1/2 cup of canned sliced bamboo shoots (drain the can first)
1/4 cup of Thai fish sauce
Juice of 2 limes (about 6 tablespoons)
1/4 cup of fresh cilantro leaves
Directions
Like we said, you'll want to have everything prepared beforehand to make this go by faster. Also, not every ingredient is necessary. Mushrooms don't add flavor, and their texture is like a crossbreed between gum and crackers, if you like that sort of thing. Same with the bamboo, lemongrass, and ginger – unnecessary unless going for the authentic taste. Oh, and the lime juice can easily make it too tart, so be careful.
Now to start, pour four of those lime leaves or half the zest of lime into a large saucepan. Add in the coconut milk, chicken stock, galangal (or ginger), lemongrass, and chili peppers. Bring it all to a boil – smells good right?
Then reduce the heat and simmer for 20 minutes. Afterwards, strain the stock through a mesh sleeve or cauldron into another, clean saucepan. Discard the content caught by the mesh/cauldron.
Now bring the new, strained mix to a boil. Reduce heat back down to medium to keep it going without overcooking. Now add the remaining kaffir or lime zest, roasted chili paste, turkey, mushrooms, bamboo shoots, and fish sauce. Bring back up to a boil for three minutes so that everything is cooked through.
Lower the soup to a simmer, and stir in the lime juice and cilantro leaves. That's it. Get yourself a ladle and a soup bowl.
Bon Appétit!
Pecan Puffs
Now here's something that's a little easier to make, and an entire miniature cupcake tray can make plenty, so there's enough for everyone.
Shell Ingredients
2 cups of all-purpose flour
One 8 oz package of cream cheese
1/2 cups of softened butter
Filling Ingredients
2 eggs, blended
2 cups of light brown sugar
Dash of salt
1 teaspoon of vanilla extract
1 1/2 cups of chopped pecan nuts
Shell Instructions
All you need to really do is mix all of the ingredients together. Mix it until it's looking like a pie that got crumbled up, it doesn't need to be all smooth. You'll want to have two or three miniature muffin pans handy, because you'll then roll the mixture into little balls and press them into the mini muffin pans so they take the shape of the lower half of a muffin. You can do this by pushing the dough to the sides of the inserts or placing your thumb in the middle.
Filling Instructions
Preheat the oven to 350 degrees. Get all of the ingredients together and mix them up. Once mixed, take a spoon and guide the filling into the shells. Don't overdo it, just go up to the brim of the shell. Now, bake for 15 minutes.
After 15 minutes, lower the temperature to 250 degrees and bake for 10 more minutes. Remove these bad boys from the oven and let the puffs cool before removing them from the mini muffin pan. Once cooled, pop one in your mouth for a job well done.
Have any other recipes you'd like to share with us? There's still time. Hit us up on Aventura Chrysler Jeep Dodge Ram social media.
Photo Source/Copyright: Food & Wine Magazine