SRT Performance – 2017 Dodge Challenger SRT Hellcat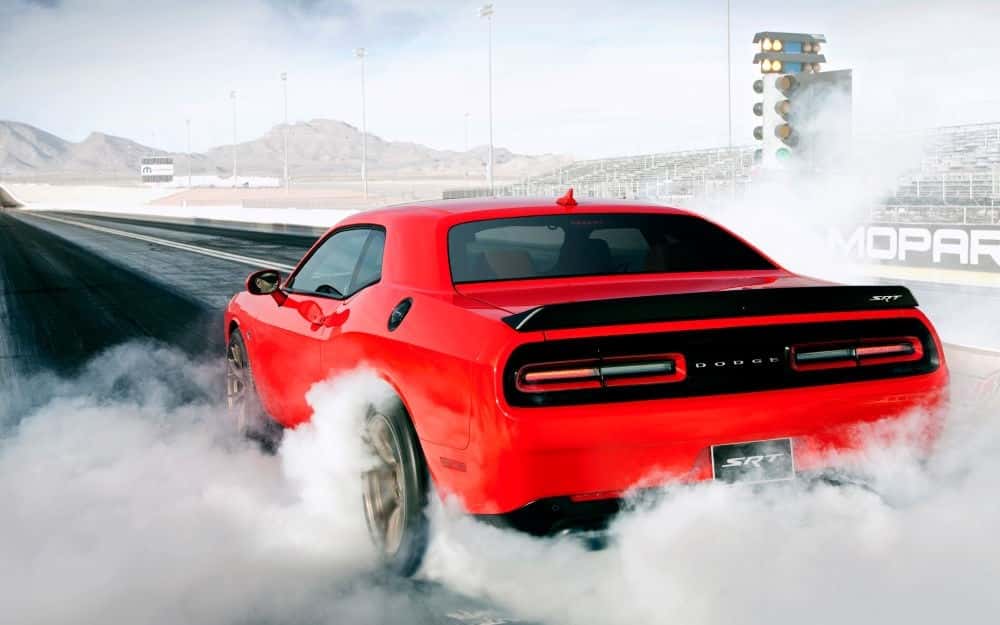 The Dodge Challenger has a long lineage, over 50 years, and has the reputation to go with it. A classic that dates back to 1958, it has gone through many changes to become the icon it is today. Just two years ago Dodge and SRT paired up to make the Challenger the fastest factory produced muscle car, known as the Challenger SRT Hellcat. Recently, Dodge outdid themselves when they gave life to the Dodge Challenger SRT Demon, but let's take a step back to when they first did something only few attempted.
History of the Dodge Challenger and SRT Hellcat
The Dodge Challenger was first conceived as a concept in 1958 and introduced as a limited edition sedan called the "Dodge Silver Challenger." Only lasting a year, Dodge reinvented the Dodge Challenger in its second generation, not only evolving the car but also adding several models. Some only lasted several years, such as the Dodge Challenger Coupe and Dodge Challenger Convertible. Others we still know today, such as the R/T (Road/Track) model, and the Challenger T/A, which was rebooted for the 2017 model year.
Going through cosmetic variations and engine upgrades, the second generation model lasted from 1970-1974, and then that was followed by the third generation model. Aside from slight style changes, the main change during this generation was Dodge bringing Mitsubishi's balance shaft technology to the American market, making the implementation of the 2.6-liter HEMI engine possible. The iconic giant however disappeared for over 20 years until it resurfaced in 2006 as a concept unveiled at the 2006 Detroit Motor Show. It was the fourth generation of the Dodge Challenger, the same we know today.
Through the years, the Dodge Challenger spurred many new models – the Challenger 500, Challenger Detonator, Challenger SRT8, the Challenger R/T Scat Pack and 392 HEMI Scat Pack, and finally in 2015 the Challenger SRT 392 and Challenger SRT Hellcat.
Power of the Dodge Challenger SRT Hellcat
Under the hood of a SRT Hellcat model is the supercharged 6.2-liter HEMI SRT Hellcat V8 engine, capable of generating 707 horsepower and 650 lb-ft of torque. Paired to a 6-speed manual TREMEC transmission, muscle car enthusiasts could keep the feel of changing gears as they wished to control and handle the Hellcat on the road. However, a TorqueFlite 8-speed automatic transmission is an option for those not accustomed to manual gear shifting. It has a fuel economy of 13 mpg in the city and 22 mpg on the highway.
Built to perform, a couple of novel systems and components were integrated into the construction of the Dodge Challenger SRT Hellcat. To get that engine purring, the Challenger SRT Hellcat has four round headlights, two of which are left hollow to enable an Air Catcher cold-air intake to not only feed the engine cooler, denser air, but also keep it cool during its run. Another air catcher implementation are the massive air scoops integrated into the hood. For managing all that power, a specially-made SRT-tuned three-mode Bilstein adaptive dampening system is integrated with three drive modes that ranged from normal street driving to high performance track runs. Finally, a large Brembo performance brake system made up of 15.4-inch Brembo two-piece rotors with six-piston calipers offers optimum heat management, thermal capacity, longevity, and of course, stopping power.
Track times for the 2017 Dodge Challenger SRT Hellcat are 0-60 mph in 3.6 seconds, a quarter mile in 11.2 seconds, and a top speed of 199 mph.
Exterior Design
To separate the SRT Hellcat from other Challenger models, there is more than just some fancy badges. Made with a well-known design for the Dodge Challenger is the square front grille with four round headlights. As mentioned, two of those are used for the cold air intake, today designed with circular illumination to still provide lighting. The three scoops integrated into the hood are two small vents facing the driver and then a much larger intake in the middle that takes in the majority of air.
For 2017, Dodge added a lot more badges and decals on the Dodge Challenger SRT Hellcat as if to put a proverbial neon sign on the body that makes it unmistakable. Moreover, 2017 SRT Hellcat models ride on a low gloss black 20-inch lightweight 5Deep aluminum set of rims, 16 pounds less in all for better performance around tight corners. They will most likely also still be wrapped in Pirelli all-season performance tires. The 2017 Dodge Challenger SRT Hellcat also comes with heated mirrors, a satin black fuel cap, a rear window defroster, solar control glass, a dual exhaust with bright tips, and it is available in 13 exterior HIP legacy colors, including Go Mango and TorRed.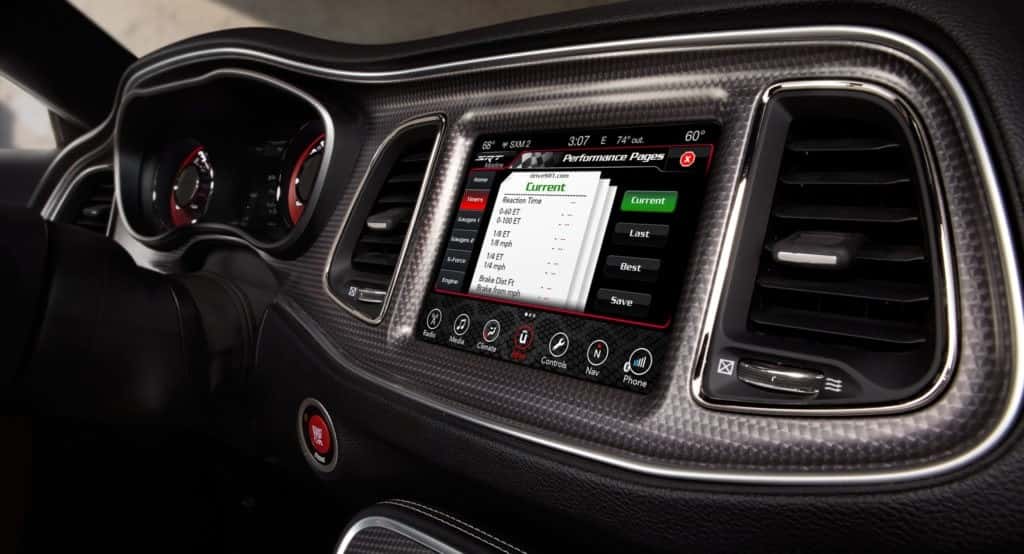 Interior Comfort
Able to seat up to five people comfortably, the SRT Hellcat gets the best-of-the-best for comfort and convenience. The seating trim is made up of premium laguna SRT leather seating embroidered with the "SRT" logo. A backlit SRT badge will also be integrated into the steering wheel for the 2017 model that glows red when the automobile is on. To keep the driver and front passenger cool on hot days, the seats are ventilated, and warm on chilly nights with heating capabilities.
The next generation Uconnect system is featured in the center console, and the newest generation infotainment system works smoothly with smartphone connectivity and is controlled via an 8.4-inch touchscreen. The Uconnect system for the Challenger SRT Hellcat also comes with Dodge Performance Pages to allow drivers to see real-time data and recordings of their vehicle's performance. This is also where drivers can activate a "Launch Control" feature that helps enhance the SRT Hellcat's performance and really get it roaring at the starting line. All of this is topped off with an 18-speaker premium audio system that comes with a subwoofer.
Safety, Pricing, and Warranty
The 2017 Dodge Challenger comes with many safety features for the 2017 model year. These consist of active head restraints, advanced SRT multistage front airbags, supplemental front seat-mounted side and side-curtain front and rear airbags, traction and stability systems, keyless enter 'n go, knock back mitigation (a system that helps dampen the effect of inertia when during a sudden stop), ParkSense rear park assist system, Parkview rear back-up camera, and a Sentry key theft deterrent system. Its sole advanced safety system is blind spot and rear cross path detection.
Pricing for the 2017 Dodge SRT Hellcat starts at $64,195.
The SRT Hellcat is covered by the same warranties as every other Dodge vehicle – a 3-year/36,000-mile basic warranty, a 5-year/60,000-mile powertrain warranty, roadside assistance for 5 years or 100,000 miles, and rust-through coverage for 5 years/100,000 miles.
Photo Source/Copyright: Dodge.com